Last year, just before kids started school, our summer family trip took us to Maine for Acadia National Park. We had stops in Boston and Freeport (for LL Bean) along the 14 hour drive mapped out which everyone except for me had ever been to Boston. We're slowly knocking off the National Parks we have visited and this year's summer trip took us to Washington for Olympic and Mount Rainier National Parks. What partially sparked this to happen is that last October, Alaska Airlines announced a direct, daily, Cleveland to Seattle flight beginning in June 2022. I first floated the idea of heading to the San Juan Islands to be somewhat close to the Canadian island that Kate and I got married on, but after much discussion we thought hitting some national parks in Washington was the better plan. If we had more time we probably would have worked in the North Cascades, but that will be for another trip.
When I booked the flight in February the inaugural flights were very inexpensive including very affordable first class tickets. At the price, we jumped at the opportunity to fly in style with a well regarded airline direct to Seattle. It was settled, August 13 with return on August 21. Just in time for the kids to start school that week.
With airfare taken care of, it was time to plan the trip and for the next several months we hashed out all of the details. I have broken out each day and hope you enjoy reading about our epic journey. BTW, this was my second trip to the Pacific Northwest of the year, so yay me!
Saturday, August 13
We left home just before 4:00 to park our car off the airport property with a shuttle ride to Cleveland Hopkins. Alaska Air only has one gate in Cleveland so no lounge experience for First Class travelers unless you are flying with United or pay to enter the independent lounge. The early evening departure is due to the plane flying from Seattle early morning. This is Cleveland's lone direct flight to Seattle at this moment. I think this will prove popular and possibly open the door for more direct Seattle options for Cleveland. (After I wrote this, it was just announced that Alaska Air is adding a second, daily flight to Seattle/Cleveland.)
The plane arrives and it's quite exceptional to be getting onto the plane first and not having to wobble through all the rows since we were taking up the entire fourth row of First Class. There are boxes of water waiting for us at each seat. Yes, I said box. Alaska Air is all about recyclable, sustainable materials. These Boeing planes are very nice, even if they are several years old, with leather Recaro seating and multiple charging points for devices.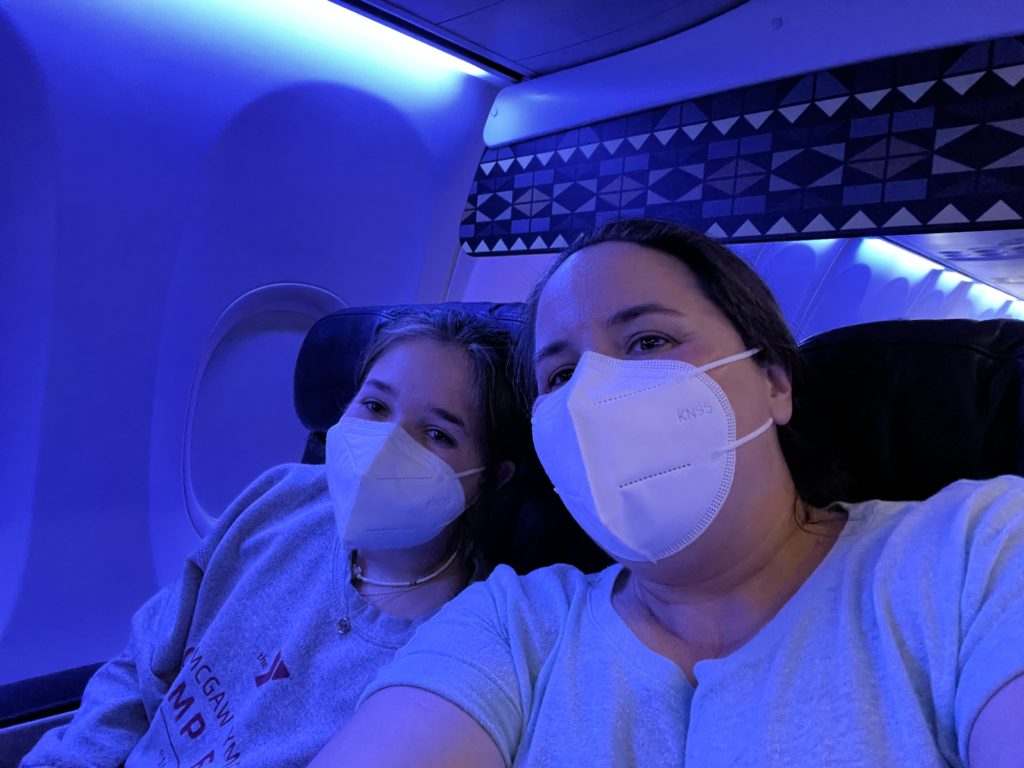 After a typical boarding, our plane departs right on time. I find that Alaska Air does a great job communicating everything and they really do seem to care about making the customer experience top notch. After reaching cruising speed the First Class service experience begins. First beverages and snacks which I went with their "house" Washington wine selection of a Cabernet Sauvignon from INTRINSIC Wine Co which was accompanied with a nut selection. It was an okay wine, but I didn't mind getting more throughout the five hour flight. Some time had passed and since you preorder your meal selection through the app the attendant confirms your order and then soon presented with your choice. I recall the days of airline food of the past, remember when food was a thing on planes with soggy sandwiches or bagged lettuce disguised as salad, but this was way different from any of those experiences. I went with chili chicken with ancient grains and roasted tomatoes. I have to admit that I was pleasantly surprised how good the meal actually tasted. I completely devoured this meal. After dinner, more beverages and soon after it was dessert time. A nice, warm chocolate chip cookie was perfect ending to the flight.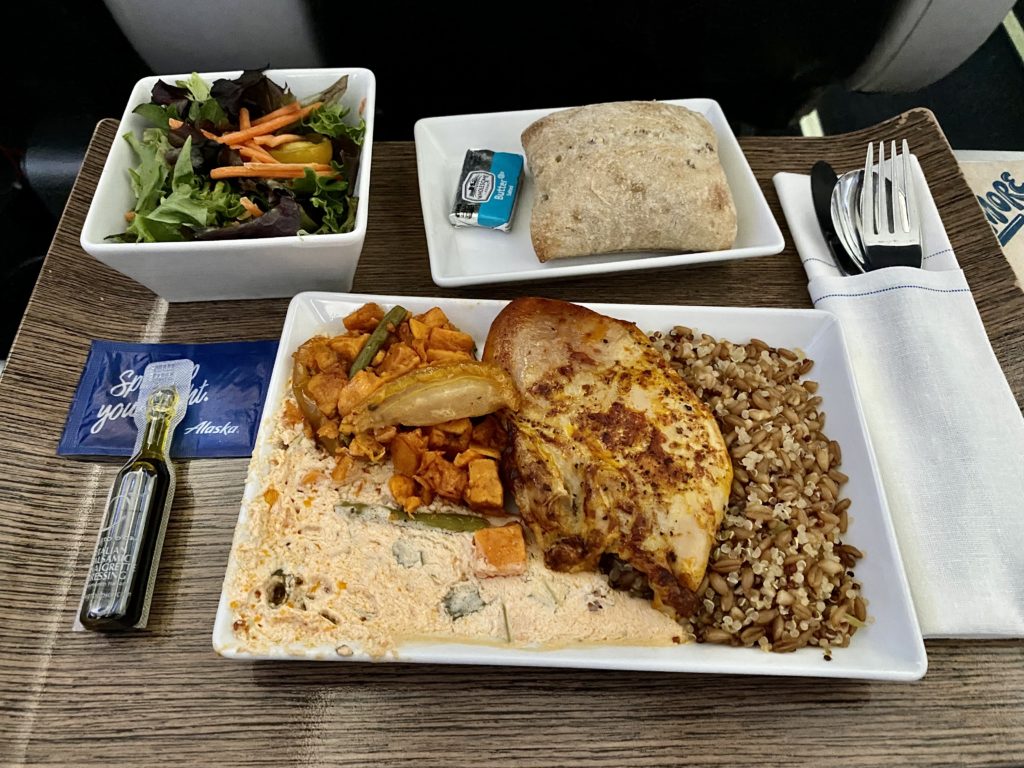 One of the best things about flying into Seattle is your view of the Cascades and none more satisfying than Mount Rainier. Sometimes you feel like you're so close to this beast of a mountain that you could reach out and touch it. We land at SeaTac and since the rental car pickup is now off the airport property, annoyingly, the plan was for me to get the rental while the fam picks up our bags at baggage claim. I'm glad we decided on this because the shuttle bus was packed full and standing room only. We had 5 checked bags and would not have been enjoyable to shuffling bags. I finally got the rental and time to head back to the airport to pick up the fam which was no easy task which like all airports is jammed with traffic for arrivals. Eventually, with everyone and our bags in the car we soon made our way to Seattle to begin this trip. We decided to stay by Seattle Center, with the Space Needle and MoPop because it is really a great centralized location for us to show the kids what Seattle has to offer.
Sunday, August 14
We wake up on our usual east coast time, well I did, which is super early when you're on the west coast. This is our big Seattle exploration day with visits to the waterfront, Pike Place and the Space Needle. When I am in Seattle I make it a top priority to get to Top Pot Donuts which was conveniently a short walk away from the hotel. This donut shop offers the truly unique and yummy Ovaltine Latte and some of the best donuts really anywhere.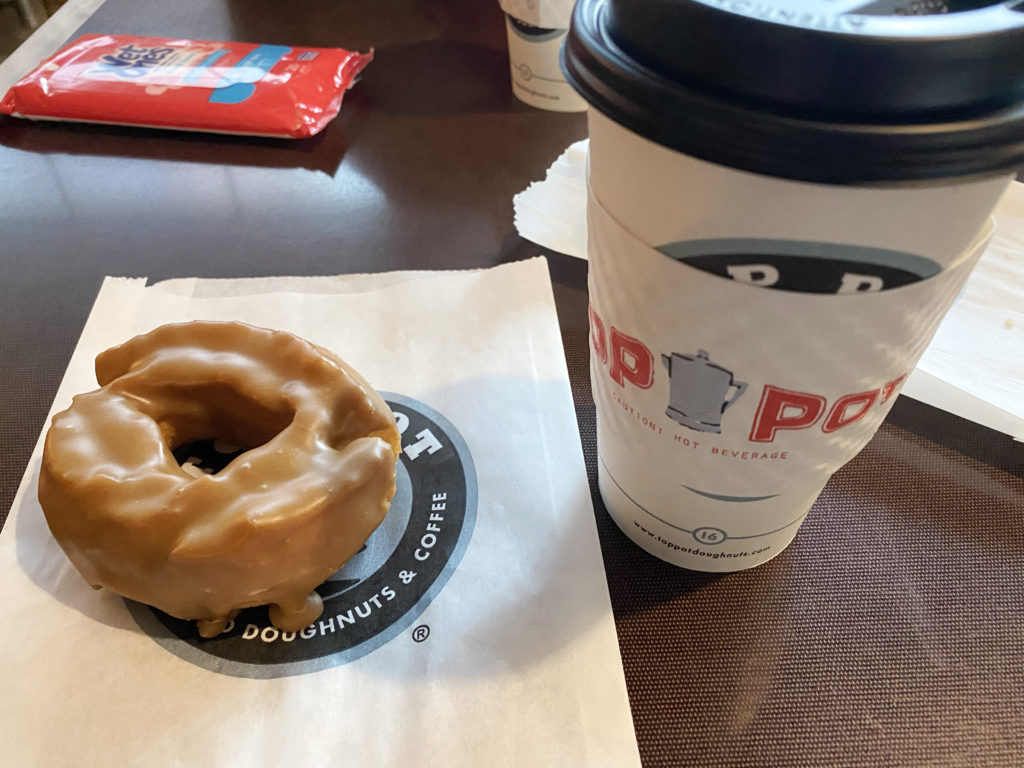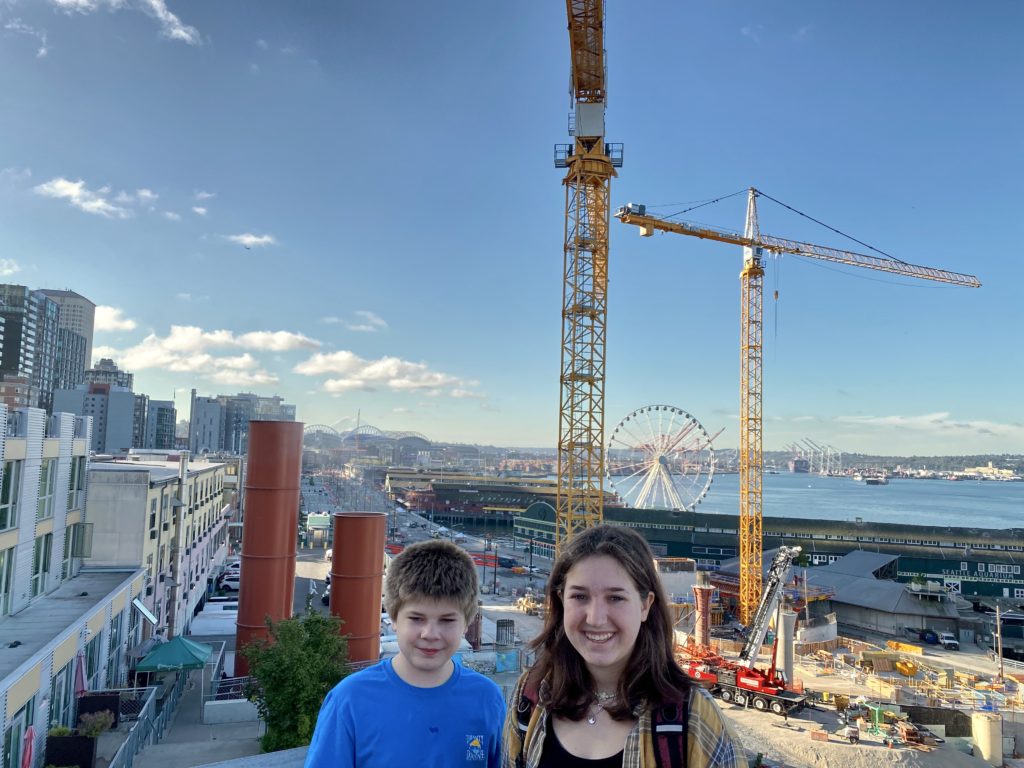 Next was a walk towards the waterfront which is just a walk down the hill from the donut shop. I'm so glad that Seattle finally removed Alaskan Way Viaduct which was a monstrosity of a double decked highway dividing the city from the waterfront. Besides blocking the wonderful view of the waterfront it was beyond difficult to navigate as a pedestrian. The bridge may be gone (2019), but it is still an ongoing project with major reconstruction to the streets with newly open crosswalks for pedestrians.
Since we were too early for Pike Place Market we decided to walk around a little, including checking out the disgusting Gum Wall and then we found a table by the market for views of the harbor and Rainier brightly shining in the distance. We snagged some savory piroshky (Russian hand pie) at the close by, aptly named, Piroshky Piroshky. This place always has a large line throughout the day because of their tasty baked goods. Of course the street across from the main market is filled with other big draws including none other than the original Starbucks, but I digress.
Once the market officially opened we strolled through with the kids and I think they were in awe. They couldn't believe how many levels and turns this place has. It's really a place that you could spend many days and not see the same thing twice. We stopped into a couple of the shops and continued to walk around for a bit.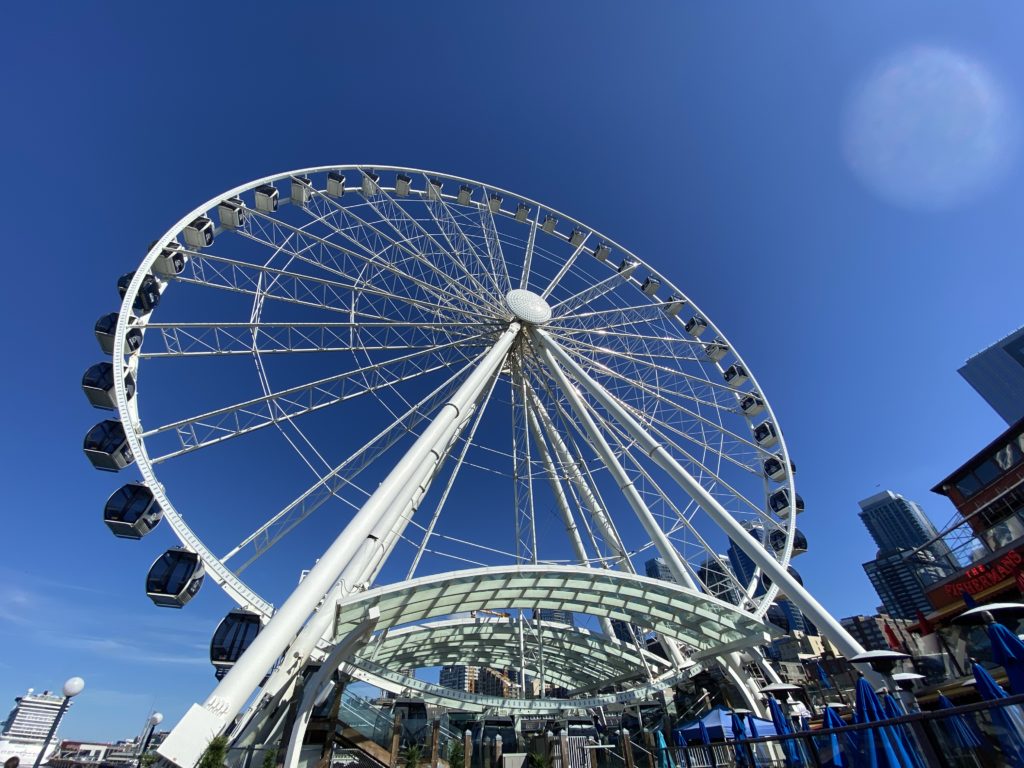 Eventually we decided to walk over to the piers since we had not walked to the waterfront, completely, yet. I grabbed a couple of sourdough rolls from Seattle Sourdough Baking Company at Pier 57 and enjoyed them as we trekked around the pier to take in the fabulous waterfront views and walk under the Seattle Great Wheel.
Next up for lunch it was time to find something the non-seafood eating boy would like which lead us to Pizza and Pasta Bar back at Pike Place. We were so comically bad in navigating the location of this place. Like I said, Pike Place is just a huge complex and there are so many levels and outer buildings that it's complicated for ones not visiting regularly like us. We sat outside in the restaurant's covered patio and watched the crazy long line forming for Pike Place Chowder before the pizza was served.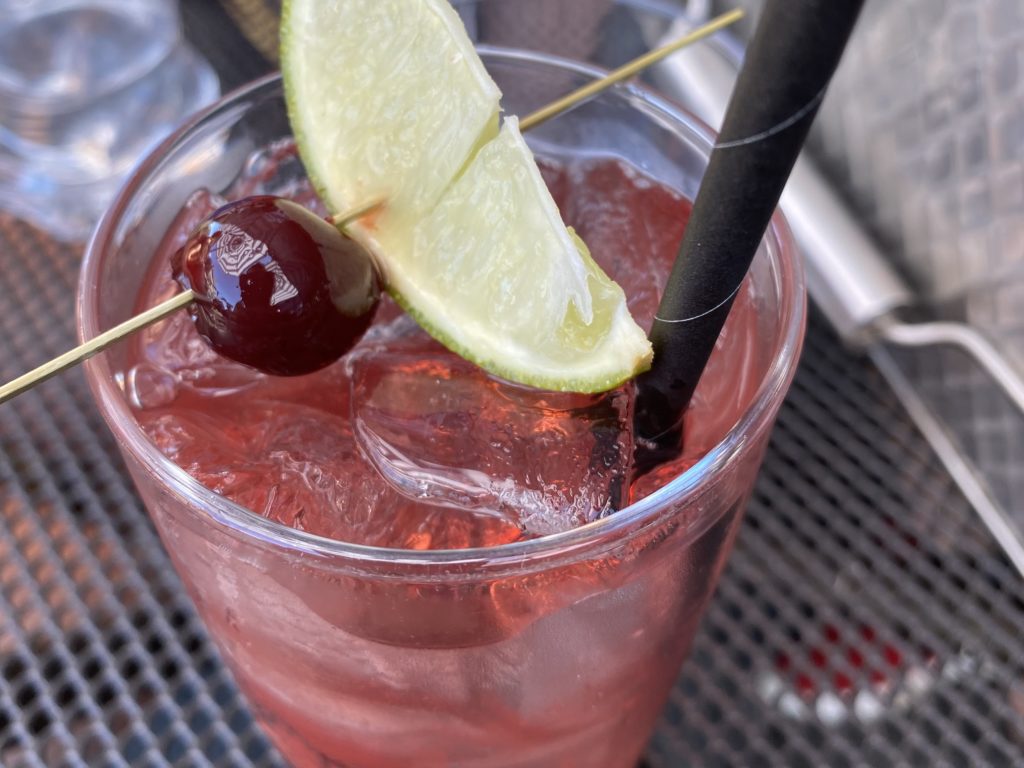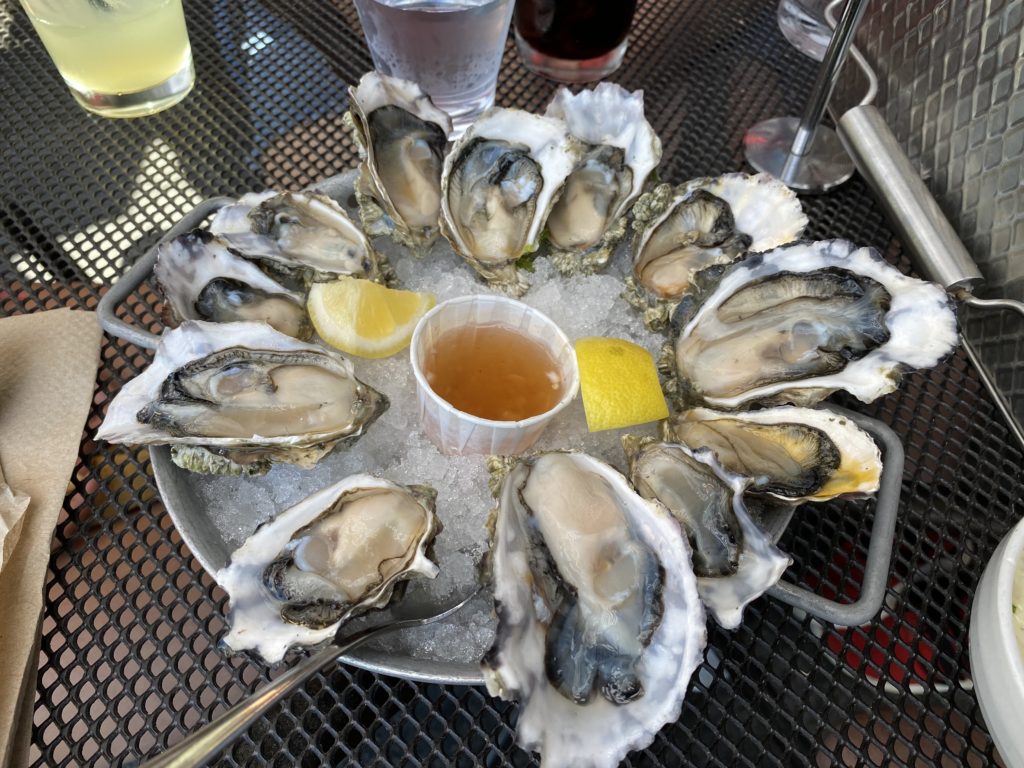 I'm just going to come out and say it, the Pacific has the best oysters anywhere. Since I'm here on the west coast I had to get oysters from right here in the Pacific, fresh. There are many options, obviously, in Seattle and decided to check out Seatown Rub Shack & Fish Fry. Ordered my bounty of local Pacific oysters, yum, and their chowder which was thick, creamy, clam, potato and bacon topped with seasoned goldfish crackers. Delicious. A also ordered a Pike's Spiked Punch (rum of course) and followed it with Finn River Black Currant/Apple Cider from a cidery on the peninsula. Seattle, and Washington, has a bounty of great cider and I will have many more great ciders the rest of this trip.
After everyone's bellies were satisfied we decided to head to Olympic Sculpture Park to walk off our lunches and for more waterfront views. On this day there were three cruise ships docked along terminals which we passed one of them on the way there. Seattle is the starting point for many Alaskan cruises and you will see many huge ships on the harbor all summer long. We took in the sites for a bit before we would have to head up the hill for a Space Needle for timed entry.
Originally we were all going to go up, but the boy was protesting extremely with his fear of heights. It was decided that one of us would stay with him and the other parent would go up with the girl. I got chosen to go (yes!) and up we went. The last time I was at the Space Needle, 2005, it was still a very enjoyable experience then. Now in its 60th year, a massive renovation has made the iconic Space Needle even more incredible than it already was. On the outdoor viewing deck, instead of the partially obstructed view where you would need to position your camera in between the safety fencing/railing you're now introduced to unobstructed views of glass panels. It truly is a remarkable experience. When you go down a level to the rotating platform where the former restaurant once was is now a glass floor. It is bizarrely disorienting because your eyes and motion perception plays tricks on you. Again, this is one amazing renovation and I am so thankful that I was able to experience it. Sorry Kate! I just took in the views of Olympic, Baker, Seattle, the Sound and of course Rainier shining brightly over the city.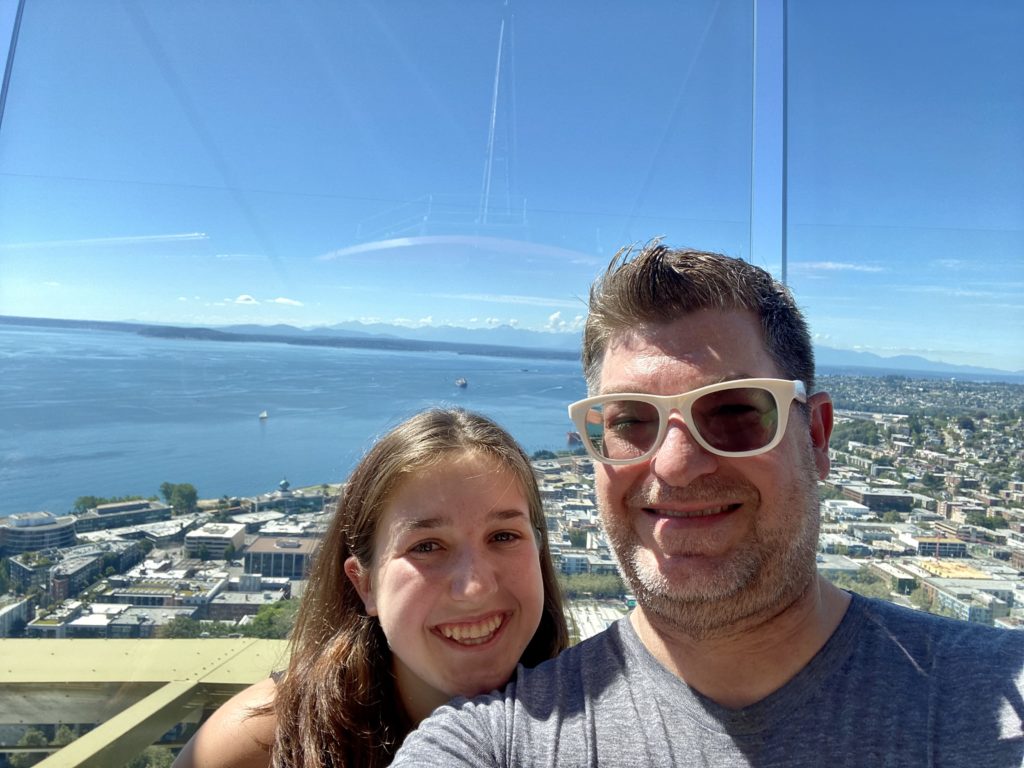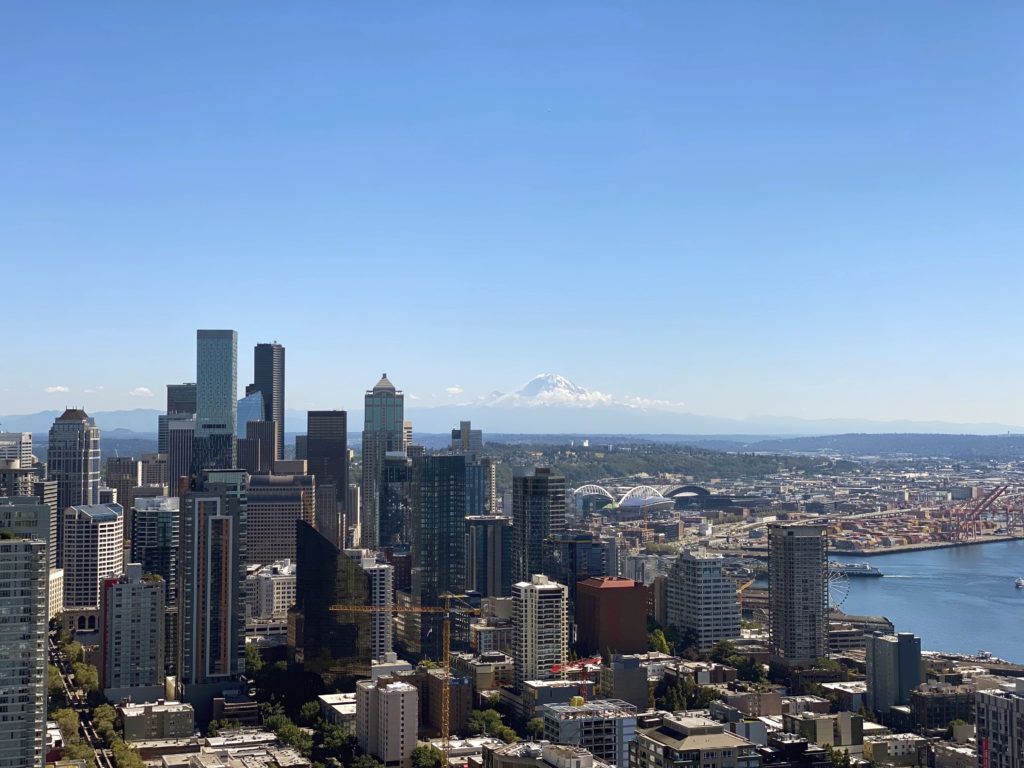 After the Space Needle we decided to go back to the hotel and relax for a bit as well as determine our next moves for the evening. Kate has a friend that was suggesting places for us for dinner and to take in a west coast sunset. We decided to head up to Ray's Cafe on the aptly named Sunset Hill stopping to see the Fremont Troll on the way. Ray's is on the water offering wonderful views of the very active Puget Sound. We watched many kayakers, boats and paddle boarders from the dock until we could be seated. Since I had my fill of oysters at lunch I decided to check out some fish and chips paired with their red wine sangria because we were seated at Happy Hour. A Happy Hour on a Sunday is great! I also ordered a classic Caesar salad because I love Caesars. Ray's is a super great place for not only their view, but the food to match. There is a super fancy dining area if looking for a posh experience if that is your thing.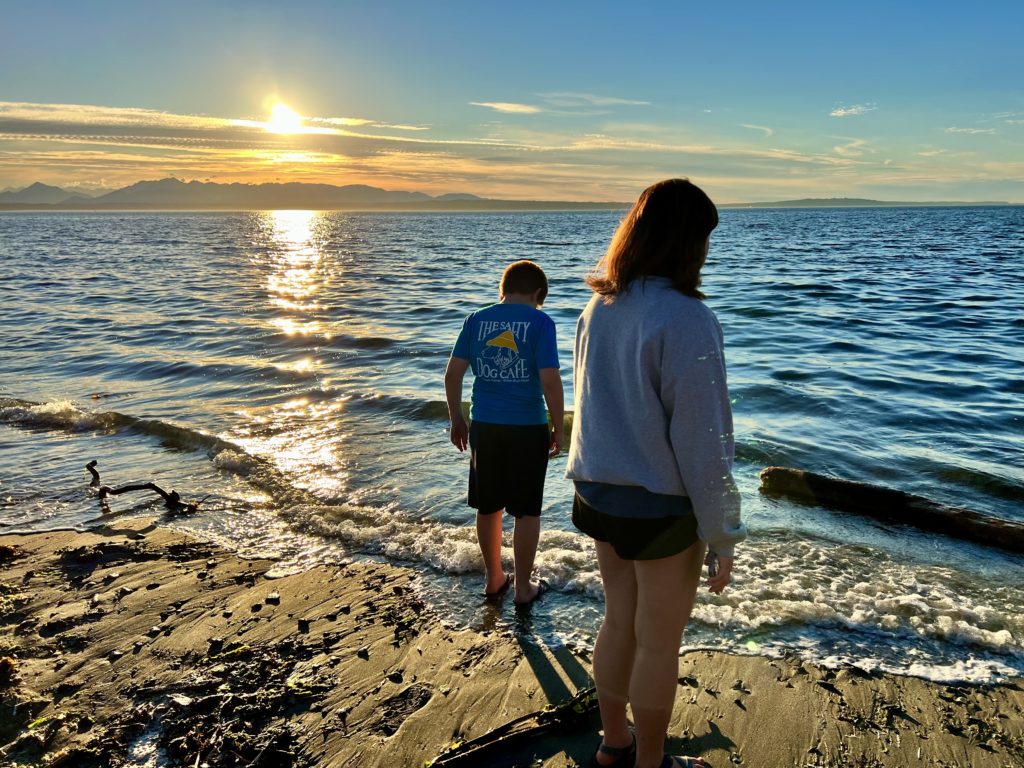 After Ray's it was suggested to check out Golden Gardens just up the road. When we arrived there was absolutely no place to park. I don't blame people for taking in the beautiful sunshine in Seattle wherever you can on the beach, but Kate soon had a backup plan of heading a little further north to Carkeek Park Beach. Luckily not too busy here and plenty of space to take in the sunset over the Olympic range to the west. In order to get to the beach the path does have a bridge over the coastal train tracks with steps down to the beach, but it's worth it for the view. We soaked in all of the last moments of the sun on our full, and only, day in Seattle.
Monday, August 15
Today we say bye to Seattle and make our way towards the Olympic Peninsula, but as usual, I wake up super early and plan to go get Top Pot one last time. On the way to the donut shop I decided to take the boy to see the Amazon Spheres. Last time I was there they had yet to open so it was cool to see them all completed.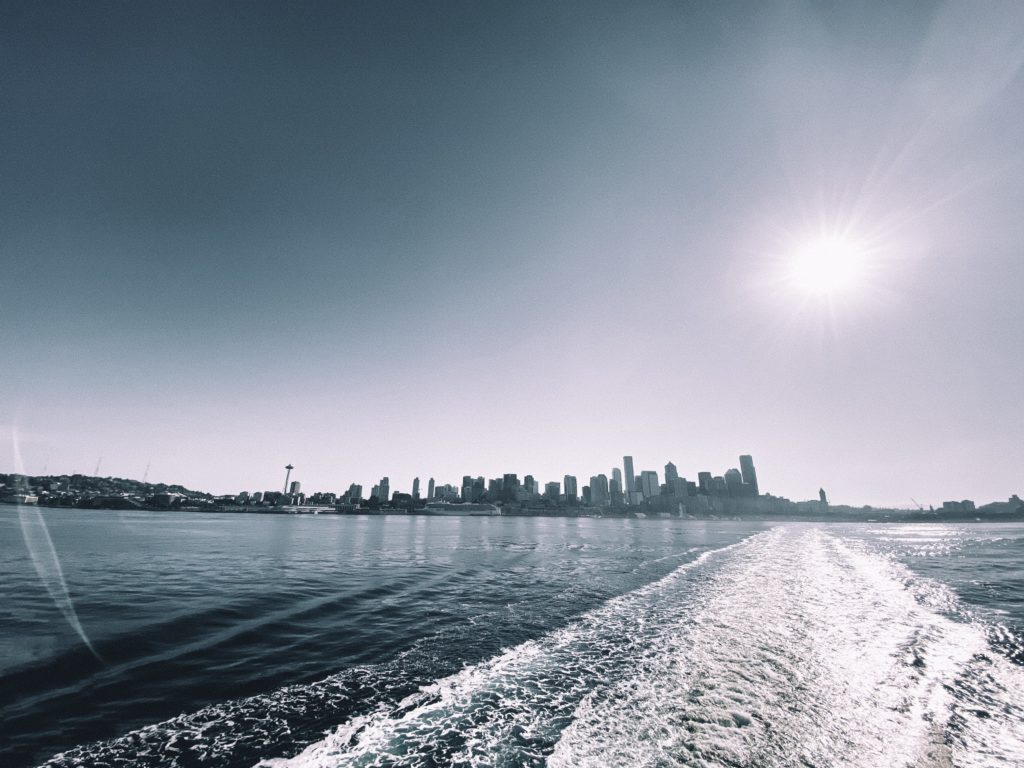 I picked up another Ovaltine Latte, more donuts and headed back to the hotel to prepare for heading out. To give the full Seattle experience we decided to take a ferry to Bainbridge. The kids have never seen a large ferry like this before. No better way to take in the Seattle skyline than from the water and again it was another beautiful sunny day with Rainier gallantly showing itself. Had to check out the cafe as well.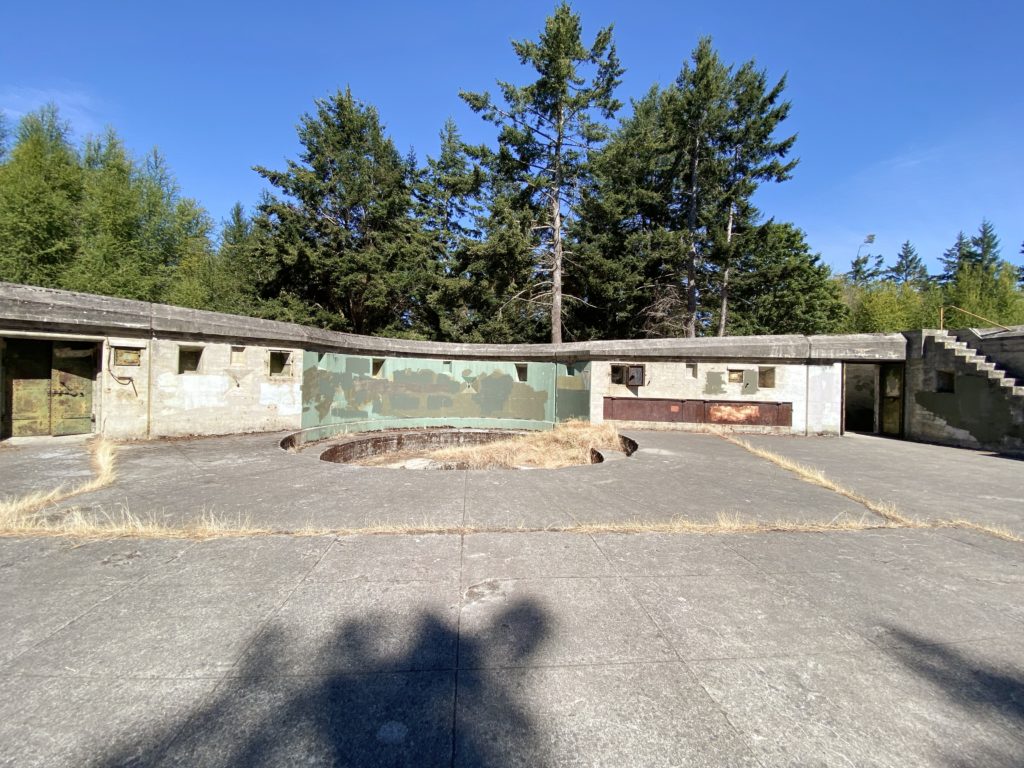 Once off the ferry we made our way towards Port Townsend for a stop at Fort Worden, a former military beachfront defense location and to get some lunch in town. Along the route one has to pass over the Hood Canal floating bridge, with floating bridges used widely in the area due to deep water. The views are quite spectacular over this mile and half long bridge. Unfortunately no sightings of submarines from the nearby base. We couldn't check into our rental in Port Angeles until 4 in the afternoon anyway so we planned accordingly with things along the way to see. I think Kate was expecting to be underwhelmed with Fort Worden, but honestly it's a pretty cool state park. The state has retained all of the former military installments like the parade field, barracks, officer's quarters and the giant armaments and bunkers. There is definitely a creepy edge to this place of the zombie apocalypse variety, but it was very intriguing to say the least. The kids explored in the bunkers through dark tunnels and seemed to have a blast doing so.
Now for some lunch. We head back to downtown Port Townsend, which is on the water with a Washington State Ferry over to Whidbey and San Juan Islands, for a little local place called Tommyknocker's Cornish Pasty. No, not pastry, I said pasty. Outside of the Upper Peninsula of Michigan I have not heard of places serving up pasties, but here we are! This place is a gem. I ordered up some very finely crafted Scotch eggs to go along with Dungeness crab mac & cheese. How can you not get crab or something with crab here? Dungeness, Washington is not to far from here after all. The rest of the fam got various pasties and, of course, pizza for the boy. I accompanied my lunch with one of the local ciders from Alpenfire. A nice bonus, I was able to purchase bottles of cider for carry out. They were selling bottles of the Pirates Plank (dry) and Calypso (blackberry) ciders which I enjoyed later. If you find yourself in this darling little town of Port Townsend do yourself a favor and make sure Tommyknocker's is on your list.
After lunch, we explored downtown a bit with stops in a vintage store and then grabbing some ice cream at Elevated which we enjoyed out on the waterfront seating area. After a couple of other stops we decided to make our way towards Port Angeles. Port Townsend is a darling little town. I can see us visiting again. It reminded us of Salt Spring Island.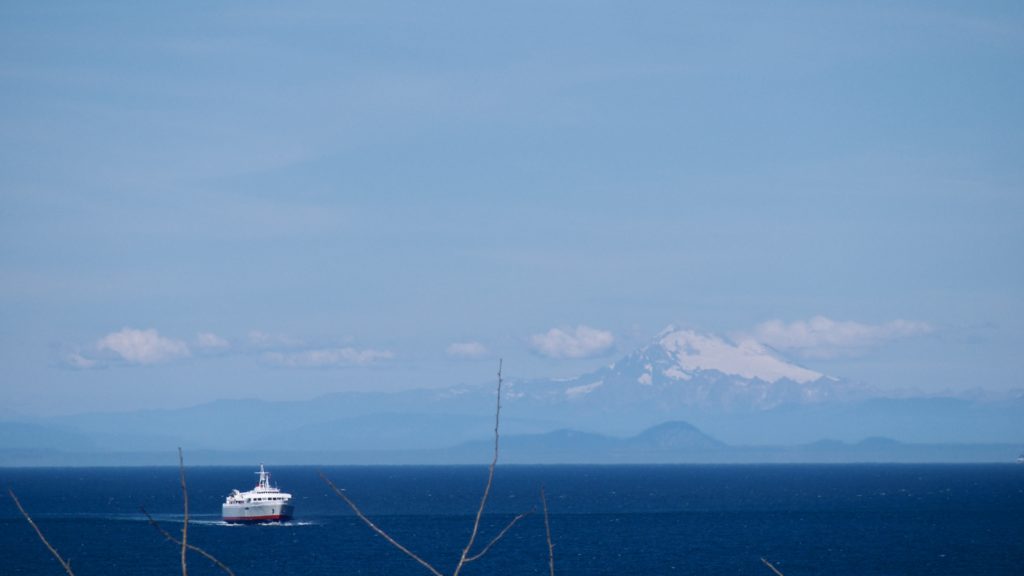 We knew we would arrive before 4 in Port Angeles so we planned on stopping at the grocery store beforehand. Out west your grocery shopping is likely to be Safeway/Albertson's. Yes I know there are others, but Safeway is everywhere and they have gas stations. After grocery shopping we arrived just a few minutes early to the Vrbo stay. There honestly was no better location in Port Angeles than this place. Perfectly located on the bluff above downtown and waterfront with a convenient "zig-zag" walking path down the bluff into town. The view from this location was incredible. To the north across the Straight of Juan de Fuca is Victoria on Vancouver Island, Canada and to the east is Mt. Baker shining brightly. Views of the busy port with a long "hook" containing a Coast Guard station and various ships of numerous sizes in port. The kids had an even better view from their windows on the second floor. Perfect space for the two of them with their own bathroom.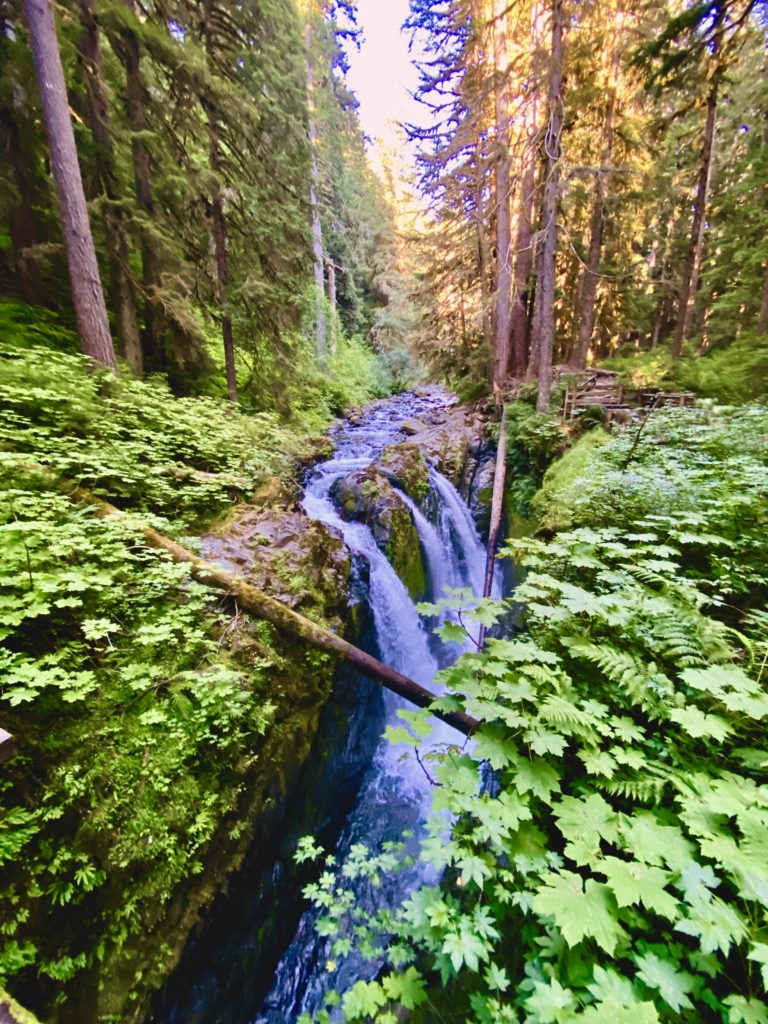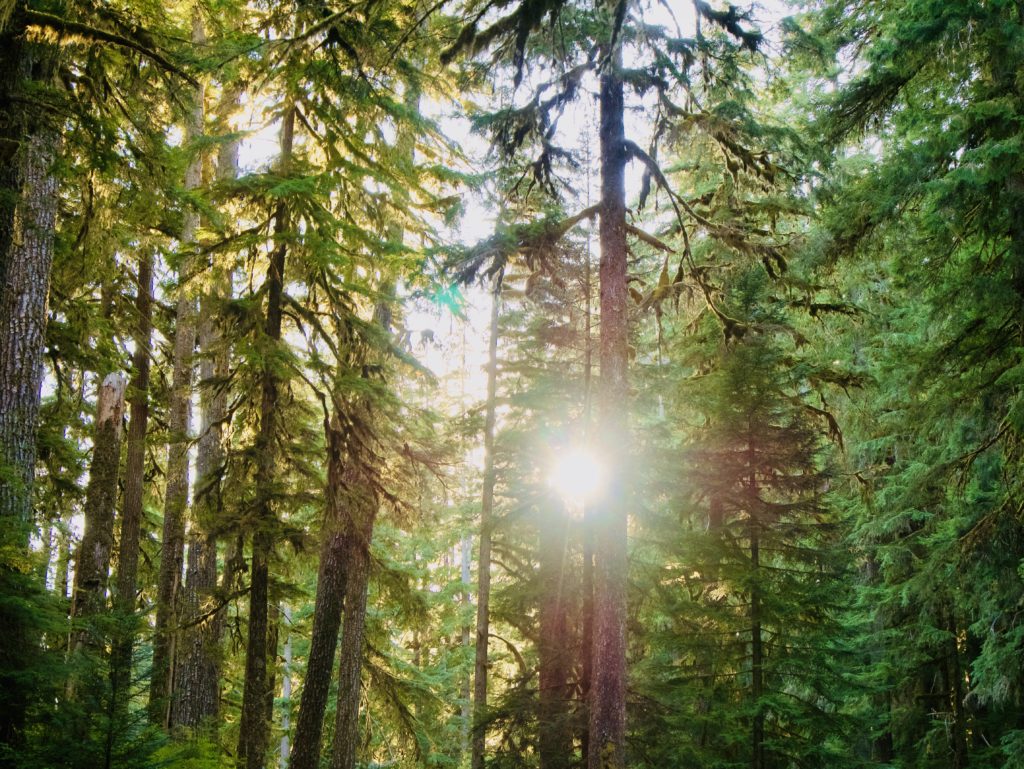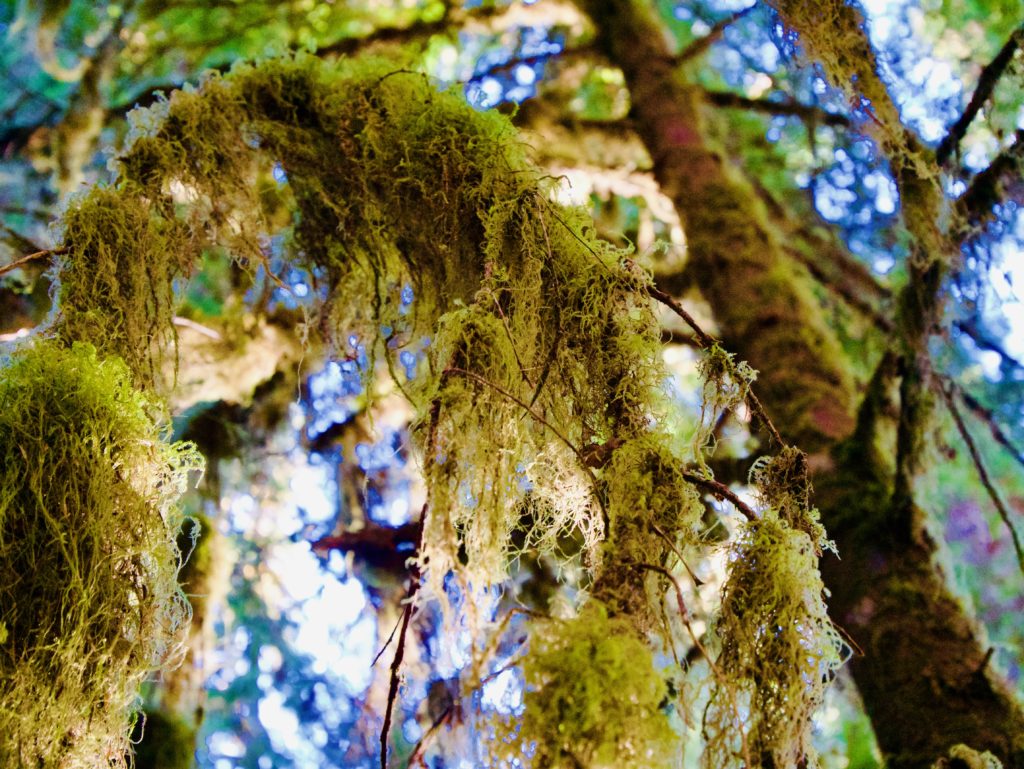 After we got unpacked and settled in for the next couple of days, we decided to head towards Lake Crescent and Sol Duc Falls (or Soleduck according the sign at the trail oddly). Passing by large Lake Crescent we stopped off for a couple of photos just past the point where Marymere Falls is located before heading further. Besides the beauty of the large mountain lined lake is that heading down Sol Duc-Hot Springs Road it's striking just how lush, thick and large the trees had become. After a short, easy hike you make it to the falls. Sol Duc waterfall is very unique in that it looks like the earth cracked open next to a small stream amongst old growth forest trees. When we left the rental we had decided to bring swimsuits for the kids just in case. At the end of Lake Crescent we had noticed a small beach area and decided to stop there. Our brave little kids decided to "why not" jump into the water and enjoyed every moment of it (it was pretty cold water).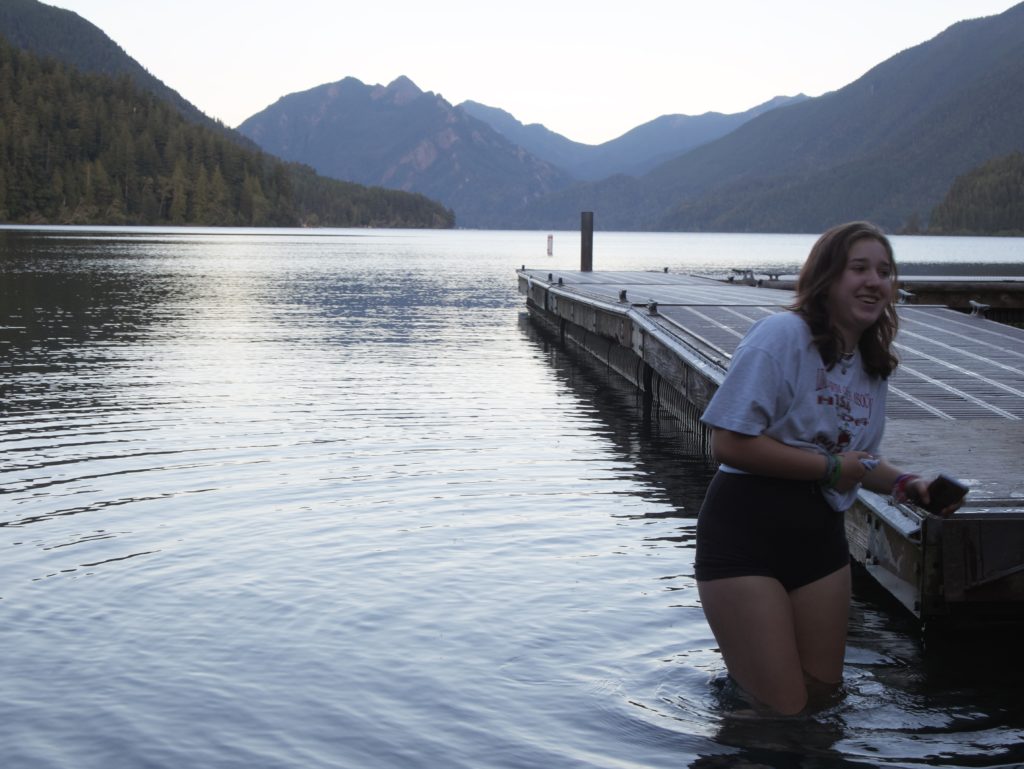 On our way back, and finally with some cell reception, we started looking for dinner options and pulled up to a place that said would be open, but unfortunately had closed for the night for whatever reason. That's just the way things are in this post-pandemic world we live in now. Plan B it was, we just decided to go back to Safeway and grab some sandwiches or whatever. So it goes.
Tuesday, August 16
The big items on our agenda was a whale watching excursion and a hike in Olympic. Before our boat tour we decided to head up to the Olympic National Park Visitor Center which is within Port Angeles proper. Since we arrived before the center opened we took a small hike on the Aldwell Nature Trail, but first took our obligatory NP entrance sign photo. Again, can't get over the lushness and greeness of these forests. Mosses, giant ferns and just exceptionally green colors everywhere. You almost expect an Ewok to come out at any moment. Towards the end of the trail a giant, black slug was crossing the trail.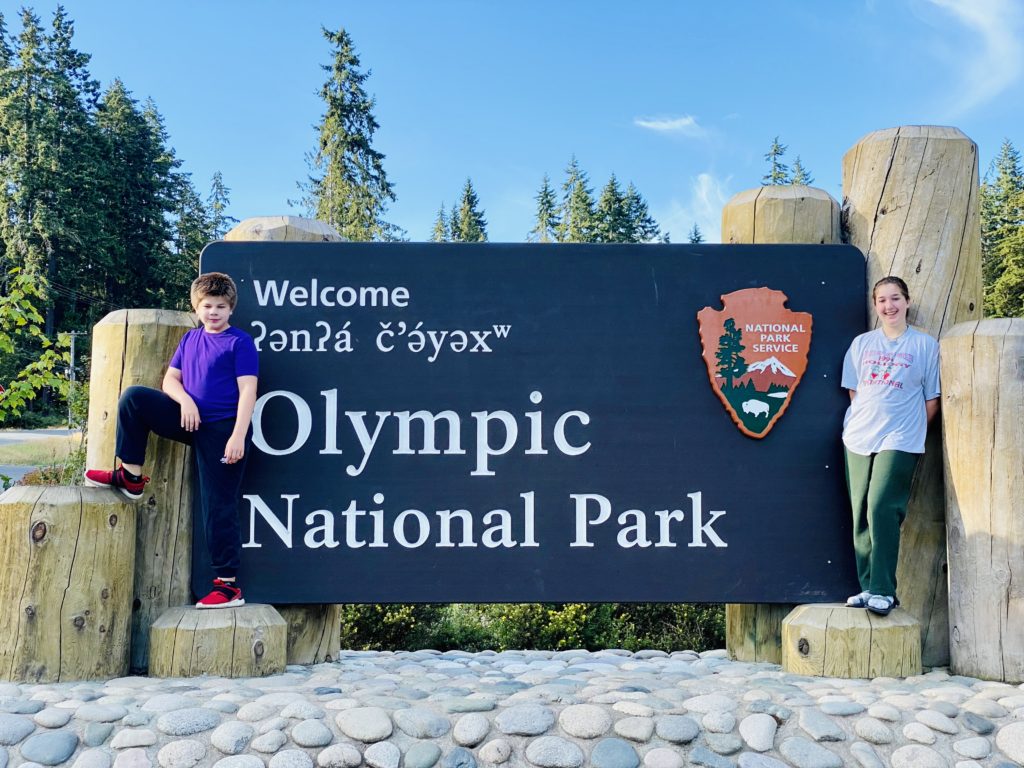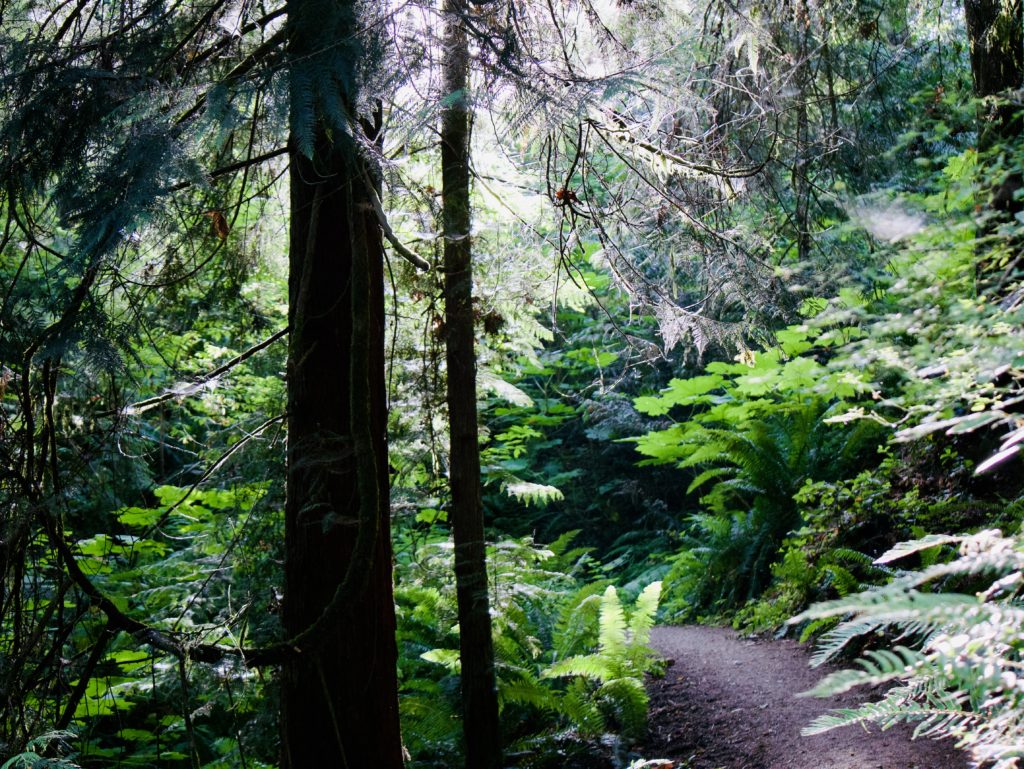 A little side note is that of all the weeks hitting Olympic it happened to be the week that they closed down Hurricane Ridge where we had planned to go due to a mountain goat relocation project. The thing is, mountain goats are not native to the Olympic mountains. In the 1920s there were some guys that decided these mountains needed goats for hunting. Of course there is a reason why there were not any mountain goats there in the first place. Mountain goats eat a lot and have been depleting and destroying areas in some cases. Another reason is that the mountain goats have become aggressive. The Olympic mountains are different in chemistry than the ones not so far away like Rainier of the Cascades. The Olympic mountains lack minerals and sodium that the goats desire. These goats have noticed that humans come into the park sweaty and sometime urinate which then the goats like to lick. The goats have been known to follow humans and in some cases licking you. There was a plan put in place to relocate and eliminate the estimated 1,000 mountain goats from the Olympic mountains which they do by trapping then transporting by helicopter to a staging area to check over the health of the animal to determine whether they are safe to be released in the Cascades, possibly to zoos or if they have to euthanize.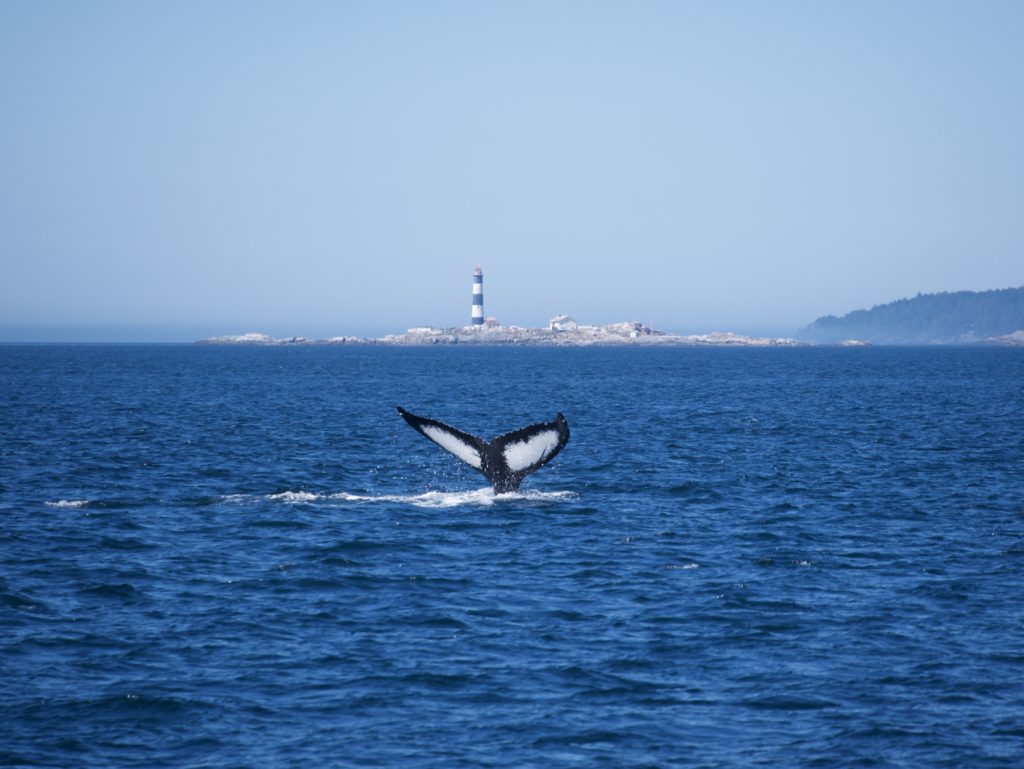 We return to our Vrbo and then walk down the zig-zag to the harbor to catch the Puget Sound Express boat. Admittedly when you think about whales in the Pacific Northwest you think of orcas first. Or at least I do. This part of the trip I had been looking forward to it since this particular operation had been seeing a great deal of orcas in the area. One thing to keep in mind is the animals are wild animals and it's not like a zoo where you show up there's the animals. These operations rely on daily reports and all of the other tour boats out on the water. Another thing I was excited about is that across from Port Angeles is a place called Race Rocks. Kate and I got married not too far away on an island north of Victoria and soon heard about this incredible marine ecological place. We have donated to their cause and also to Pearson College, a United World College, dedicated to uniting cultures and countries through education. Pearson happens to conduct studies on Race Rocks as well. Bittersweet to see this place up close.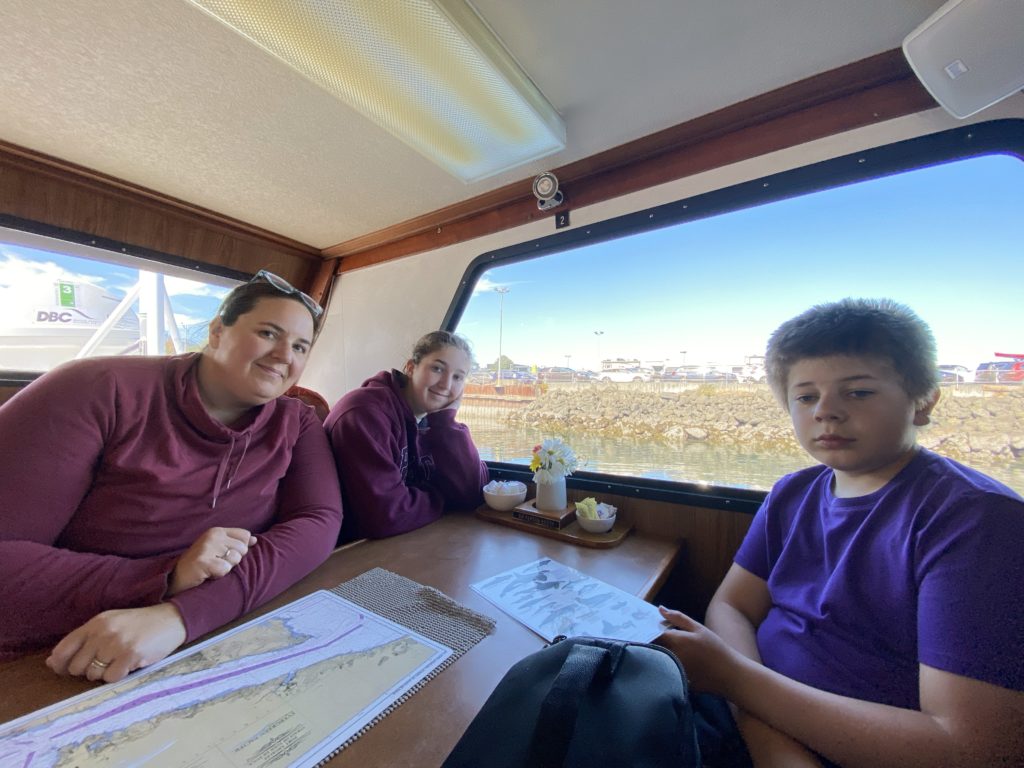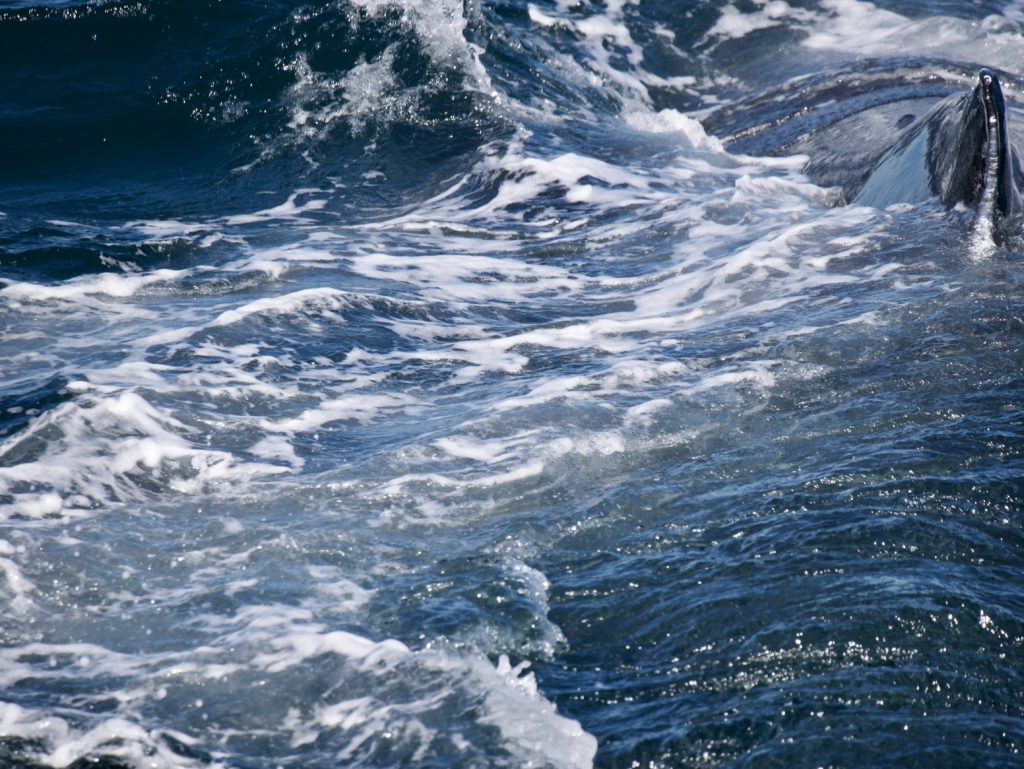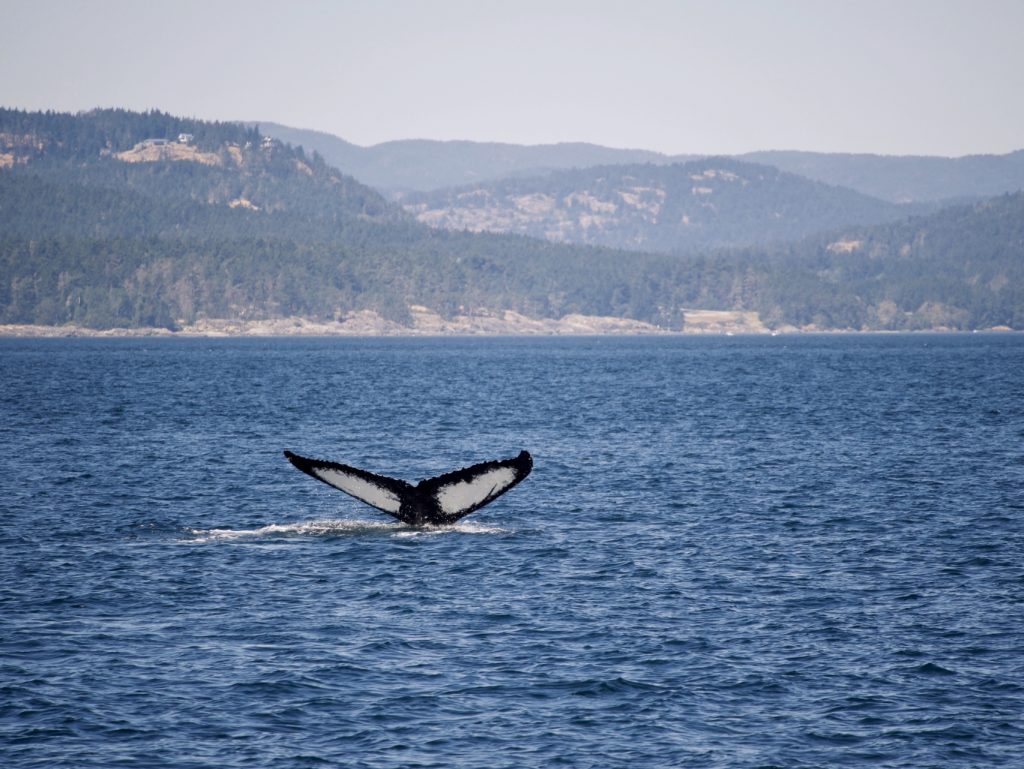 Not long after our departure from the dock homemade blueberry buckle was served which I had preordered for our trip, yum. The closer we got to Canada the foggier it became until eventually we were surrounded in it. The sun finally started to burn it off and soon we could see the surrounding waters again, but back towards Olympic was a well defined line of fog. Not too long after this, the first sighting occurred, a humpback whale. Soon after, a fluke. As the naturalist onboard explained, typically when you see a fluke (meaning tail up out of the water) the whale is doing a deep dive, and these waters are very deep, which they stay down for about 8 to 10 minutes. Sure enough, this humpback was back up 7 minutes later. We continued observing this particular whale for bit.
We were about to leave the spot when suddenly, out popped right next to the boat, the humpback! It let out its breath right next to us. My heart completely jumped out of my chest and you can see in my photos that I struggled to capture pictures for a few minutes after this. I was shaking mightily. I had never seen a humpback that close. It was one of the coolest, closest encounters I have ever experienced with an animal of this scale. Boats are not allowed to approach whales, but the whales don't exactly get the memo that they can't approach a boat. The rules are that the boat will now have to drift until the animal is well outside the bounds to cause harm.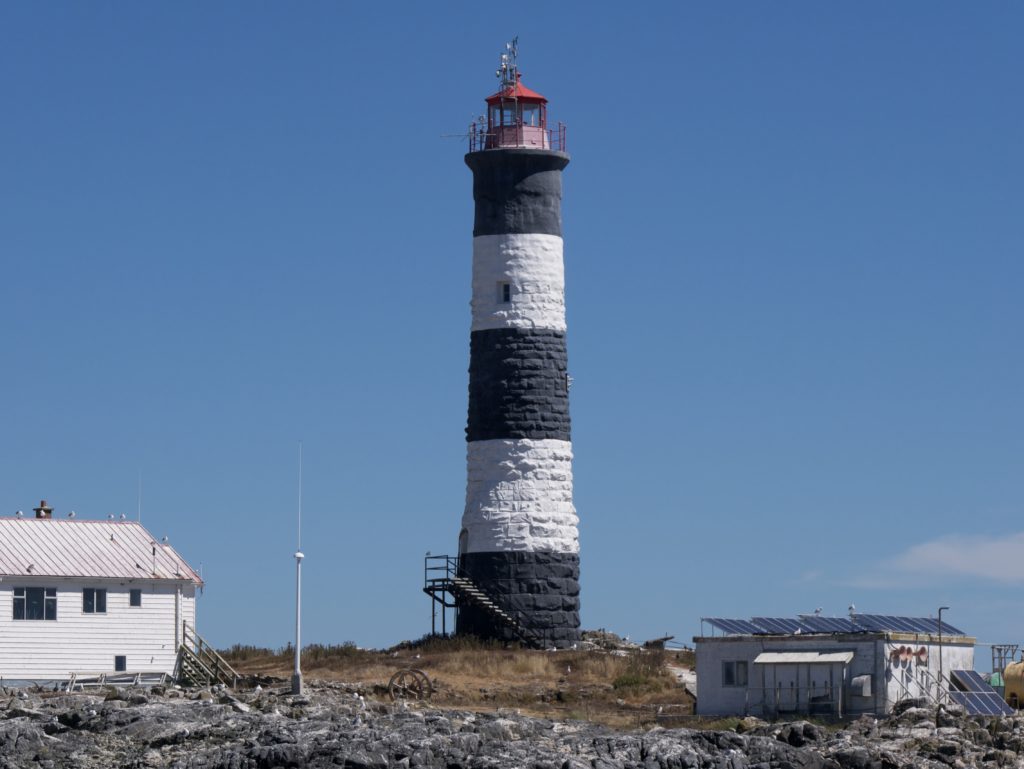 After about 2 hours since we left the port the boat captain decided to take us around Race Rocks for a closer look. These islands, really just a bunch of large rocks, attract many seals of many varieties. The closer we got the smell grew. Wow, it reeks! There were harbor seals, sea lions, California seals and apparently somewhere by the lighthouse a very large elephant seal had taken up the boat ramp as his spot.
As we moved on from the island it was becoming apparent that today was not going to be our day for orcas. Even with that said there were 5 humpbacks in the vicinity and so we settled for watching these large creatures sometimes together hunting for the best spots to filter the krill and other such tiny organisms through their baleen. You can see many blows going off basically all around us. Another humpback was close to another boat in the distance. Regardless of not seeing orcas the excursion was still incredible. Especially with how close one came to us.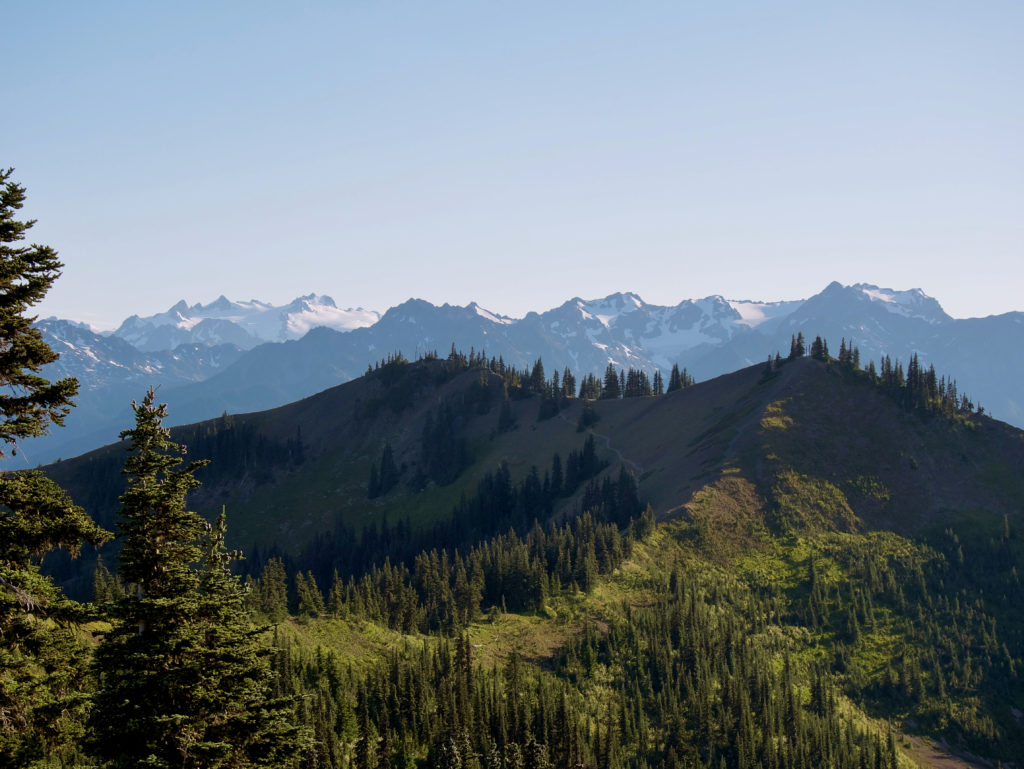 We returned to the dock and proceeded to walk back to the Vrbo. It was decided to grab some dinner because of the night before fiasco scrambling for dinner. We returned back to the same pier we were just at for some quick dinner at Downriggers before heading up for a nice hike in Olympic. We make our way towards the Hurricane Ridge Visitor Center which is straight up from Port Angeles. From the parking lot we make our way for the Hurricane Ridge to Klahhane Ridge Trail hiking as far as we can since daylight was running out. As you begin the ascent and if you take breaks looking south this trail offers wonderful views of Mount Olympus. As you continue on the trail the waters of the Straights of Juan de Fuca/Salish Sea, Puget Sound, Vancouver Island and Mount Baker come into picture. Olympic is another one of those amazing parks with such diverse landscape. Numerous mountain ranges, dense forest, rainforest and ocean beaches. We hiked out about a mile and half for 700 feet of elevation gain and turned back. We did get to experience the Olympic marmot out on the hills showing off their bright patterned fur. Olympic mountain ranges are just quite spectacular. Not in height, but just ridge after ridge everywhere you look. This was a great hike to help us prepare for the days ahead.
Once back at the car we drive by the visitor center to be nosy with the goat relocation operation. You can't get close, but we drove as far as we could until we saw the signs for the closure. We then head back to Port Angeles to pack as wehead out the next morning.
Wednesday, August 17
Today we head towards Forks not because of vampires I assure you, but to head towards Hoh Rainforest which you have to drive all the way around Olympic to get to. We decided to make some stops along the way and grab some lunch in Neah Bay.
Our first stop was just west of Port Angeles at Salt Creek Recreation Area, which is a county park. This park, like Fort Worden, is another former coastal defense location called Camp Hayden. We didn't really explore around that area, but instead looked at all of the tidal pools and took in the eerie fog laying over the shore and water. Wonderful views across the Straight of Juan de Fuca towards Vancouver Island graced us on the rocky shore. There are a few trails leading up a large hill, but we did not venture up. We hopped back in the car and drove the road along the shore back to the main state highway to continue west.
State Route 112 winds through deep woods, hills, some occasional coastal views and through additional parts of Olympic National Park that reach to the coast. Some stretches of the road are in repair due to washouts which seems to be a very common occurrence in these parts. We continued onward west.
We reached Clallam Bay with the village of Seiku on the far end of a vast sandy beach. Decided to just stop and take in the coastal view. The Straight and Salish Sea is very busy waters with cruise ships, large ships and fishing boats always in view.
We made it to Neah Bay and one of the requirements to access Cape Flattery, which is on tribal grounds, is purchasing a recreation pass. This fee is collected by and for the Makah Tribe. We opted to stop into the Makah museum where we could learn about these native people and obtain the pass. We really enjoyed learning about this nation and it is truly fascinating about their story.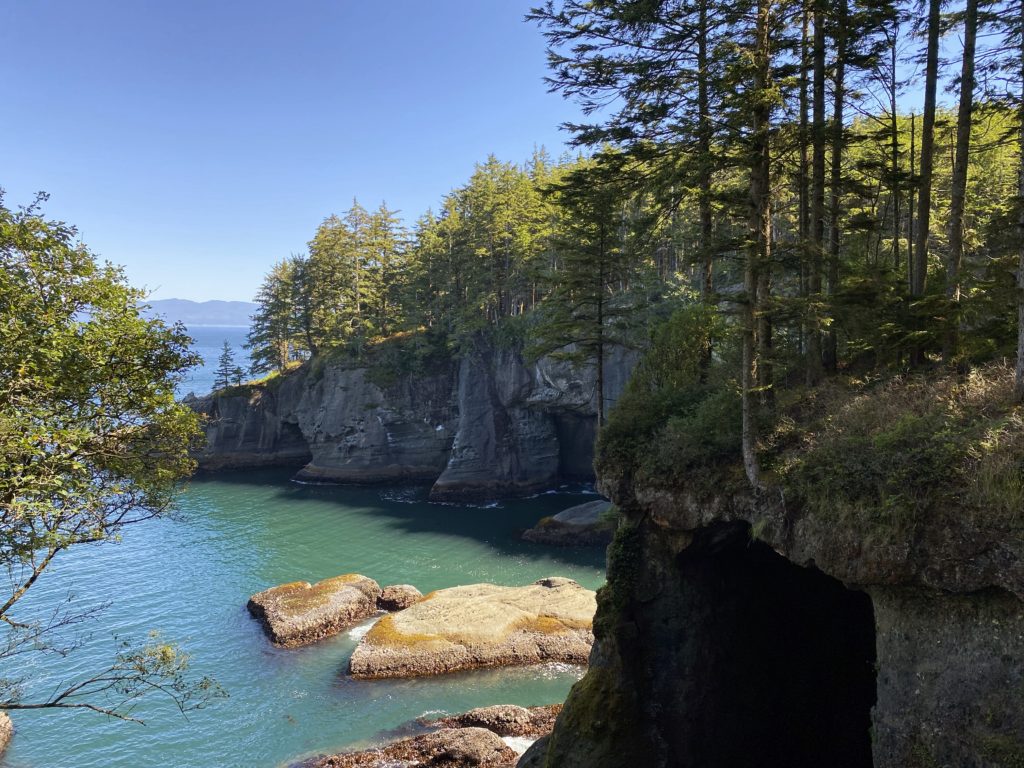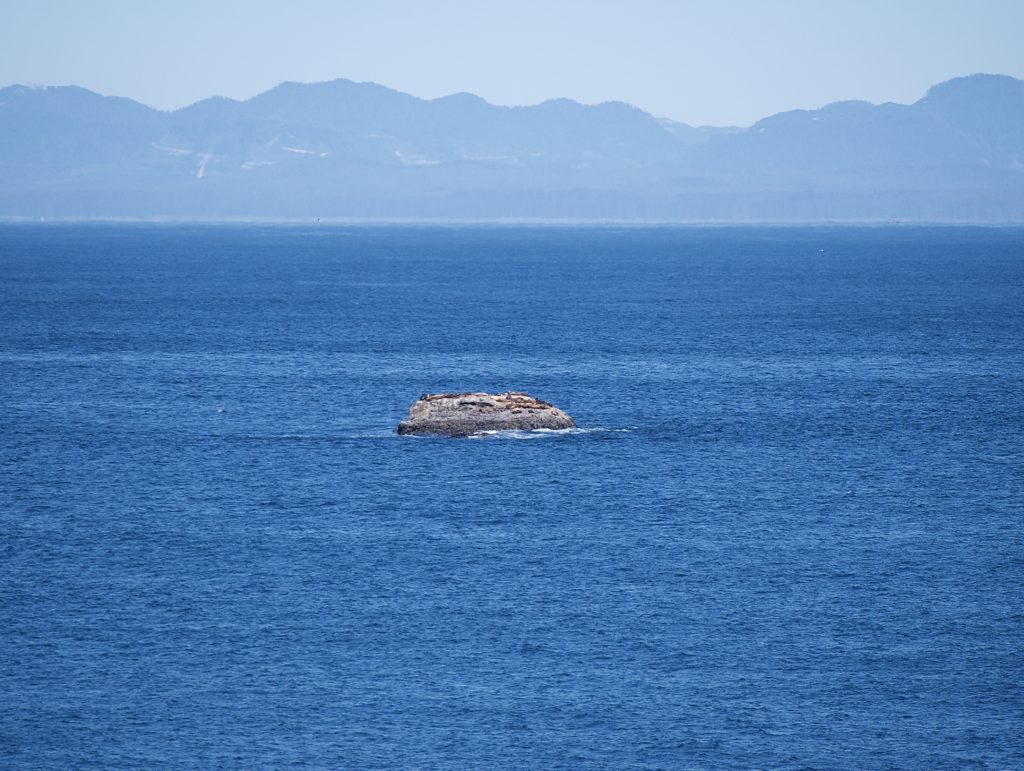 We make it to very busy Cape Flattery, which is the most northwestern point of the contingent United States. Yes, I know you'll say what about Alaska, but that is why I said contingent as in the lower 48 states. I also did not say most northern as well. The three quarter of mile trail winds through dense, old growth forest on tribal land the closer you get you can start to hear the Pacific howling out its location. Once you make it to the shore there are many viewpoints to see these wicked rocks with deep colorful pools and water forcefully bashing every which way. It is worth it all to see this northwestern point of Washington. Off into the distance, on a large rock, seals can be seen taking up every inch of space as refuge from any potential predators lurking in the waters.
In order to head towards Forks and our eventual evening destination you have to drive back through Neah Bay which is where we all decided to grab some lunch. For me it was hearing from my friend James that just a couple of weeks prior to us stopped in to place called Calvin's Crab House. I had to have their fish and chips after James told me about it and I was not disappointed. Kate on the other hand wanted to get some fried bread from the locals which in Neah Bay you go to Pat's Place. It was all really good and you can't beat the view paired with having some great food.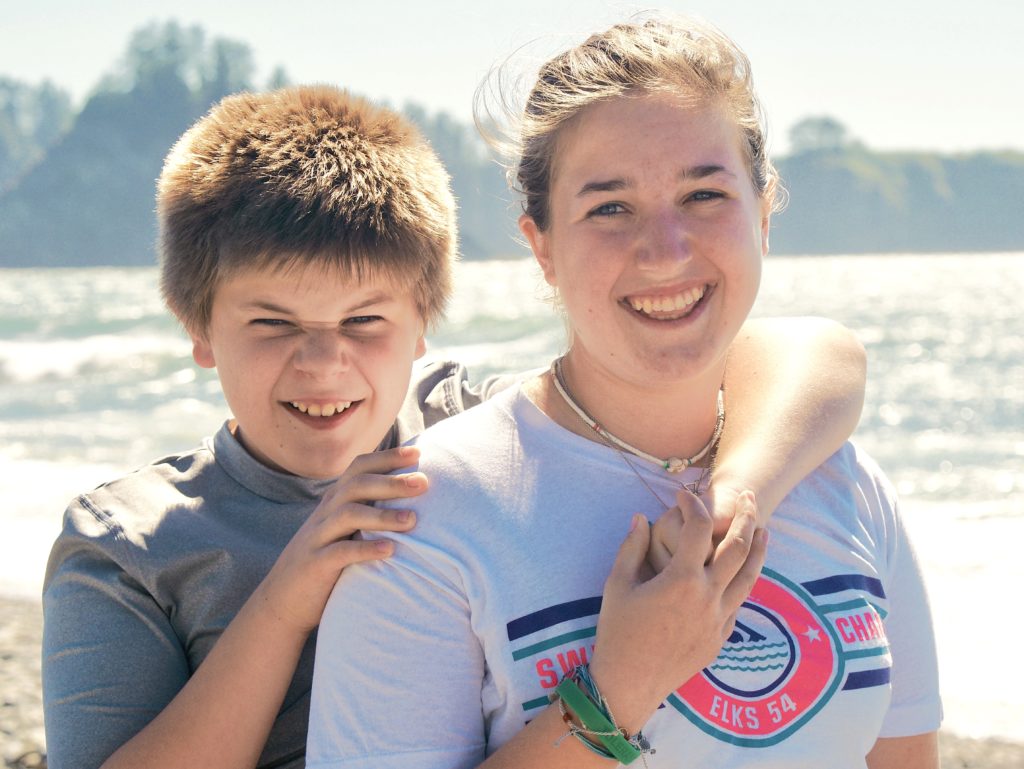 From Neah Bay you have to backtrack in order to get to US101 to head south. Most of this land is tribal lands and just completely undeveloped. Once we got back on 101 our next stop would take us to the coast for Rialto Beach. This is the area of the Quileute Tribe and where the Quillayute River empties into the Pacific. On this day, western Washington was under a heat advisory and I had noticed that at one point the temperature read 98º, but once we started getting closer to the shore the temperature was dropping. That was a clue. We luckily found a place to park quickly and made our way towards the beach. The wind. Wow. The spray from the ocean was blowing deeply into land and was very strong. The beach is very rocky with various small, very smooth stones. Reminded me of the time Kate and I were on Lake Huron on a beach in Canada. The other super crazy thing is all of the giant weathered trees, I'm talking full large trees, stacked in various large piles like some massive art installation. Nature's fine art installation. And much like the Pacific coast many stacks off into the water up and down the beach. It's quite beautiful. Oh and the air temperature on the beach was 25º lower than that on US101. We withstood the strong winds for some photos and just taking in this Pacific beach beauty. The water temperature is 52º if you must know.
Onward to our destination which would take us through Forks, Washington. I have to admit that when planning this trip Forks never registered with me. People would tell me about vampires and I had no clue what they were talking about until I looked it up. I have never read or watched the Twilight series, but I can't fault a small wilderness town building a tourism industry based on it. There were various places for photos and merch, but we just kept making our way towards Hoh.
We arrived at our stay, Hoh Valley Cabins, and we were pleasantly surprised how adorable these cabins are. 4 individual cabins with their own parking space and spaced not too close nor too far apart. There was a communal fire pit, but on a warm day we were not about to partake in that. The temperature was "down" in the upper 80s here as opposed to mid-90s in Forks. Did I mention that the cabin is adorable? The cabin has a nice large front porch pointing away from the neighbors and you enter into a large main open space with a dining area, living and small kitchen. The living room has a large, higher end pull out queen bed as well as a fireplace (obviously not needed this night). Guests can also request a "cot" that was not like an old camp cot, but a nice folding bed. There was a single bedroom and bathroom. The attention to detail had Kate and I talking as we kept coming across the little things that go a long way in travel. The biggest thing was AC! The cabin was already a comfortable, cool temperature when we arrived. We got situated for a bit and decided to walk over to the nearby Hard Rain Cafe to grab some dinner, but apparently sometime in us leaving the cabin and the walk to the cafe the power went out. Back to the cabin we went to pull together the things we had brought with us from Port Angeles. Glad we had a portable travel cooler with us with food had purchased in Port Angeles. When we got back we heard the loudness of generators cranking. Each cabin had their own generator to keep your stay enjoyable without missing a beat. Details!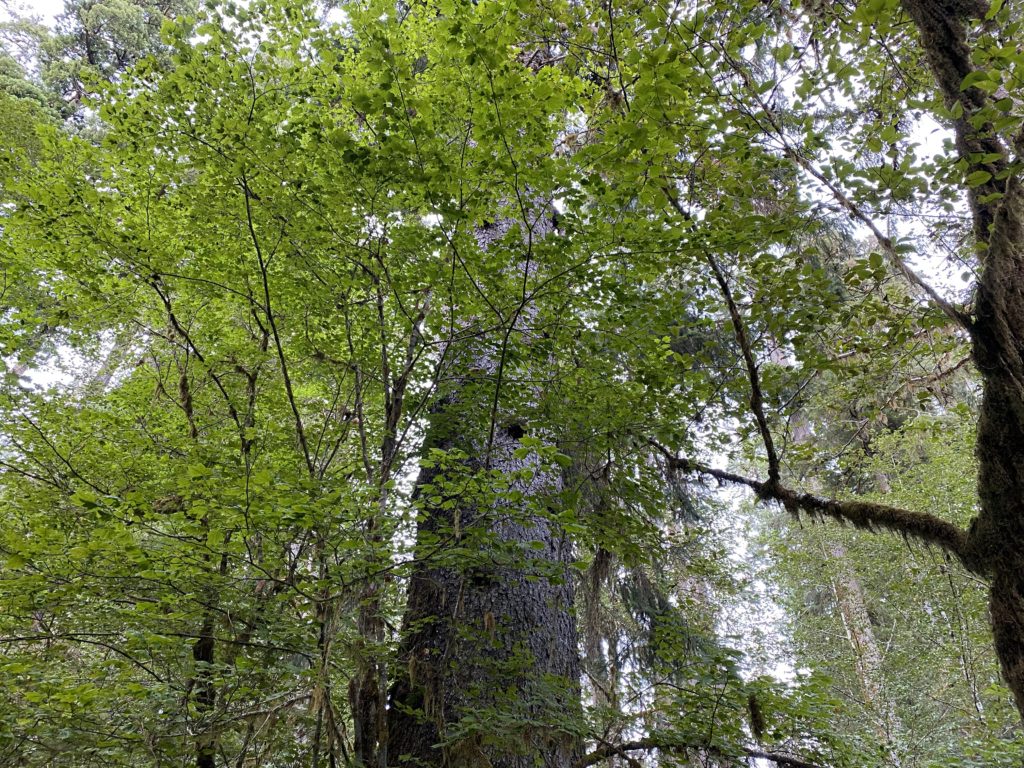 After we ate we decided to journey to Hoh Rain Forest for an evening hike. The rainforest is why we were here and I'm so glad we added this to our trip. The Hall of Mosses trail is just beyond words. The only way to describe it is otherworldly. These giant, old growth trees providing the cover for layers of dense mosses. The colors are just beyond. It's fairytale-like and pure natural beauty that has to be seen in person. Every turn on the trail provided a new round of amazement and wonderment. The old giant trees that have fallen becomes a nurse tree for new giant to emerge and grow. Personally, this is one my most enjoyable stops on the entire trip. Hoh is one of three rainforests of Olympic National Park.
Thursday, August 18
Since we arrived at Hoh, the previous day, after the visitor center was closed we decided to split duties preparing for the day. I would take the boy to visitor center to complete his Olympic Junior Ranger program and Kate would pack up for us to head to Rainier.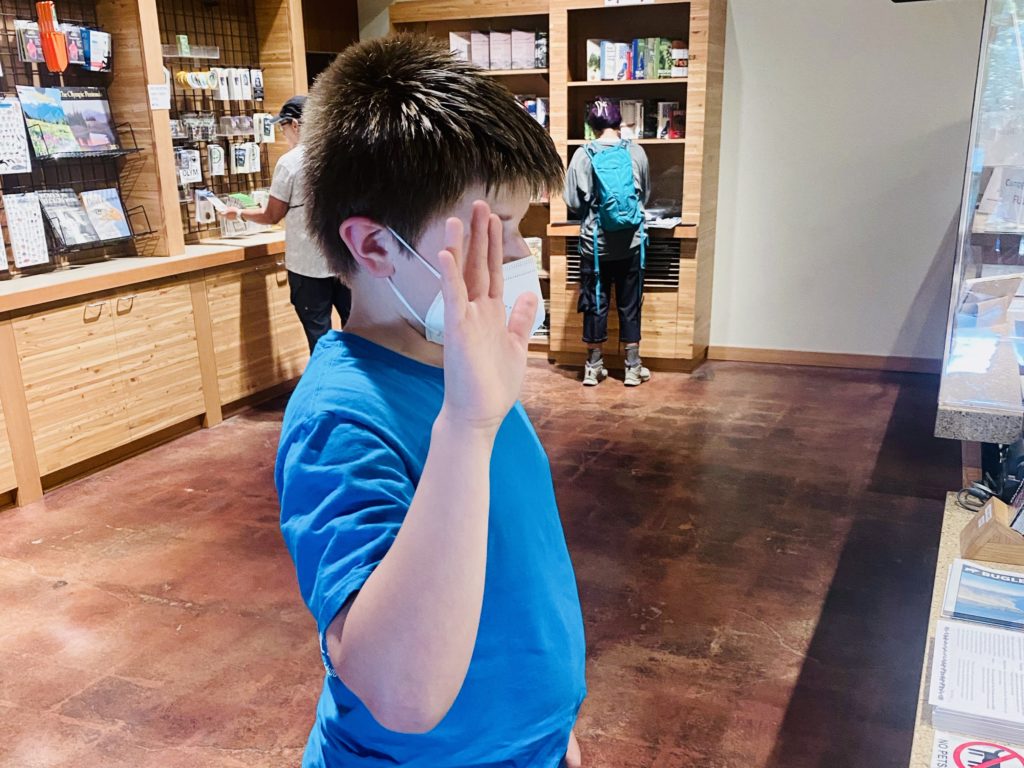 We arrive at the visitor center as they open and quickly find a Park Ranger for them to review the work of my budding Junior Park Ranger. After a series of questions and an oath we officially have a two time Junior Park Ranger sworn in. Time to say bye to the mystic rainforest and head back to the cabin to get on with our next destination.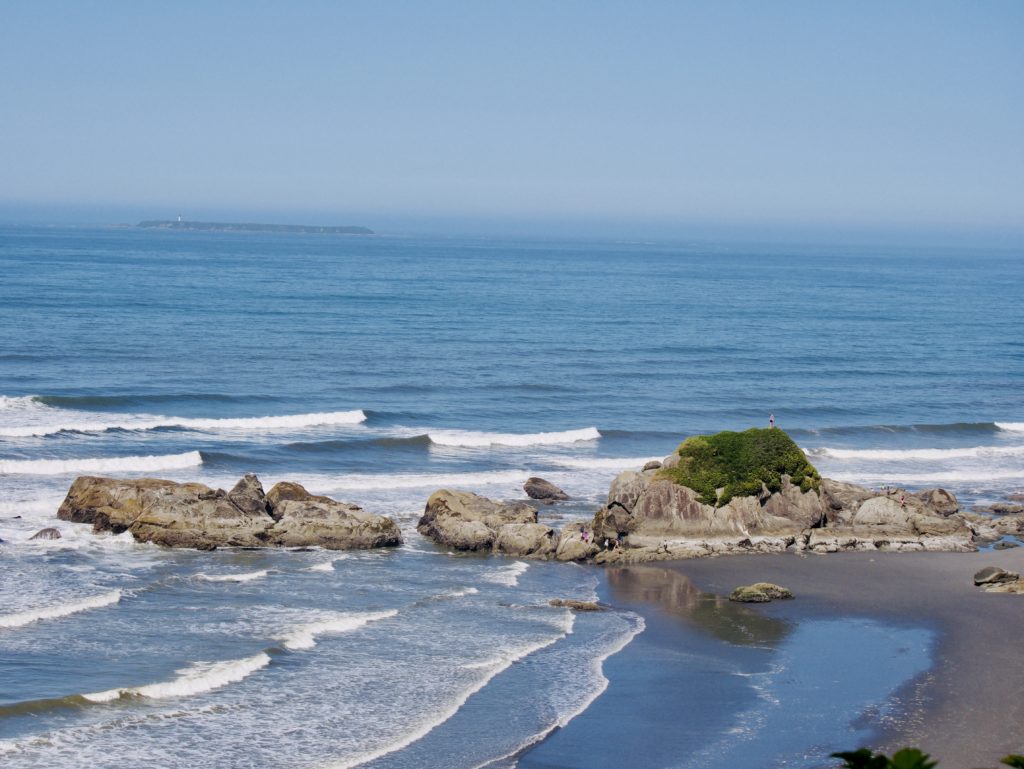 We quickly pack up the car and once again had mapped out possible stopping points along our coastal drive. Ruby Beach was closed down unfortunately due to construction, but luckily there are many more beautiful beach stops to choose from. Road construction is heavy along the coast on 101, but we're in no hurry. We settled on a stop at Kalalocch Beach 3 just north of Kalaloch Lodge. The view from the bluff out over the Pacific just puts a smile on my face still. There are a bounty of stacks and a few tide pools to explore all along this beach. There's a large rock with a rope to support yourself to shimmy down in order to get onto the beach. I quickly captured photos of the sea spray and fog rolling up the bluff wall. The kids immediately headed towards the stacks on the beach. We spent a great deal of time exploring the beach, stacks and tide pools. I took to using the camera capturing the surf and the moody views presented by nature. I noticed that off the shore, in the distance, is Destruction Island with a lighthouse. We headed back to the car to continue on.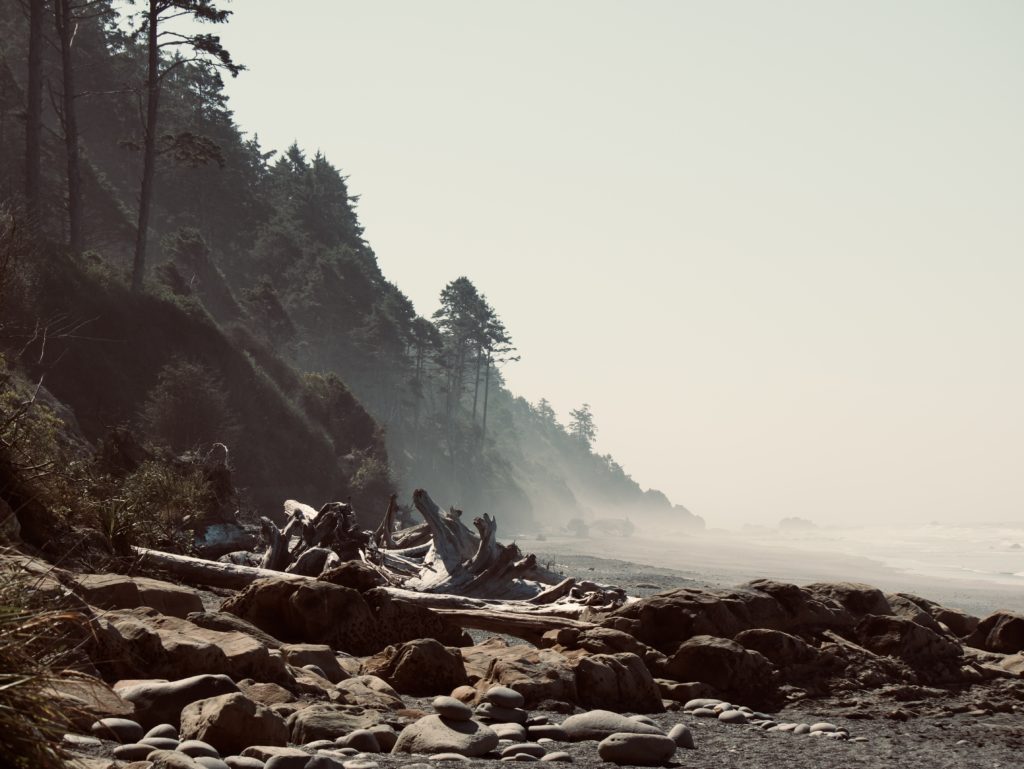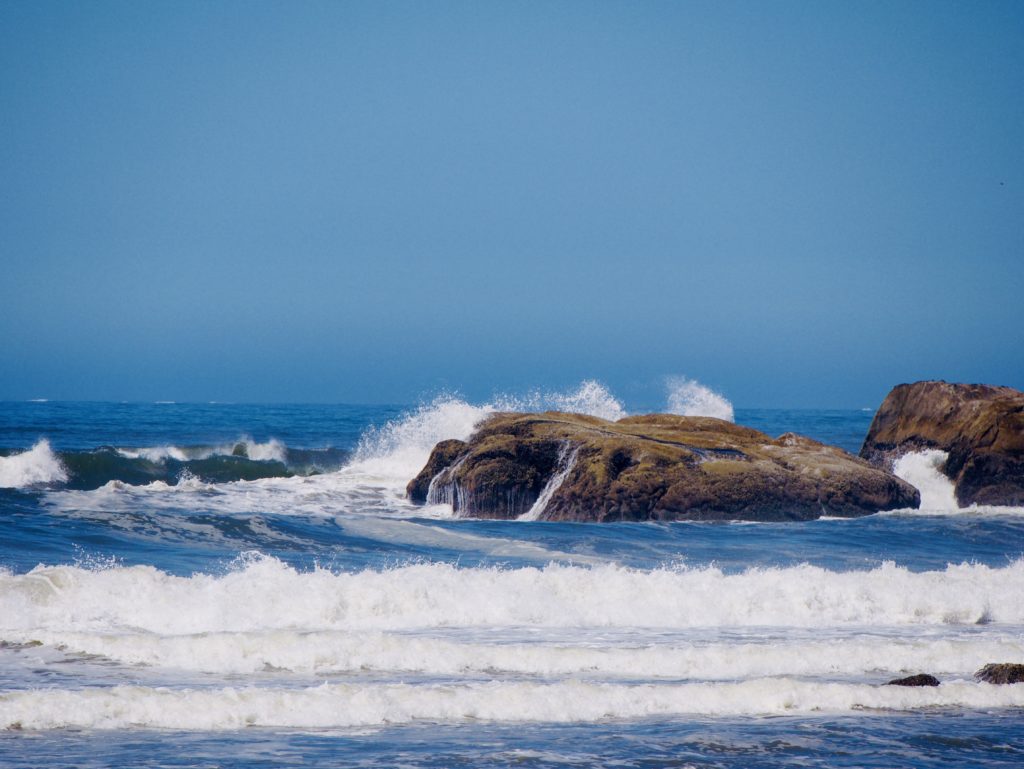 We stopped in at Kalaloch Lodge because it supposedly had a decent merch store and we had to check it out. We found a few things, got some beverages, potty breaks and back out onto the road. Goodbye Pacific.
Driving through the southwest side of Olympic you notice the trees and mountains just seem to continue on forever until just outside of the park you hit clear-cut country. It's sad. We decided to bypass Aberdeen and its smell of Teen Spirit to make our way towards Olympia, Washington's capitol, where we can hit a Costco gas station before getting into the deep backcountry of Rainier.
As we got closer to Mount Rainier National Park, the cloud cover got thicker. No Rainier making an apperrance on the way there until we were basically right there. Since our check-in at National Park Inn in Longmire was not until 5 we decided that we would stop at Copper Creek Inn restaurant to get some dinner. Apparently many other people had the same thought. They had a long list of people waiting and were no longer adding to the list. We decided to then head towards the Inn to grab some dinner and check-in.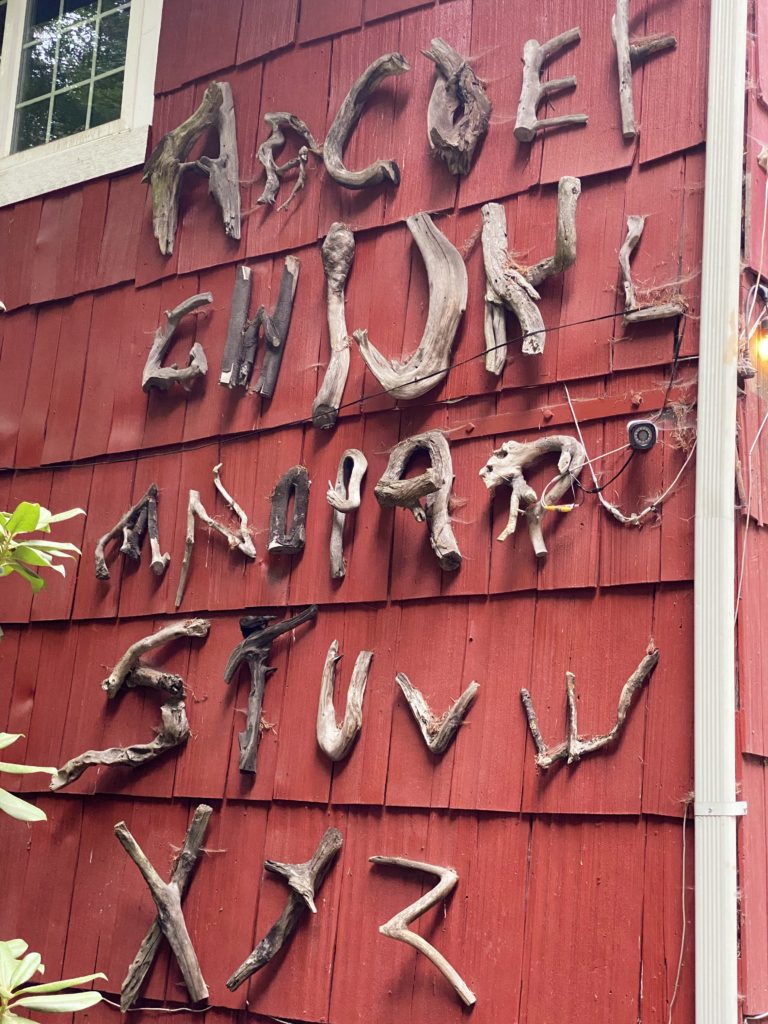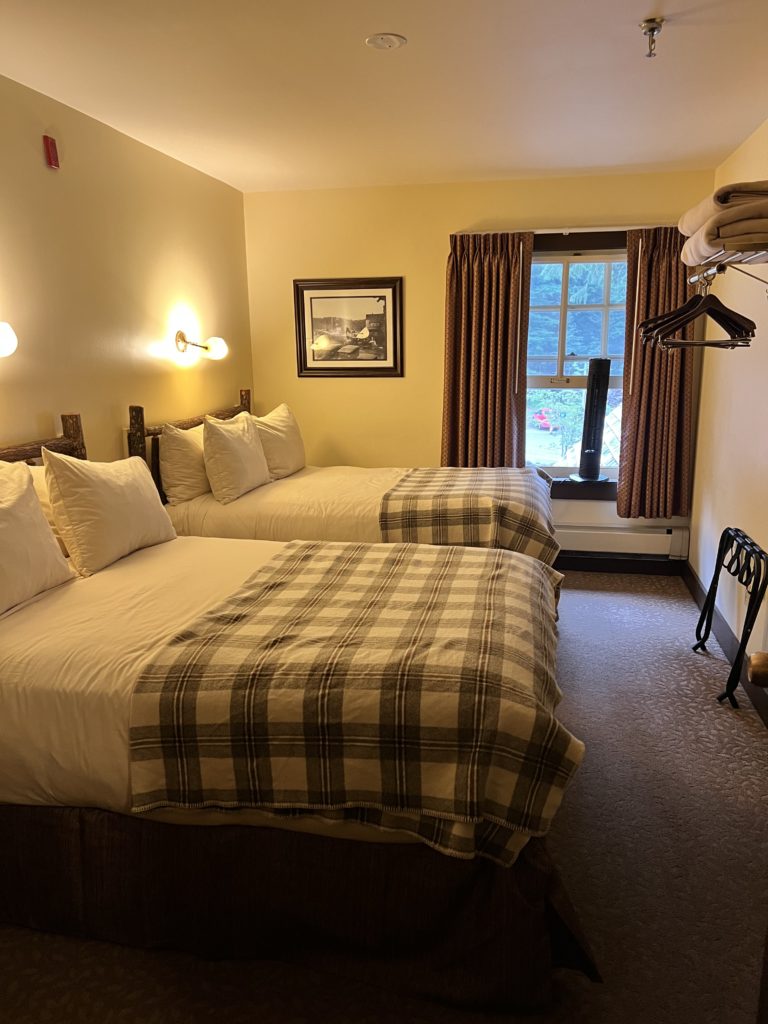 As I have mentioned before, in this post-pandemic world we are living in, that patience and understanding with the service industry is needed more than ever. The staff is worn thin in these places and the Inn was no different. The restaurant was short-staffed so the dining room was closed and only serving "take out." We placed our order and waited out on the vast front porch facing Rainier for our dinner. Sitting on the the porch the clouds had broken to provide a view of Rainier. Well Tahoma. Hopefully it's renamed someday to honor the tribes much like Denali. We sat out on the porch and dined with a front row view of Rainier. I had bison meatloaf and found it quite enjoyable. I paired it with a nice Washington cider, Tieton, of course.
We finished up our dinner and Kate wanted to check out a trail, which was part of the giant Wonderland Trail, with a waterfall. From a roadside pullout next to the Nisqually River, we make our way down, eventually, to the rocky river bed which after the long winter melt-off was now down to a smaller, very steady single stream with a log foot bridge to cross. Following the trail on a river bed that's usually covered in water can be challenging, but if you can see the footbridge you can literally make your own path there. The river bed leads right up to Rainier so there are great views of it from there. After crossing the river we finally make our way on the trail. The sun was going down and it was warm out without a breeze. I now know that where we were planning to head to was a 500 foot climb. I know that doesn't sound like much, but it's getting dark and it's warm. We did not make it to the falls. It was supposed to be a 2.5 mile out and back, but we had already approached a mile in dark woods without a hint of falls. Oh well, it was not our night. We head back to the car knowing that tomorrow is going to require more out of us all.
Back at the Inn, which is not air conditioned and tiny quarters, we try to make the best of it hoping for it to cool down in the night. We, luckily, brought our own compact fans with us on the trip and we certainly needed them to add to the lone thin tower fan provided by the Inn.
Friday, August 19
Big day ahead! 17 years ago, Kate and I came to Rainier as a "we have time before our flight so let's go to Rainier" moment and began a hike up Skyline Trail through the meadows. We were not equipped, did not have water with us and needless to say we did not hike much of Rainier that day. This day 17 years later was going to be different besides the fact that we now returned with two children. We get up and do the best we can without breakfast because see above about dining situation and me desperate for caffeine drank one of Kate's Diet Cokes (gross). We knew that we would have to get to Paradise early because it is a very big draw in Rainier. We get all geared up, take our beginning photo and off we go for our trek.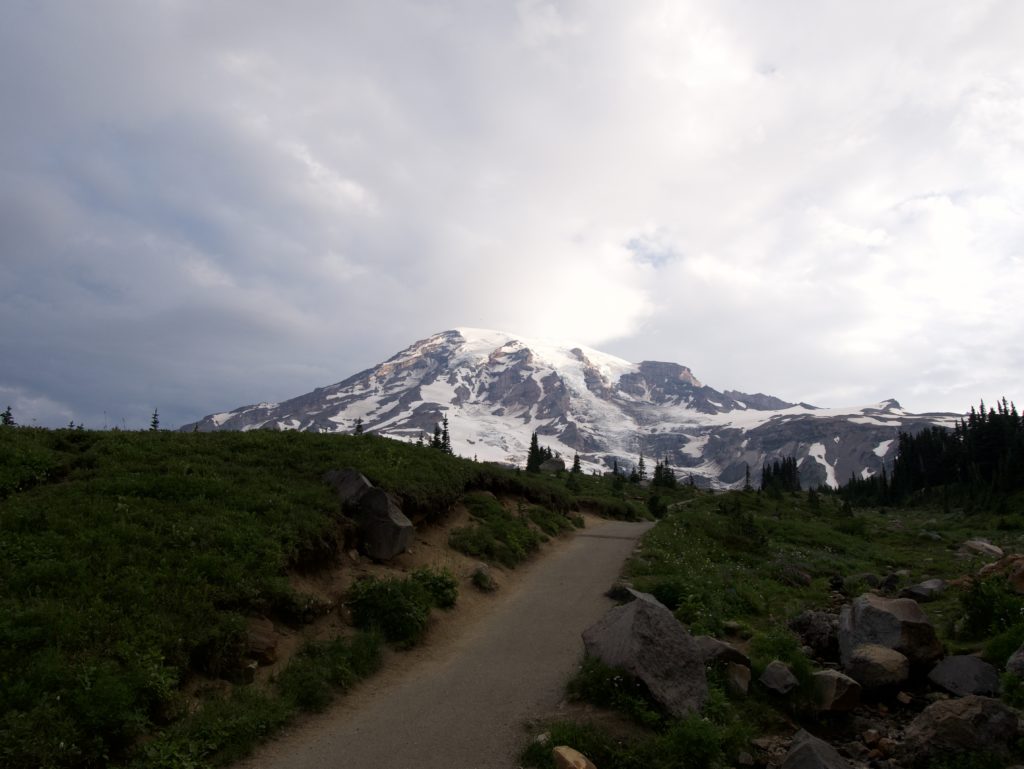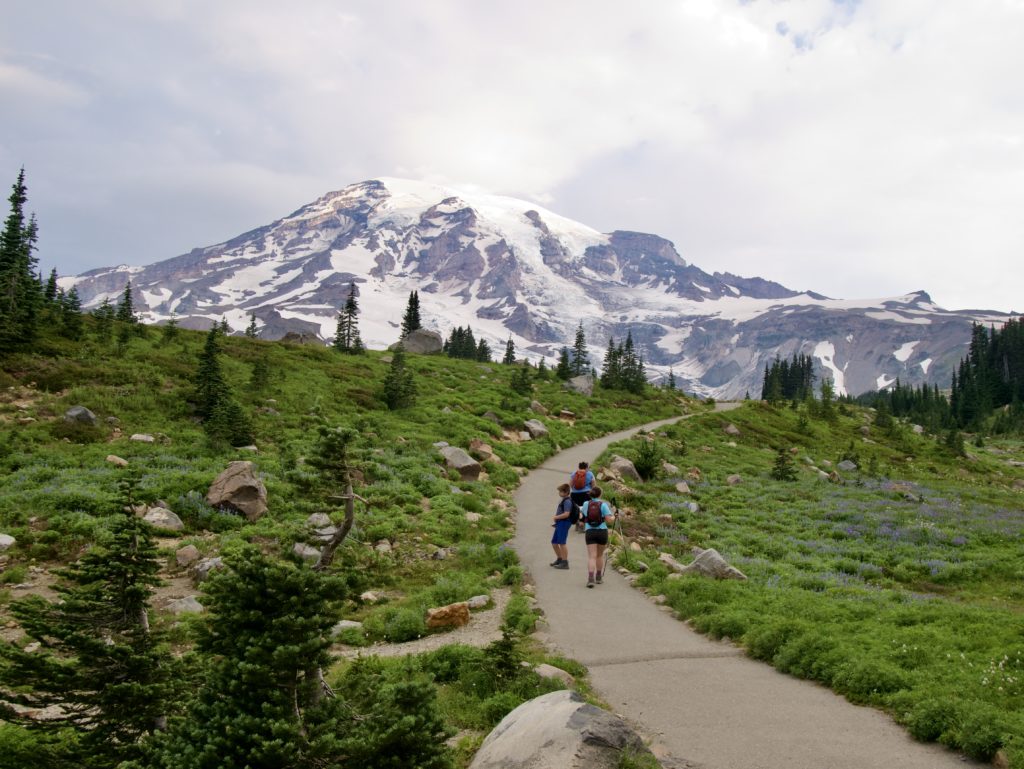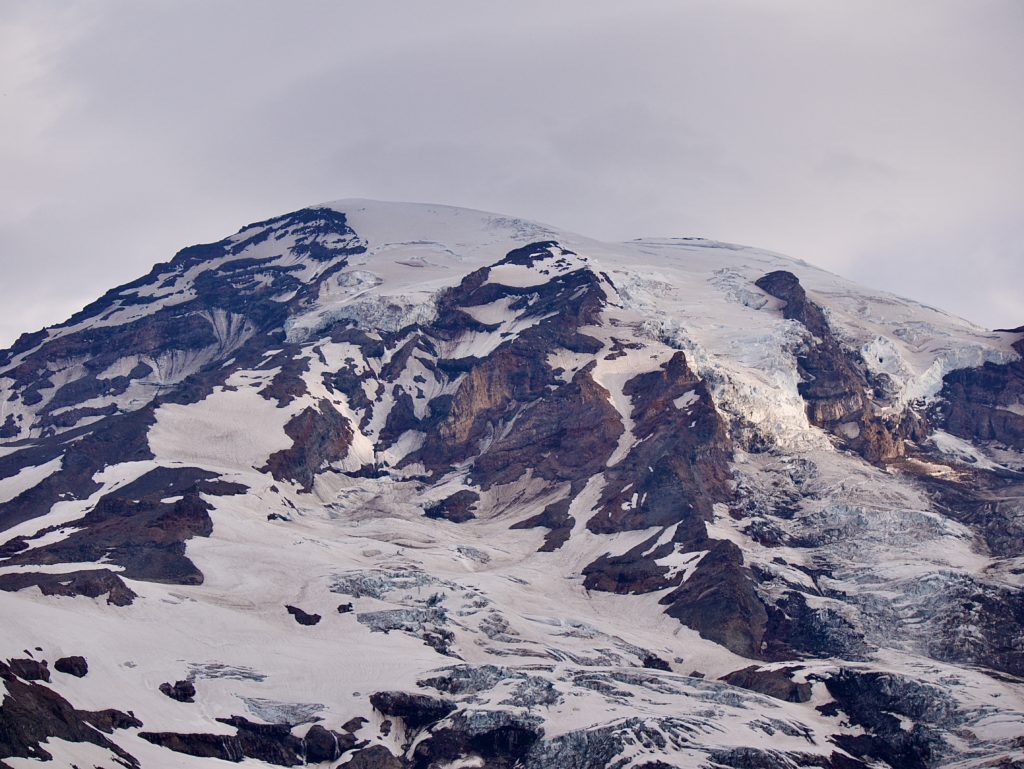 For the first tenth of a mile, as you're walking through some meadows, it is a paved trail. I thought I was prepared for bugs, but holy smokes, I really was not prepared. We tried lathering bug lotion on, but it didn't matter when you have eyes, nostrils and ears that does not have bug lotion. I admit, it was tough. The first half mile is steep hiking up. It will test you. Many people have suggested going counterclockwise in order to not have to deal with the sun in your eyes, but on a cloudy day we didn't have to concern ourselves with that and besides I think going clockwise is much better with the latter part of the trail going down rather than ascending.
Things were getting rough for my boy. He was struggling. I was struggling trying to keep him moving, but he did continue. Once you get through the meadows, which were blooming in mid-August due to snow had just finally melted away a few weeks prior, hence all of the bugs! But the beauty of Alpine meadows are quite breathtaking even if you swallow a bug or two.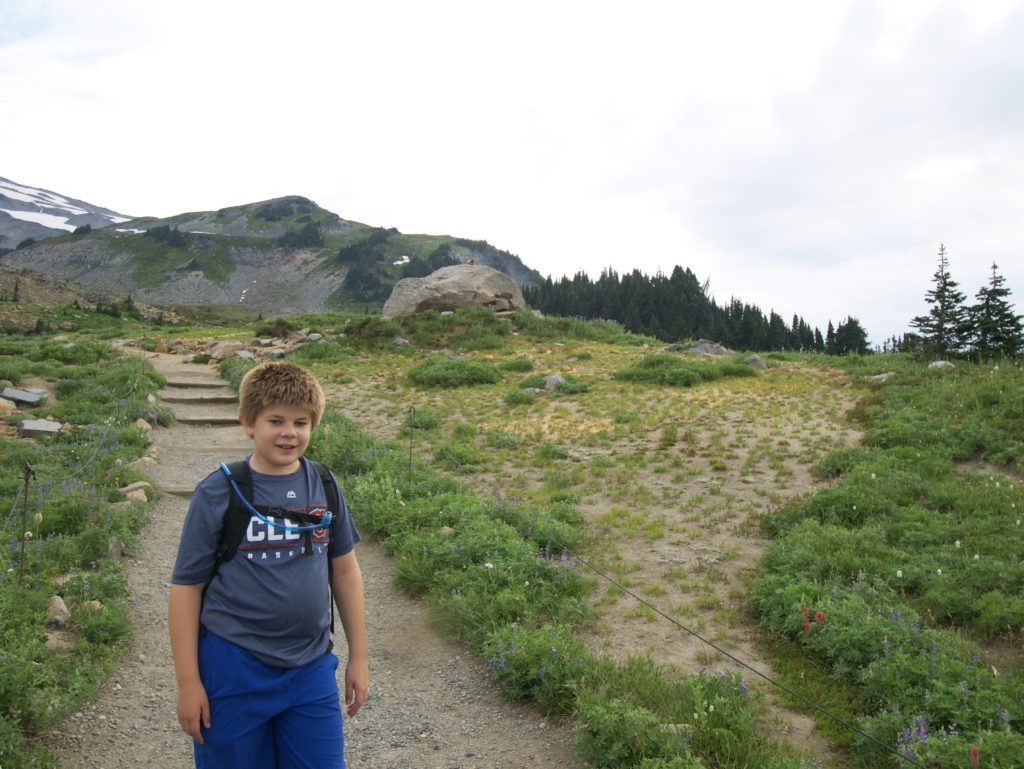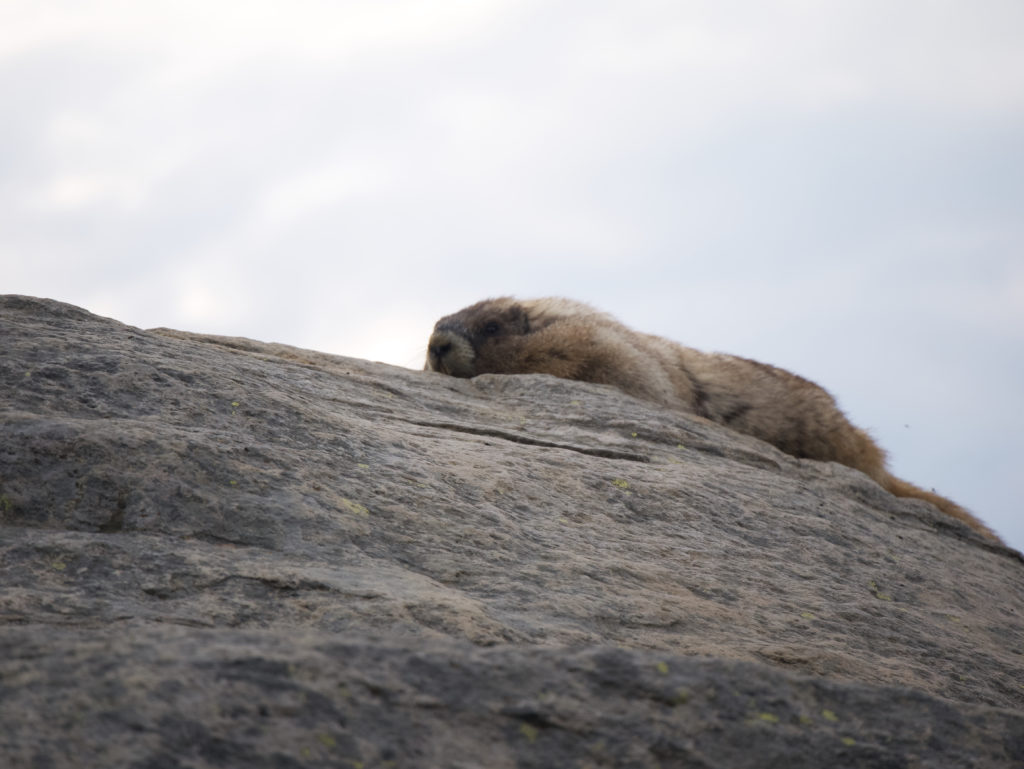 We then got to a point where we came across our first Rainier marmot. They look completely different than an Olympic marmot. Much more bushier and lighter colored fur. Then, the scream/whistle! It made me jump. And it kept on whistling which was echoing through the ridge. Off in the distance a return call began to sound. I captured some great shots as it laid on a rock and then it showed me it's long beaver like teeth.
The more you climb the more detail of Rainier's glaciers, rocks, snow and massive waterfalls begin getting more defined and prominent. We took the Glacier Vista loop, which does not add any length and meets right back to the same point of the Skyline Trail. I kept looking at a waterfall towards the western side which kept growing in size the higher and closer we got. And the further we hiked more marmot would appear on various boulder outcroppings.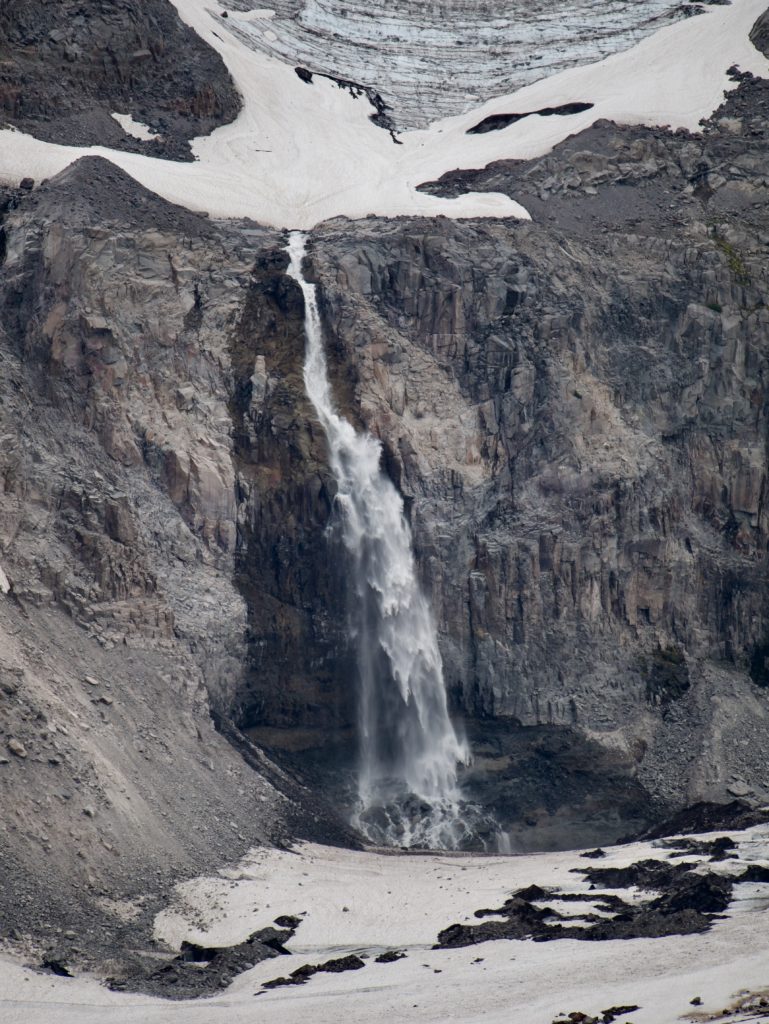 We eventually got to a point where there was still snow and in some cases had to hike over it. At this moment the bug problem is practically gone. The terrain becomes rocky and jagged. Having trek poles I would say are a necessity through here to help keep your leverage on gnarly terrain. We took breaks often and just really started to enjoy this moment and beauty that is our national parks. I was proud of my kids for making it this far, but we still had many miles to go.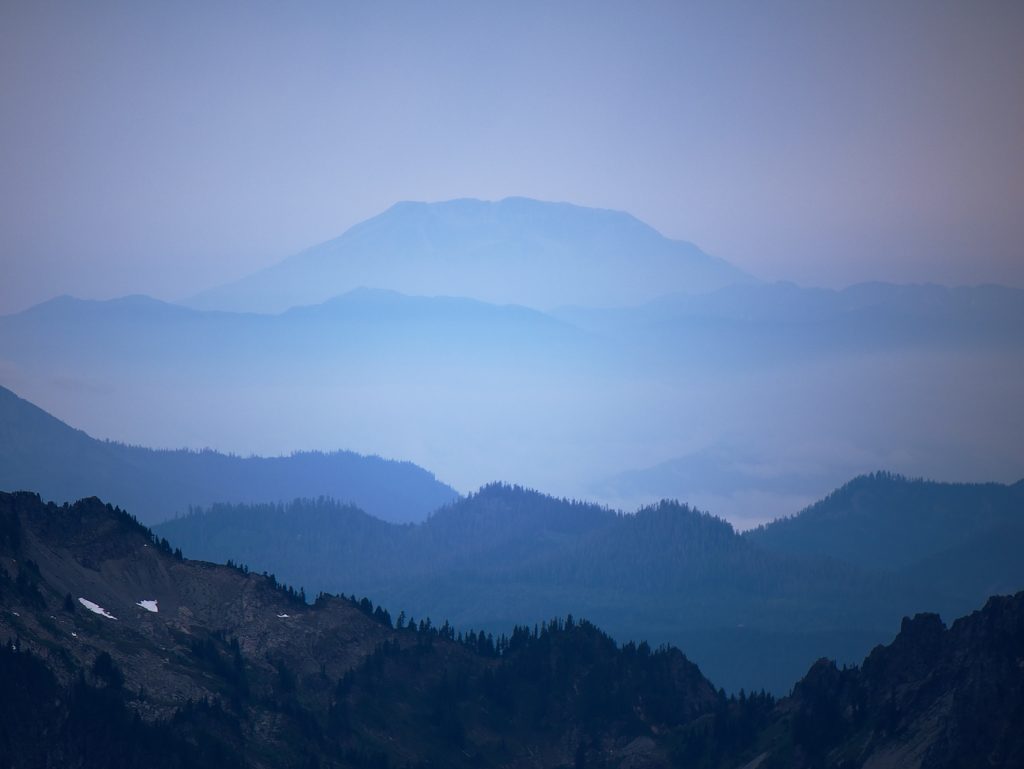 We eventually made it to Panorama Point which you could see Mount Adams and Mount Saint Helens off in the distance which reminds you that these Cascades are not just mountains, but volcanoes. After passing this point my boy noticed that there was a latrine building off to the side tucked into some large rocks. Of course he had to go. The sign states to be sure to close the door and latch it because of marmot. He now wears a badge of honor of going to the bathroom on a mountain. I will also point out that this is where the trail spilts for those heading to Camp Muir to summit Rainier which we did see a group heading up towards it. Also, these places draw some interesting people. With snow and glaciers there are people that hike up to then ski or snowboard some of those patches. I had my largest lens that I could capture a moment of a snowboarder doing just that. I want to point out that we have now reached our highest point after hiking 2.1 miles at an elevation of 7,045 feet which is over 2,000 feet from where we started. It will be mostly downhill from here.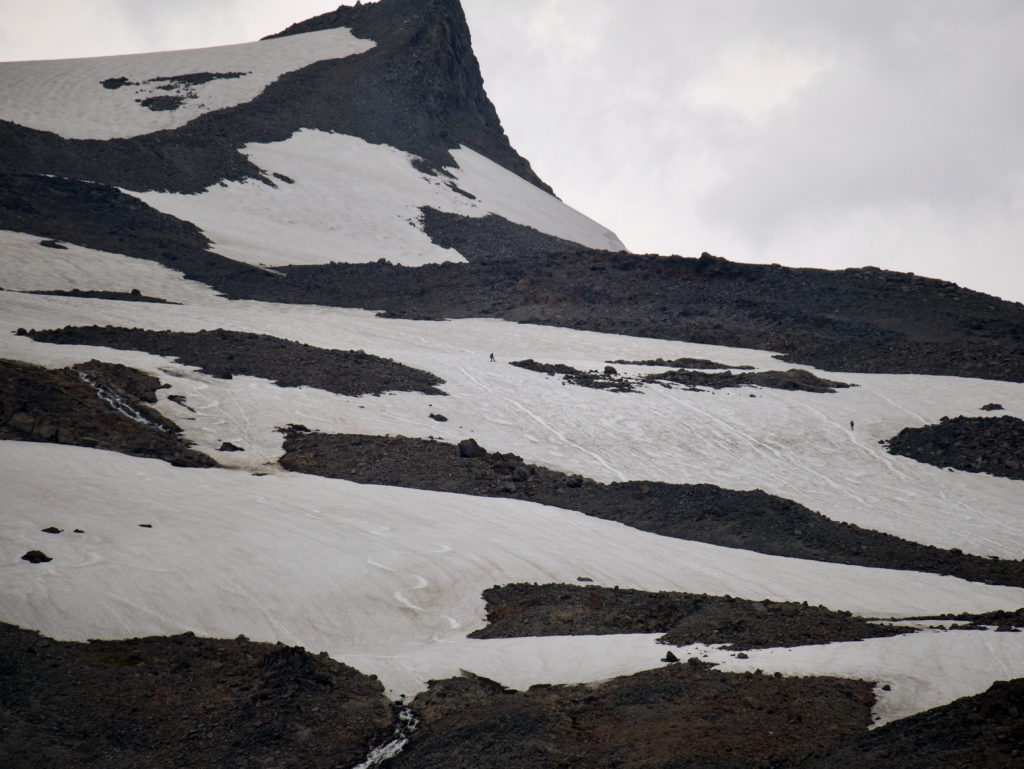 Eventually we came out of the rocky terrain and started entering some green, not quite meadows yet. The trail lead to an ice tunnel which the kids crawled through. When the snow melts below it forms these streams that then form tunnels. We had a few rain drops come down, but not much. These microclimates formed by these massive mountains will be on full display the next day. I just can't get over the views. Glowing skies to the east, cloudy but very defining blue silhouetting mountain ranges to the south. Just incredible beauty everywhere you look. We come to a high meadow with a bridge and of course the boy went for an action/drama crossing.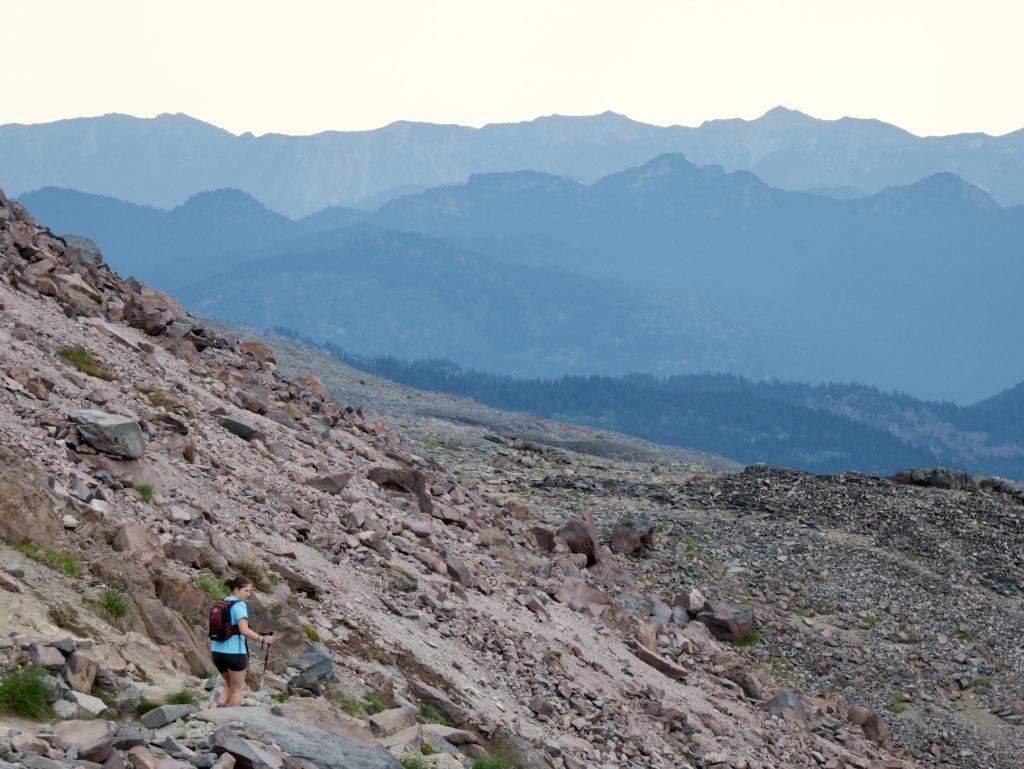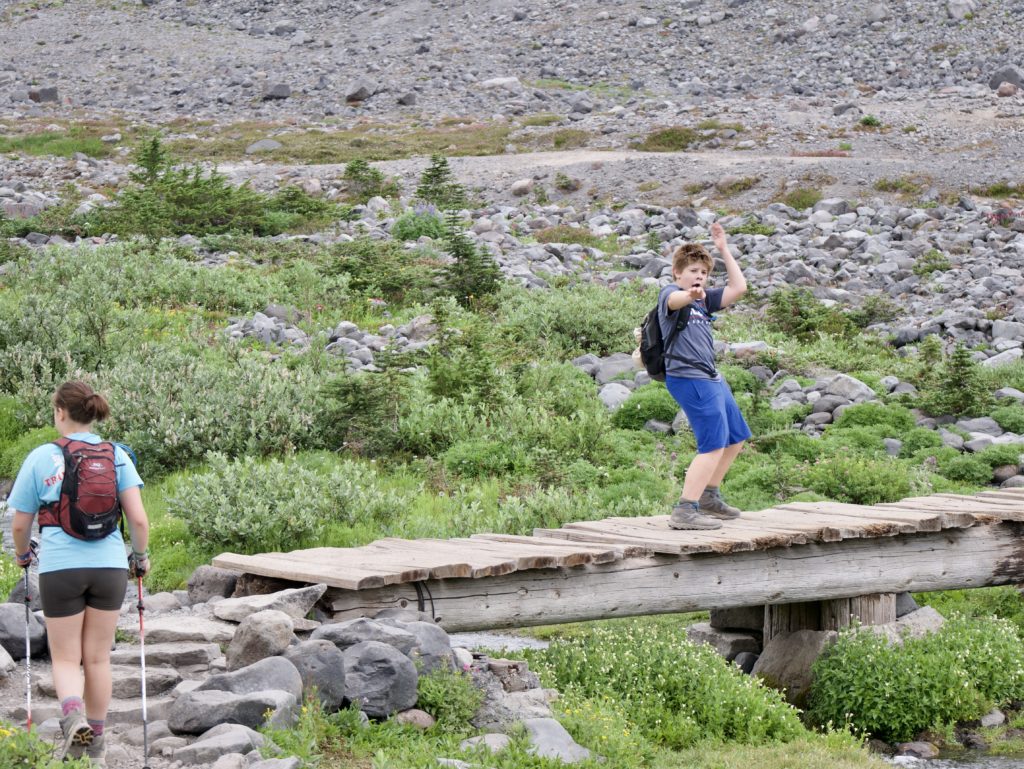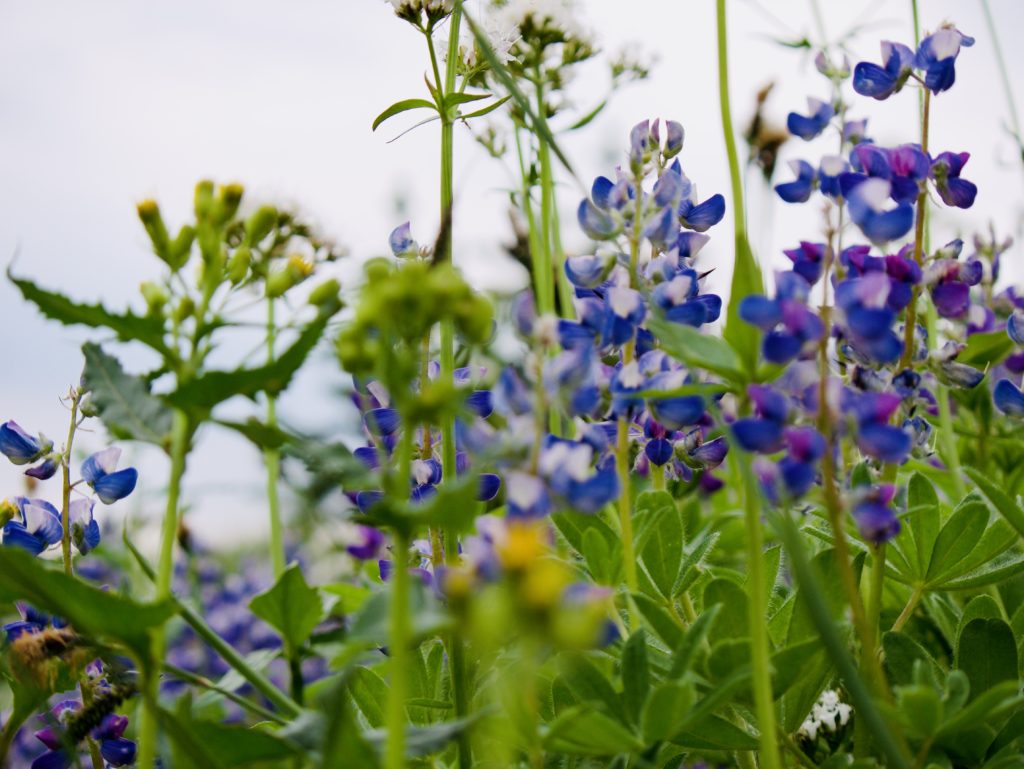 We now entered more meadows with a lot of wildflowers and fortunately not as many bugs. Perhaps due to this being the high meadows? We stop for another break where there was a lazy marmot, at first, and a dang on too friendly ground squirrel. Obviously these little chipmunk-like rodents get fed by hikers and have no fear of humans unfortunately. Had to keep chasing it off. Then the marmot was doing it's best gophering maneuver with a little bit of the 80s "I always feel like, somebody's watching me…" vibe for added effect. We head on and a few more ridges we hit some major wildflower action including some very Dr. Seuss-like Truffula Trees only as flowers. Again, the beauty of the meadows of an Alpine setting are some the most beautiful things to witness in person.
We did it! We completed the 6 mile, 2,000 feet of climb in 5 hours and 15 minutes. It was not easy at first, but a great sense of accomplishment took over. It was so worth it. I was proud of my family for sticking with it. The challenging start produced a greater satisfaction of accomplishment. Now to get back to the car, but first a stop into the Paradise Visitor Center. The place is a madhouse. This is why we dragged the kids out of bed to get to this place early. It's a very popular place in Rainier because it is the largest of the destinations with access to the mountain not far from the parking lot. Speaking of the parking lot, if you've never been to a large national park during summer it can be almost impossible to park. There are people walking around looking for people leaving, a constant thick flow of cars looking for you to leave.
We get back to the Inn and we were done, done. I forgot to mention, not all of the rooms have their own bathrooms. We opted to have our own (which was about the size of the main room), but they only come with a tub with a hand shower nozzle. At this point I think we all didn't care. It was refreshing to say the least.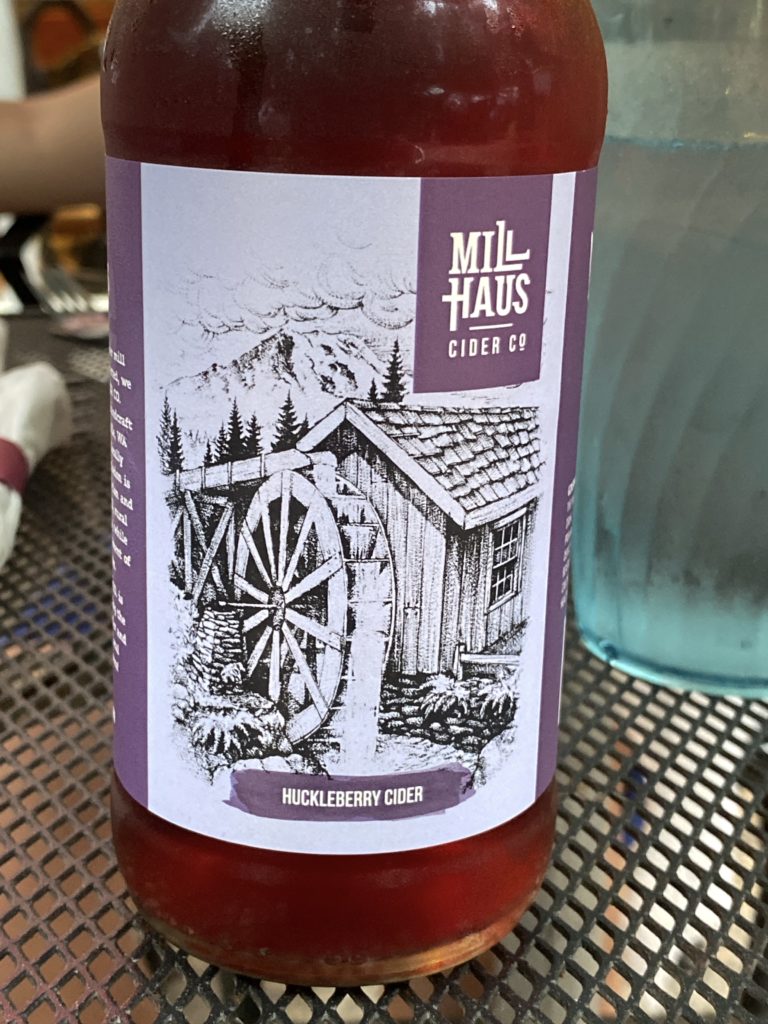 After getting cleaned up we decided to grab some lunch at the Inn (more Tieton Cider for me), which the dining room was open at this moment. After lunch, went over to the Longmire Museum with the kids. Kate got conflicting responses about whether the dining room would be open later that we decided take our chances to go back to Copper Creek Inn. First we did a couple of small stops at waterfalls and a part of the original roadway used to get up to Paradise, but now just a scenic one way loop. Then we made our way to Copper Creek because it really is an institution just outside the Nisqually Gate at Rainier and should be on your list if visiting Rainier. Of course I ordered a local cider which was from Mill Haus Cider Co. They had a huckleberry cider. Yum. So good I had to have another. Of course dessert had to be had and I think the boy was happy with his mountain of a sundae.
Saturday, August 20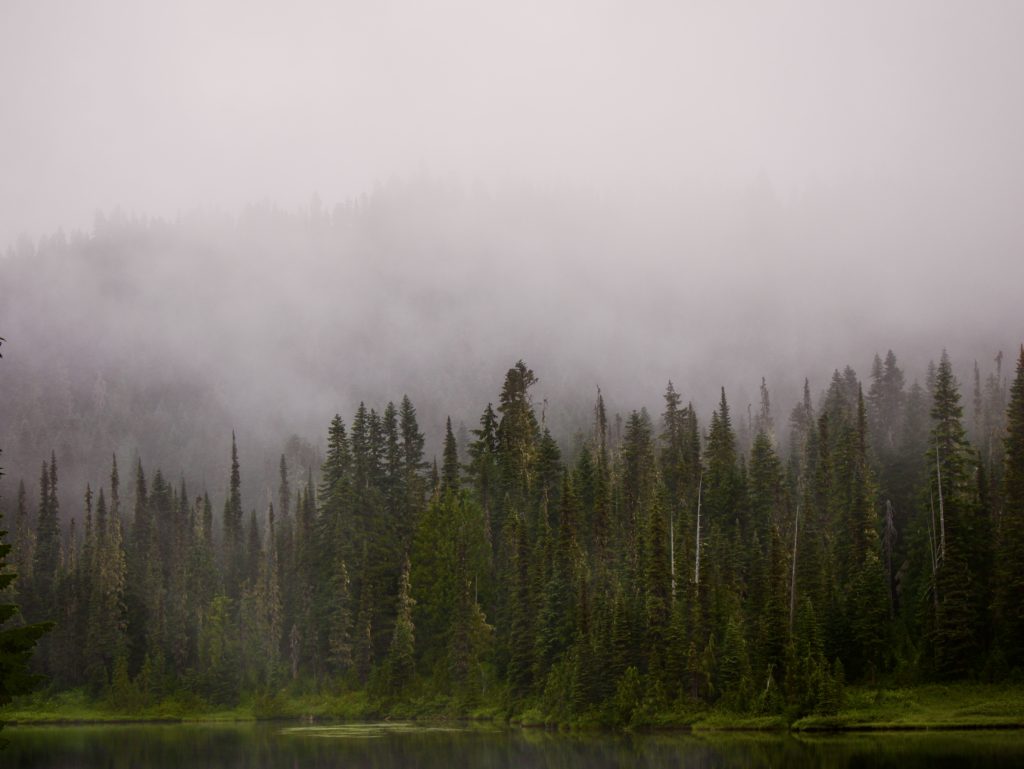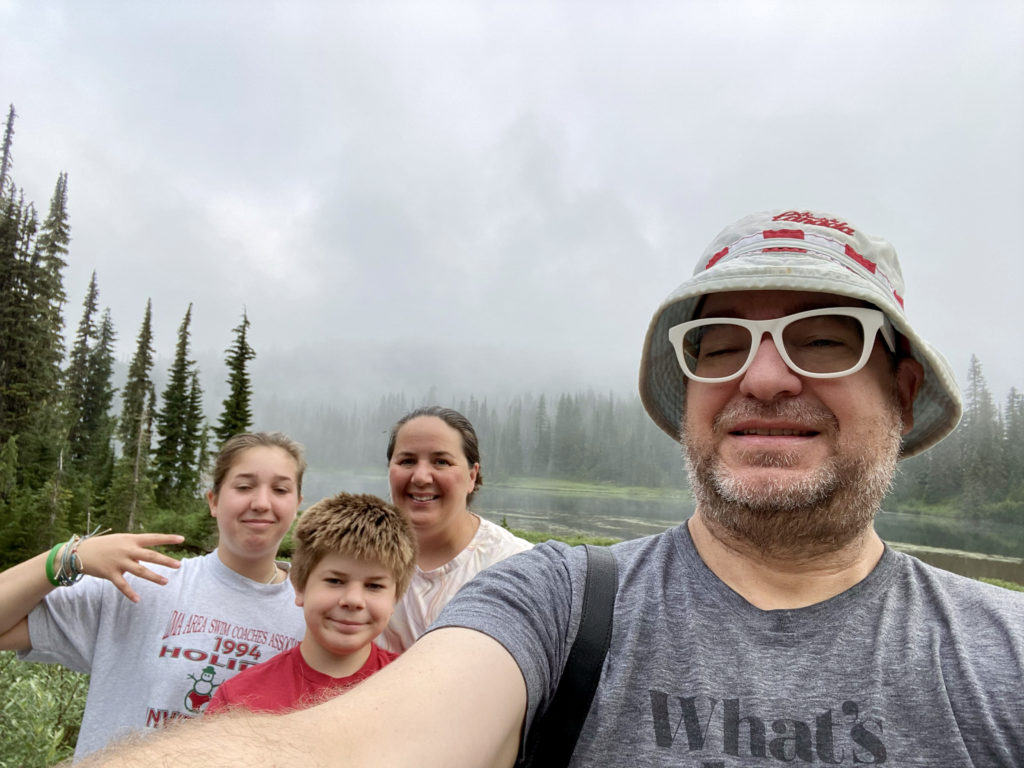 This is our final day of the trip. We have to pack up and head towards Tacoma/Seattle for an early flight on Sunday. When we wake up it is foggy outside and raining. We planned on heading towards Sunrise, which is the other visitor center on the northern side of Rainier. Along the way a stop at Reflection Lake to recreate a 17 year old photo when the last time Kate and I visited and possibly any of the other waterfalls or overlooks. The Stevens Canyon Road is open today, but closes Monday evening through Thursday for serious road construction work otherwise to get to Sunrise we would have to take a huge detour. Again, the fog is thick and seemed to get thicker the further we went. We made it to Reflection Lake which is so named for getting a great reflection of Rainier on the lake, but it is fog covered. It did provide some moody photo opportunities which I took advantage of.
As mentioned before, microclimates. It would not be unheard of and is quite common that when on one side of a large mountain that the weather will be different on the other side and that's exactly the case on this day. We had gotten around the mountain that almost instantly blue skies and sun some clearing clouds. Driving to the other side of Rainier still takes a great deal of time. As we turn onto the road heading up to Sunrise traffic signs were beaming Parking Lot Full messages with 1-2 hour wait times. I admit I was ready to bail, but I listened to the fam and sat in the line. Sunrise is a much smaller parking lot and there's only one way up. If you don't get there early you better prepare for this situation on a weekend summer day.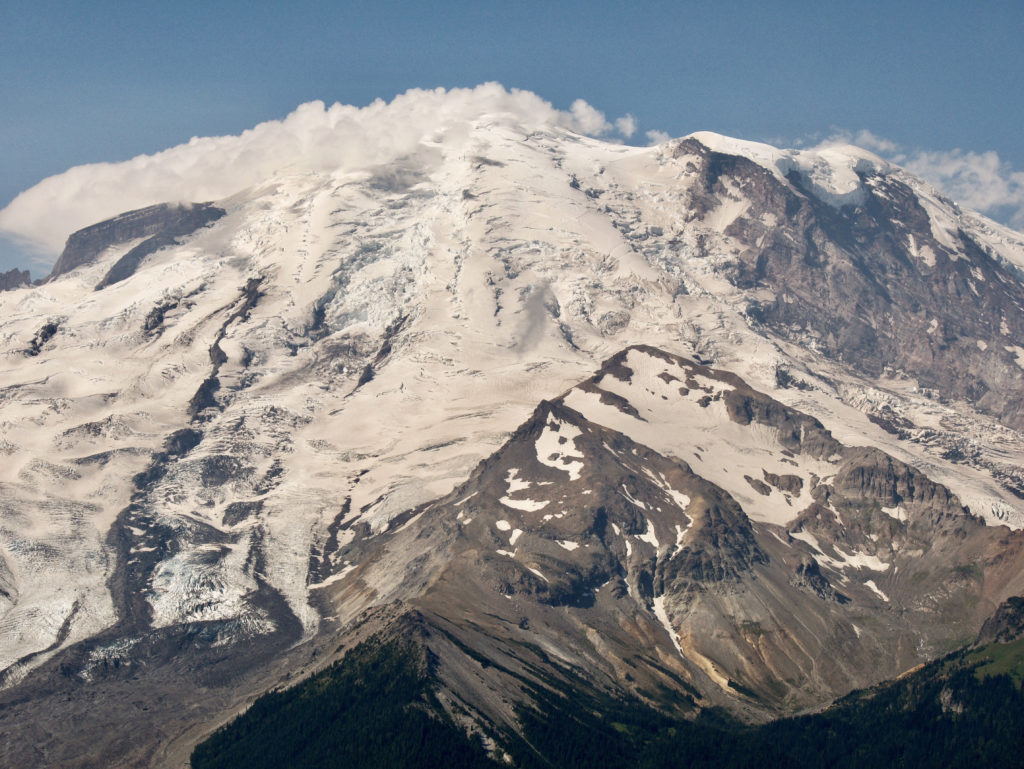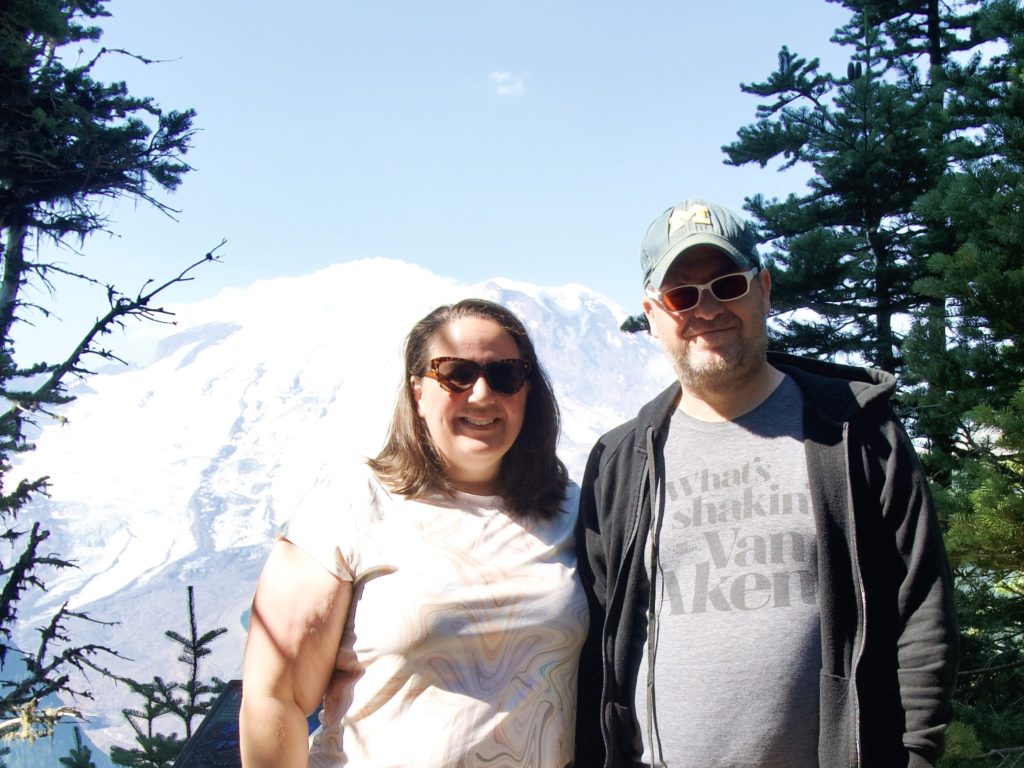 As one car would exit the gate one car would be allowed to enter Sunrise. Just about an hour total we waited. The winding drive up the switch-back road provided a great overlook to the side of Rainier that Seattle and northern Washington cities are familiar with. The northern side of Rainier contains far more snow than the southern side, but you can almost see the rim of the volcano that it is. We hit a couple of small trails to take in the scenic overlooks towards Rainier. We get some photos and then check out the Visitor Center and their cafe with a large merchandise area. Unfortunately the cafe is closed, but they have plenty of snacks and merch! We grab some local snacks, or at least I did, found some swag and hop back in the car to head towards Tacoma. First we stop at a huge overlook on an extreme hairpin curve for our last photo op of Rainier.
Then it's back down the winding road, through the gate (you're welcome other car now allowed to enter) and back on the small highway towards Tacoma. We did stop at the northern Rainier National Park gate just like the one we entered two days earlier and a waterfall that was not much of a waterfall on that day. We pass Crystal Mountain that has a gondola ride up the mountain and apparently where Kate's parents learned to ski. My in-laws had lived in Tacoma after my father-in-law was stationed at the nearby McChord Air Force Base after Vietnam. No one felt like taking anymore stops. I think we were all spent or rather the kids had enough of being out of wi-fi zones with useless devices. It's really the end of the incredible journey through some of the most beautiful parts of the country. Speaking of McChord we ended up staying just outside the base in Lakewood, Washington.
The hotel we picked was picked because it had a pool. The first time during this entire trip that the kids would be able to swim because lakes and ocean water are much too cold for that. We also knew there really isn't many places we were staying that had pools anyway. We check in and I'm told the pool was closed due to a part they have been waiting on had not arrived. Again, pandemic strikes. Oh well. We chill for a bit. Everyone feverishly checking messages or taking advantage of finally having a connection. I found a pizza place for dinner, MOD, which is yes a chain, but we were all fine with it. It's not bad.
And then we crash for the night. We had to get up early for a 9:25am flight back home.
Sunday, August 21
All is going according to plan, get up at 5, prepare to leave hotel at 6 so I can drop off the fam at the airport while I take the rental back to the off-site rental facility. One thing that SeaTac has made worse is this off-site rental car facility. It used to be easier with it being located in the main parking garage. Easy out, easy in. Nope. Horrible experience. The shuttles are packed with people trying to make it to the rental location or back to airport. Insanity.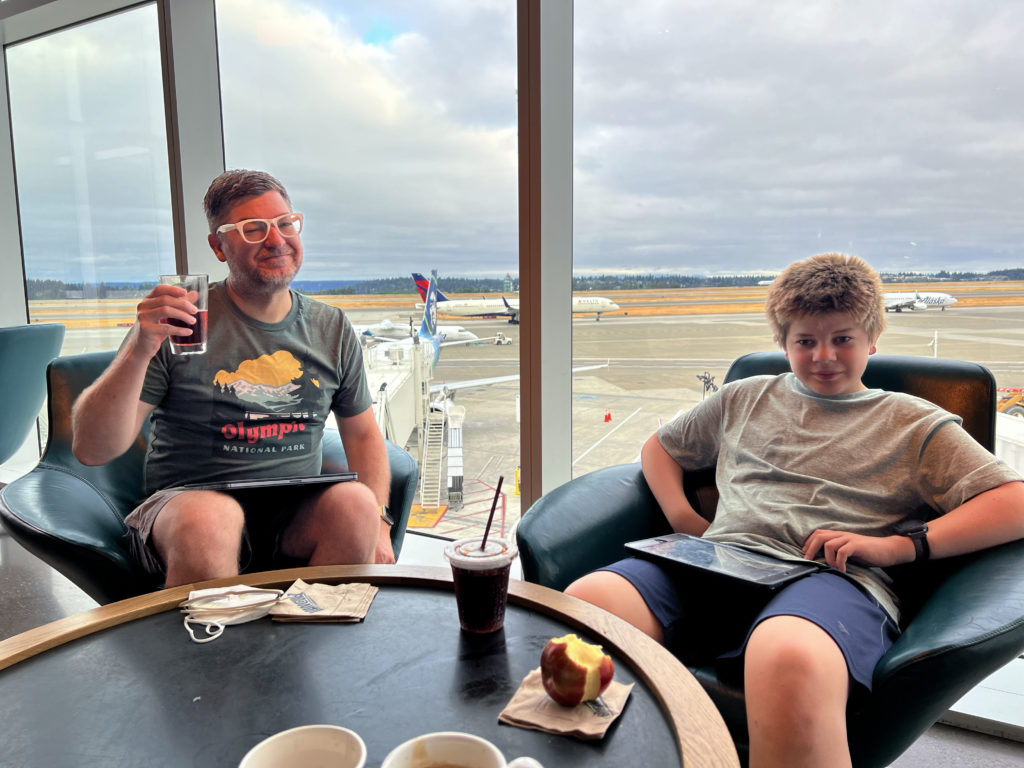 We are somewhat early purposely to take advantage of the Alaska Lounge. Wow! This experience is so awesome. There's a coffee bar, there's pancakes on demand machine, various breakfast items, cereals, you name it and they have it. And then there's a bar! Whatever you want. We take advantage of it and relax in the comfortable, welcoming space. After breakfast I went to the bar and saw they had another local cider (huckleberry again) and got the last glass from the tap. After a while I checked the status of our flight and noticed they changed our gate that is in another terminal. So off we go and head to the lounge at the next terminal. This one is much smaller (Terminal C) than the premiere one we were in.
Boarding begins all well and fine. We depart the gate and then sit. The captain comes over intercom and informs us that there is something wrong and looking to get an answer of what to do. Of course at a busy airport like SeaTac it's no easy task to resolve any issues. Captain finally tells us that we have to go back to a gate and they will try to fix the issue there and we didn't have to deboard. Of course moments later we had too. We ended up back at the terminal we were first at and went to the lounge. The plane was now on a 3 hour delay as they worked to resolve the issue.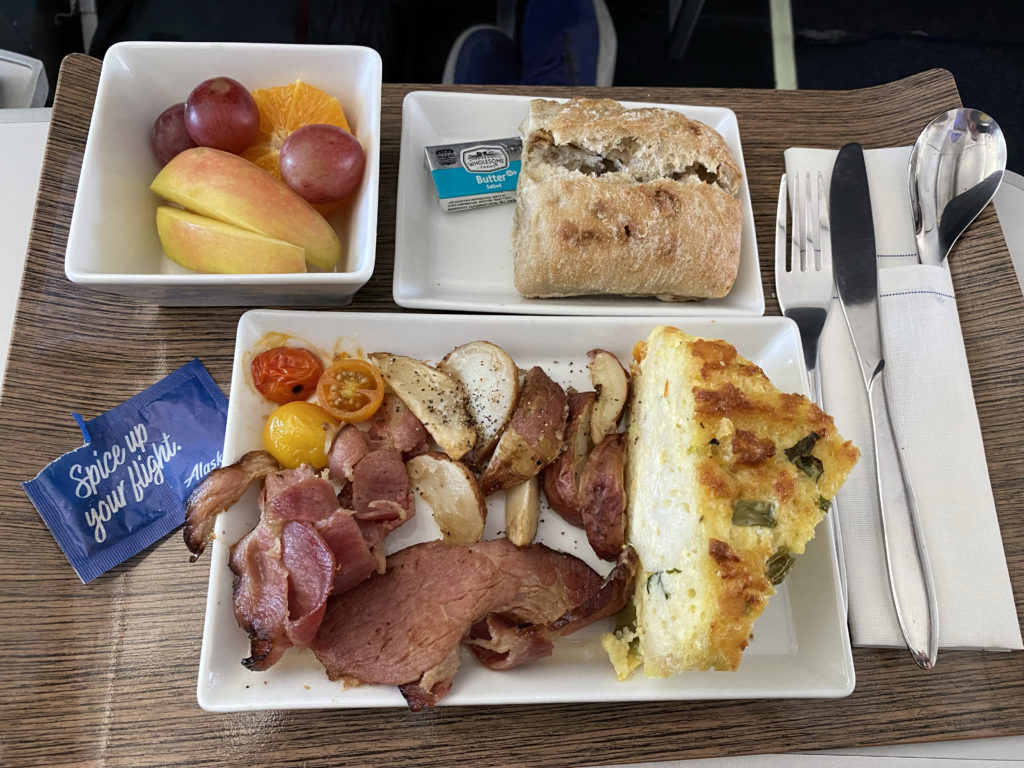 Finally at 12:30PST we leave for Cleveland. Of course the food for the flight was of breakfast variety and again an incredible meal even if you consider it brunch at this point. The attendant was quick to fill my glass of wine all throughout the flight and I was okay with that.
Back in Cleveland and it was raining. Fitting. Also, the offsite airport parking shuttle driver dropped us off at the wrong row…
I am humbled that we can do trips like this. We want our kids to see the beauty in our country and partake in its splendor. These national parks are for all of us to enjoy, but also to be stewards and caretakers so that future generations can also enjoy. The Pacific Northwest always feels like home to me. I love my Ohio and Cleveland, but there's just something about the PacNW that just grabs all of my senses and desires like no other place. Again, it feels like home. It's why Kate and I got married in the area and these 22 years later it still feels the same way for me. It was a great trip and a tiring trip, but well worth every penny. I look forward to planning our next family trip. We still have the North Cascades in Washington to visit so I would not be surprised if we happen to make that happen next year.
Flickr Album
I took over 1,500 photos, not including Kate's, and have paired it back to 970ish on Flickr. I purchased a new camera due to the old Nikon was long in the tooth. I do need to take refresher courses on camera operation.