A long journey that finally paid off and it didn't involve getting dysentery…
Just about three years ago I was working with a couple of individuals that happened to live in Oregon. One lived in Portland (James, AKA JC), the other outside of Bend (Martin). They both had offered to host if I came for a visit and I filed that away in the old memory bank. Kate had been taking "girl" trips with a group bloggers for a couple of years and it hit me that other than work related business and conference trips that I had not had a "boys" trip, with the lone exception of visiting her cousin in Texas for a liquid golf tournament, in the almost twenty years we had been together. Plans were set into motion and planning ensued. Not only is Oregon in part of one of my favorite places, the Pacific Northwest, it also is place where some of my favorite movies had filmed (or mostly) such as The Goonies (Goonies never say die!) and Stand By Me. Goonies filmed in Astoria and the Cannon Beach Haystacks with Stand By Me around Brownsville. The Shining doesn't really count since the Overlook was just the facade recreation of the Timberline Lodge on Mt. Hood on a studio set, but still on the list to see this marvel. There was just so much to think about and my bucket list was growing and continues to grow today, but I tried to limit it to some of "big" things, My friend, Martin, had lived way outside of Bend at the time and my desire to visit Bend was high I just couldn't make it work without the majority of my trip being driving.
I booked my flight for April 2020. I'm sure I don't need to remind you all what happened in March of 2020, but there was a little sliver of optimism, as misguided and hopeful that was, that the trip may still happen. Not only was my flight booked, but I had also purchased Portland Timbers soccer tickets as well. Luckily, everything got refunded, but it was the waiting game and trying to understand this COVID thing that became more important. It was apparent that Oregon 2020 and me was not going to be a thing.
2021 provided some renewed optimism with vaccine hopes and the beginning of declining hospitalizations, infections and deaths. It looked like it was really going to happen in the Fall of 2021. I booked the trip, again, for October with Portland and Astoria the focus. As we all know, we got cocky and let our guard down. Well, it was the anti-vaxxers that screwed it up and continue to screw this all up for everyone, but that's a topic for another day. Anyway, by summer it was looking bleak again. Then COVID hits our house, well all but the teenager, so another cancelation it was. Again, everyone was nice and understanding about the cancelation. This cancelation felt different this time around though which felt more like a delay because it seemed the trip was more possible sooner rather than later. Also, it must have been in the cards, stars, whatever because 2022 would also coincide with my 50th birthday and so it goes. Everything was coming together, but this time I decided to head towards Bend instead of Astoria. (Another day, another time Goonies!) Martin had moved to Bend during this time and I figured I could safely do a quick meetup there so I planned my trip mapping out things to see along the way to and back from Bend. A few days in Portland, a couple of days around Mt. Hood hiking, a day in Bend and then back to Portland. It's settled.
In the lead up to my trip I continued checking in with my friends and hashing out details, paying attention to weather. Speaking of weather, Portland, Mt. Hood and Bend had quite the winter! Snow just kept coming down. Around Mt. Hood I had planned to venture up to Tom Dick and Harry mountains (yes, they are really called that!) because it provides a very incredible overlook to Mt. Hood from what I'm told. I checked around for what the trails would be like for later April, early May and they seemed to be snow-free to little pockets of snow in years past. Of course 2022 would be atypical! I'm not mad about it because I could just change things up easily with so much to do in Oregon. And yet, the snow kept coming down! Instead of a couple of days around Mt. Hood I would just spend the day there and spend more time in Bend. I'm actually glad it all panned out this way.
Friday, April 29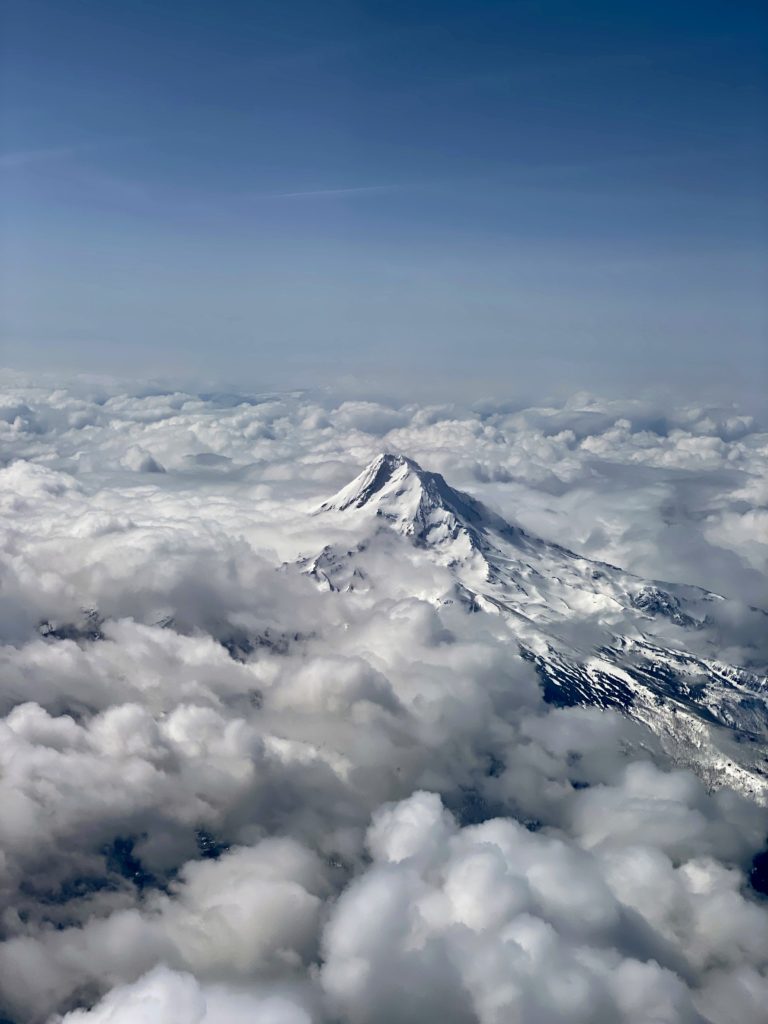 April 29, my flight leaves Cleveland at 5:30am uneventfully with a stop in Dallas to hop on a plane to PDX which arrived there around 11am. PDX is under a major renovation and there was just so much walking to get out of it. James picks me up and immediately takes me on a hike that is right by downtown on the westside (Wildwood Trail). It was quite the introduction to Portland because it leads right to the Witches Castle which was on my list to see. After the hike it was time for food. Portland is a foodie town and at the top of my list was noodles so James took me to one his favorites, Boxer. Wow. This was a great way to kick off this long in coming visit to OR and Portland.
Soon after this heavenly lunch he took me to get ice cream at Salt & Straw which kind of reminded me of Mitchell's Homemade here in the CLE. James was not done with showing me a few things first before heading to his house. Nope. He then took me to a brewery nearby, Breakside where I enjoyed a nice pint.
Eventually made it to the JC (what I always call James) estate to meet his darling family. They really are a darling family and they live close to Reed College (you know, where Steve Jobs dropped out of infamously). The neighborhood struck me as being very much like Shaker Heights. Everything is just so lush and green around Portland. It's crazy green and vibrant. Jealous. I was able to unwind for a bit before JC took me to my next destinations (he really had been waiting all this time to share Portland with me) including some tchotchke shops where I picked up stuff for the fam, a quick waltz through one of the neighborhood Powell's Books (I'll get to that later) and then cider. This is the PacNW after all and along this fabulous pocket of Portlandia stuff on Hawthorne is Portland Cider Co. I got myself a flight and enjoyed every last drop while also enjoying old Trivial Pursuit cards from the early 90's (OMG!).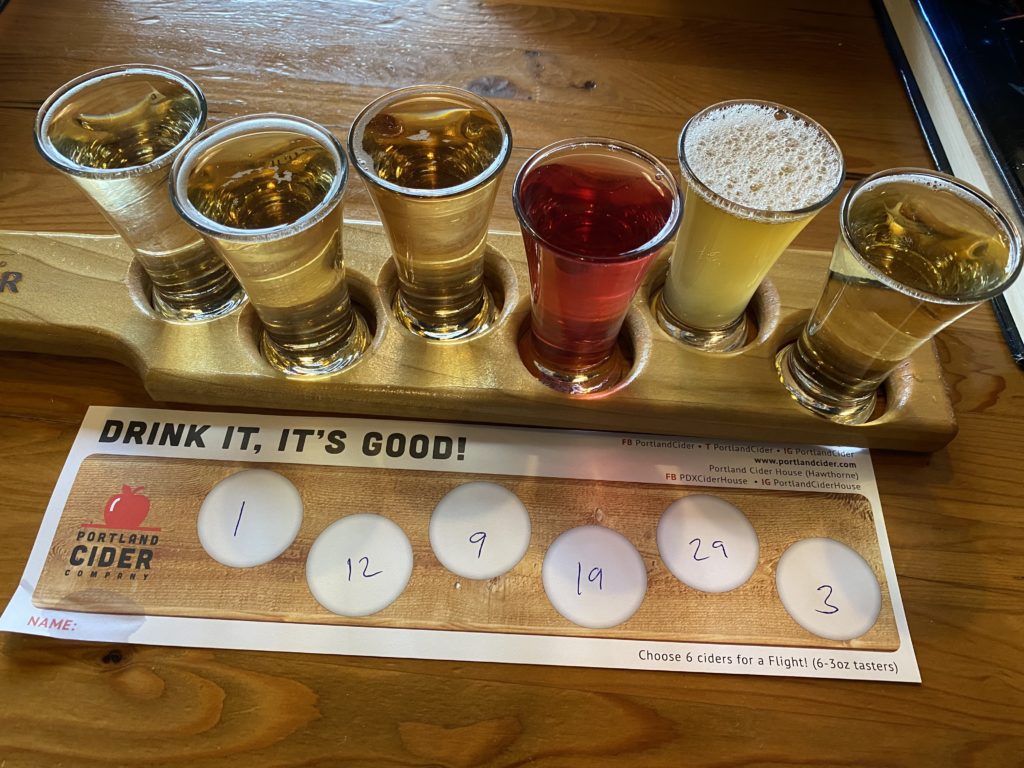 Saturday, April 30
The next day JC planned out a few of the of the "Portlandia" things I needed to experience; donuts, Columbia River Gorge, Powell's bookstore and food because of the infinite amount of dining options. Portland may be know as the Rose City, but really they could be called donut city (also coffee city, and beer city and… but I digress) with basically every neighborhood containing a shop. I'm sure when you hear Portland it conjures immediately the name Voodoo, but honestly the best ones my friends and I felt come from Blue Star. I'm envious of Portland's donut scene. Seriously! JC also took me to Coava Coffee for some extra fussy coffee. What a damn fine cup of coffee! Coava was high on my list anyway and glad that I got to experience it. With coffee in hand, I had asked to stop at an outfitter so I could grab some trekking poles for some planned hikes. While Portland may be known for being the hometown of Columbia there are many more places because wilderness and mountains are everywhere you look. So JC dragged me over to Next Adventure where I perused the super resale shop in the basement (where I found some used poles). Next stop, Columbia River Gorge. The funny thing to me about Portland is about the weather. While the forecast calls for rain, JC told me to not pay any attention to it because it will rain for 10 minutes, clear up for another 10 and repeats itself on and on. I did witness this firsthand and I love this weather.
A short drive from Portland on a scenic highway you're presented with this extensive, lush beauty that you see below. There are numerous waterfalls along the way and none more renowned here than Multnomah Falls. We hiked a few these magnificent falls and tried to stop at Multnomah, but the lot was full and I settled for seeing it from the road. Stopped in at Vista House along the way as well which you can see on the right side of the photo below. I brought a real camera along with me with a nice zoom lens to grab some of these great shots and glad that I had it because it rekindled a photography interest in me.
To cap off the small hikes, JC took me to the nearby wildly crazy all-encompassing McMenamin's Edgefield for lunch. I can't even begin to describe all that this place is, but for starters, a winery, brewery, restaurant, hotel, cigar bar, golf course, bourbon bar, event space and more all rolled into a single destination space. We grabbed some lunch (and cider flight) and I just took it all in about this place. Truly a wild place. After that we headed back to JC's for a little down time before heading out for more of Portlandia.
With so many dining options, it really is hard to select what you're going to eat there, my gracious hosts decided to head downtown and then decide from there, but first it was time to experience Powell's Books. If you know, you know. Powell's is an institution and something that you need to experience. A city block, five levels of the most awesome book stores you'll ever come across. I could just vacation in Portland just to go this bookstore. Remember bookstores? Independent and not owned but some egomaniacal business folks. Those were the days for most of the country, but not in Portland. Powell's is to Portland as Portland is to Powell's. This bookstore continues to thumb its nose to those other places and very successfully, I ended up finding a Doctor Who book for my son that was just about the monsters of Doctor Who. There was an entire giant section dedicated to Doctor Who! I found myself in architecture then art. I found a typography book that I didn't need but bought because it was half off the cover price. Portland, I love you.
After spending over an hour in Powell's they decided to take me to another Portland institution, which was mocked in the show Portlandia for the long lines that form at this place, Screen Door. I guess this downtown location (in the Pearl) was a recent addition and it was packed. They told us 45 minute wait and put our name on a list then go grab a cocktail nearby. It was prom weekend for some of the schools so this was fun kid watching. Anyway they took me to one of their fav cocktail places not too far away called Oven and Shaker. Ordered our fine cocktails and then no sooner than the drinks arrived that JC got the text that our table was ready. While the cocktail and the space was pretty neat I wish I had more time to savor it. So Screen Door, OMG. I had chicken and waffles and this thing was just the single piece order! It was ginormous! This is damn good southern Creole/Cajun food y'all. I can see why it has the following it does. Still thinking about this meal.
Sunday, May 1
Sunday began with going for some good diner style breakfast at Fat Albert's before I had to pick up my rental car. There's something about an old style breakfast cafe where they make things from scratch and keep the coffee coming. A nice stick to the ribs breakfast. Followed the breakfast up with grabbing a coffee across the street at Fairlane Coffee.
Since rental cars are in an insane situation because of the pandemic I decided to try Turo. I would be heading to places where there was still snow (Mt. Hood) I decided to go for a Subaru Crosstrek. Turo allows you to pick the vehicle of your choice as opposed to the typical rental where you have no idea what you get. Speaking of Subaru, my word, they are everywhere in Oregon. It's like the official vehicle of Oregon. I'm not exaggerating.
This was my day to head to Mt. Hood as I make my way to Bend which necessitated a need for a car. Mt. Hood is really not that far of a drive, but I had researched places to get a view of Mt. Hood. I had originally planned to go on a hike (Tom Dick and Harry) to get a photo-op view of Hood, but the snow had other ideas. I found pictures of recent hikes showing waist deep snow so to be safe I decided to opt out of those plans. It's fine by me because I just decided to spend more time in Bend. So anyway, a place that I found suggested a little park in the town of Sandy, Oregon. Lucky for me this was along my route anyway, Jonsrud Viewpoint Park. When I arrived, I was the only one there at the park. Mt. Hood was hiding behind the clouds. Yes, I know I was not supposed to listen to the forecast, but I knew it was supposed to clear up eventually. So I waited, waited and waited. Eventually people started to stop to take a look, but would quickly leave when seeing that clouds were obscuring Hood. My favorite visitor was an older gentlemen, claimed he was local, pointed to a spot way off to left stating that's where Hood will show. Not sure if he was just trying to mess with the tourist with camera, but I knew where Hood would be. After a couple of hours I got several shots, but it was apparent I was not going to get a completely clear view, but I was satisfied with what I got. Also, this area was part of the Oregon Trail and the Sandy River down below the overlook was a treacherous area for those traveling the trail. Next stop, Mt. Hood itself and Timberline.
As you get closer to Hood the wilderness intensifies and signs along the highway tell you to "chain up" with pull overs to do so, Just before Government Camp, the little village at the bottom of Hood, you get a big view of Hood. It's startling white top brighter than the brightest wihte blinding you as you approach. I pulled over in one of those "chain up" stops just to take it in. Next, the drive up Timberline. As Oregon's tallest mountain, Mt. Hood is quite accessible by car (and soon ski lifts from Govy Camp) unlike, and perhaps just my perception since Mt. Rainier is 3,000 feet taller, sibling volcanoe in Washington. Still crazy to think that you can ski year round here and the only place in the US according to Timberline. You can see the ski lift in the photo below, Palmer, that carries you up to 7,000 feet for the year-round skiing. While here, on a very beautiful day, there were people everywhere. I had forgotten about the interesting crowds that hang out at these large ski resorts. I first witnessed this in Colorado many years ago and this was no different. You have people tailgating, people skiing down "small" hills from the parking lot, snowshoers, hikers and just all around weirdos. It is a sight to behold.
After getting a few shots of Hood I decided to walk up to The Overlook Hotel. I mean the Timberline Lodge. I had to make the journey to see this cultural icon in real life. Having seen The Shining at a way too early age it's been something on my list to see for a very long time. I've seen the Stanley Hotel in Boulder, Colorado, which was Stephen King's original basis for The Shining, as well, but it was Timberline I wanted to see the most. It is worth the visit I must say. I didn't stay here ($$$$), nor venture in since there is nothing resembling the interior from the movie inside. It still has that creepy Shining vibe to it even with all the cars around it. I just can't get over all of the snow. I got my visit done and headed back down to Govy Camp.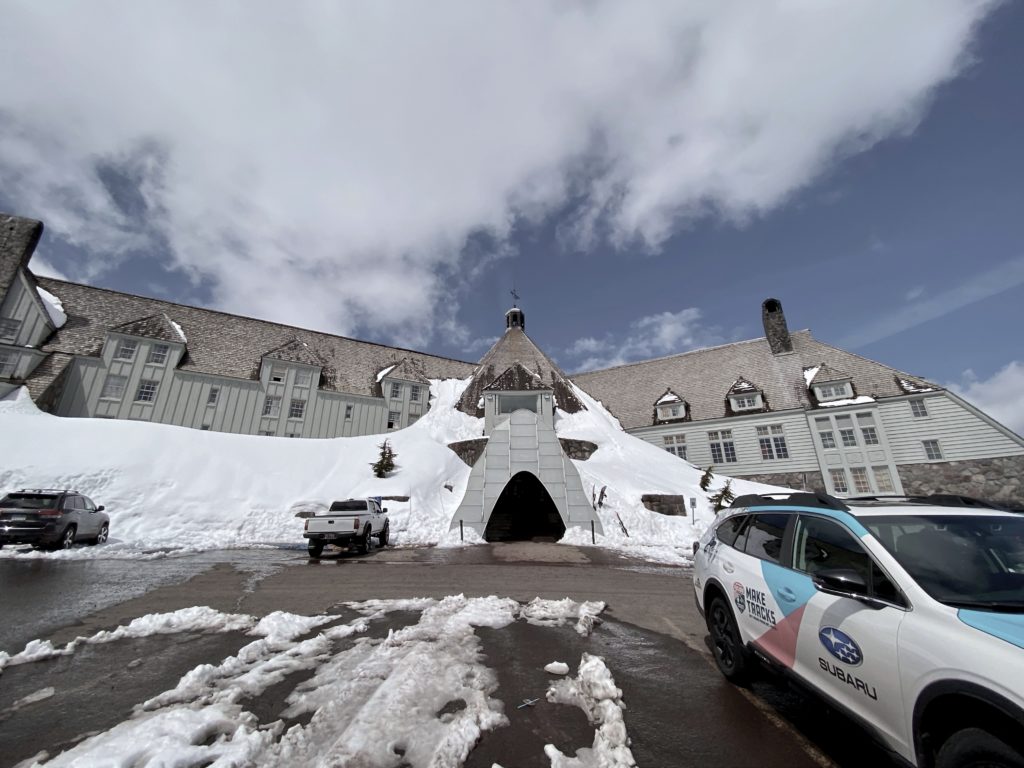 As I have said before, my plan was to spend some time hiking, adventuring around Mt. Hood for a day, but the snow had other plans. My friends were planning to join originally in Govy Camp, but due to the snow it changed up the plans. Not much to say other than Government Camp is a darling little ski town. Not only do you have the Timberline, but across the highway is Mt. Meadows and the Skibowl as well. There's hiking, cross-country skiing, snowmobile trails all around the area, but instead of taking potential risks hiking in these conditions I would much rather spend more time in Bend which is what I did. I checked in to the cabin then walked into town for some grub at The Ratskeller where a local struck up a conversation with me as I enjoyed a pint and a tasty burger. Of course I had a pretzel too. I finished up and went back to the cabin where I decided to chill with a fire.
Monday, May 2
Monday morning I got up, it was snowing so I built a fire, made some coffee and prepared for my drive to Bend. Along the way to Bend, Martin suggested I stop at Smith Rock. It's quite a different landscape from Portland to Mt. Hood wilderness to this wild west desert canyon just popping up out of the landscape. Truly wild to see this from a distance when you have driven through "big sky" style open desert. I packed up the Suby and headed south. The first 20 minutes of the drive was in thick wilderness around Mt. Hood and with snow it was quit lovely. Once I got out of the wilderness the snow stopped and gave way to blue skies and wind! There's nothing to stop the wind in this high desert area. While the skies were a lovely blue, as seen below in the photo, the wind was fierce. I ventured through Smith Rock canyon for a bit and watched as many climbers began their journey ascending the rock faces. Smith Rock is incredible and the hill to get in and out is wicked steep!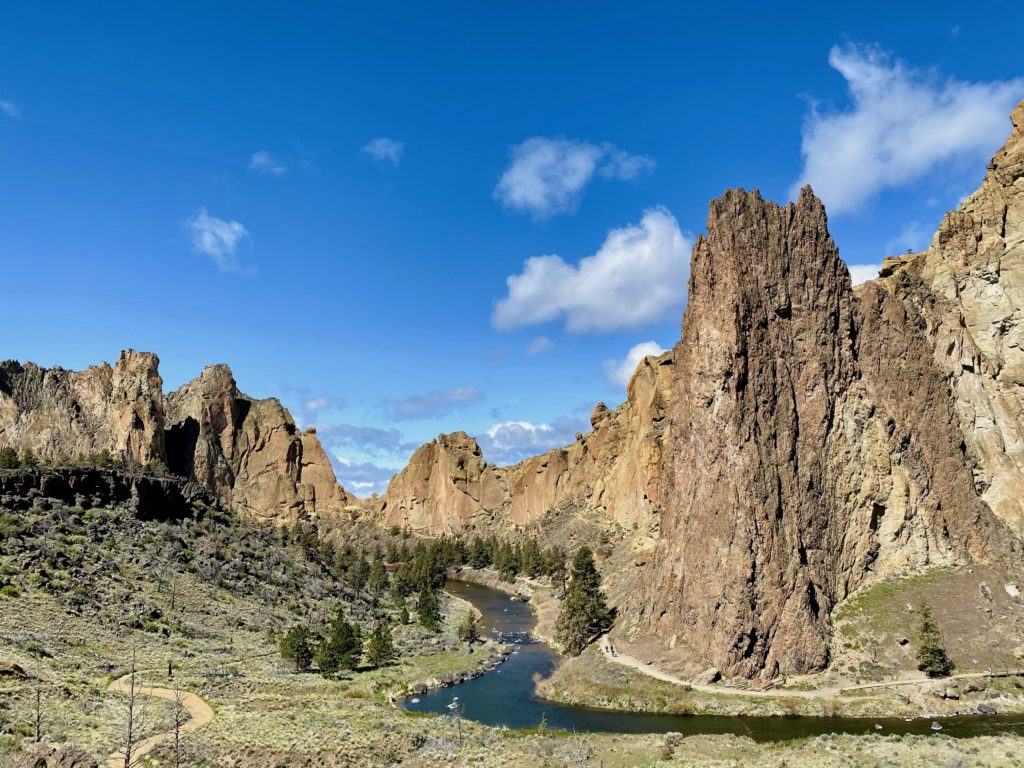 Not more than 50 minutes south did I find myself in Bend where I headed to the Old Mill District that was an old lumber mill that had been converted into a shopping district that includes an REI in an old building with tall smoke stacks. I then went to Sisters Coffee Company for a cold brew (and they had a pretzel so I had to have that too) while I waited for Martin to finish up work. I drove around town to get my bearings and familiarize myself with their abundance of roundabouts (use that signal on exit!), The thing the immediately struck me about Bend is that the town really harnessed their river (Deschutes) and integrated it as a highlight feature. The river is known for the "floats" so there's places for people that are floating down the river to stop and grab a bite or a pint. Not only that, they have a whitewater park where you can kayak through rapids (that they can increase intensity) and/or surf! Also, bike lanes everywhere throughout town. In fact I was in remote areas of Oregon and there were bike lanes on country roads. Besides the bike lanes there are paths everywhere in Bend for people to enjoy the outdoors and probably the best aspect to all this is that pedestrians are treated with respect. Vehicles must stop for pedestrians entering the roadway! What a novel concept. You can see why Bend is a fast growing city. The architecture is very much a Frank Lloyd Wright meets lumberjack rusticism (making up words) that really appeals to my aesthetics. I passed by the place I would be staying, Mt. Bachelor Village Resort which overlooks the river, and then headed towards where Martin lives where there's a district and market hall much like The Van Aken District at home. I stopped in at Sparrow Bakery first to grab a couple of tasty pastries before walking over to The Grove Market Hall. And it began snowing again. So it goes.
I grabbed a bottle of bourbon and then it was time to visit with Martin and his lovely family. He has a nice big front porch with a view of Mt. Bachelor and the Three Sisters (mountains). We opened the bottle of bourbon, had a toast (in my honor for my 50th) and chatted for a bit before it was time to go grab some dinner. But first we grabbed a pint at Common Cafe & Taproom in town before heading to the Drake which was a great comfort food place where I had their buttermilk fried chicken. Food in Oregon has been exceptionally good all trip.
Went back to Martin's for a few more ciders from Tumalo Cider Co and Bend Cider Co. Had a few laughs and shared some photos of my family trip to Yellowstone four years earlier before I had to get to my stay to crash. Happy to be in Bend.
Tuesday, May 3
Waking up to 32º temps is quite something when you're least expecting it, but the sunrise was something beautiful to make you forget about the chill. I watched the sun come up over the trees at this resort on the edge of the cliffs of the Deschutes River below and sounds of rapids nearby. Made myself some coffee, turned on the fireplace (gas fire in this case) and then got ready for the hot tub. Yes, the place I was staying at had a private hot tub on the deck. Martin had taken the day off so he could show me all of what Bend has to offer. First up was a getting a good breakfast to energize for a day full of activities at Jackson's Corner. Oregon has really set the food trends when it comes organic and the farm to table movement and their plethora of restaurants reflects this immense level of quality agriculture. Thanks to all of the volcanic activity that has provided a soil unlike many places in the world the wheat hailing from Oregon just makes their food better. Jackson's Corner is one example taking advantage of the fine ingredients to them. Not only is it a restaurant, but also a bakery serving up daily baked breads and pastries that also get served along with a meal. They do pizza as well with a wood fired stone oven baking up pies quickly. There's also coolers with local brews and wines available to have with your meal as well. I ordered biscuits and gravy that I'm still thinking about.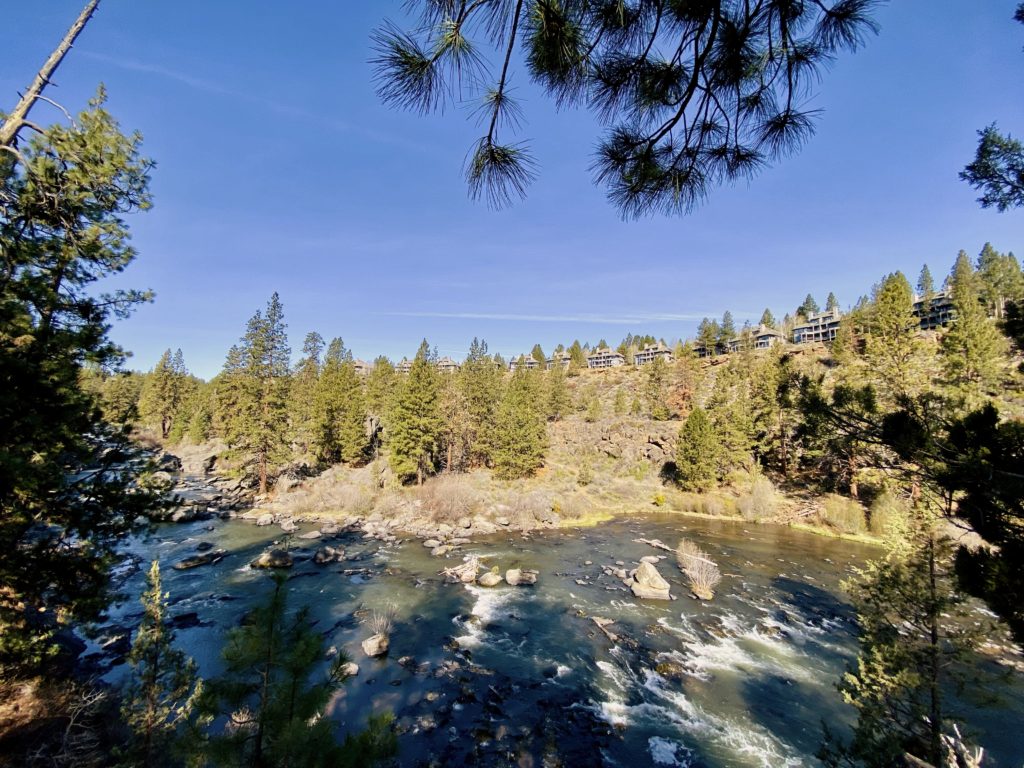 After breakfast Martin took me to the riverwalk trail and this thing is spectacular. There's a few bridges to cross over so you can hike as far (or short) as you want. What a beautiful asset for the people of Bend and a prime example of a municipality harnessing their natural resources and waterfront. Left the trail and headed to the next destination, but first driving through some of the newer western Bend neighborhoods being built with spectacular views of the Cascades range.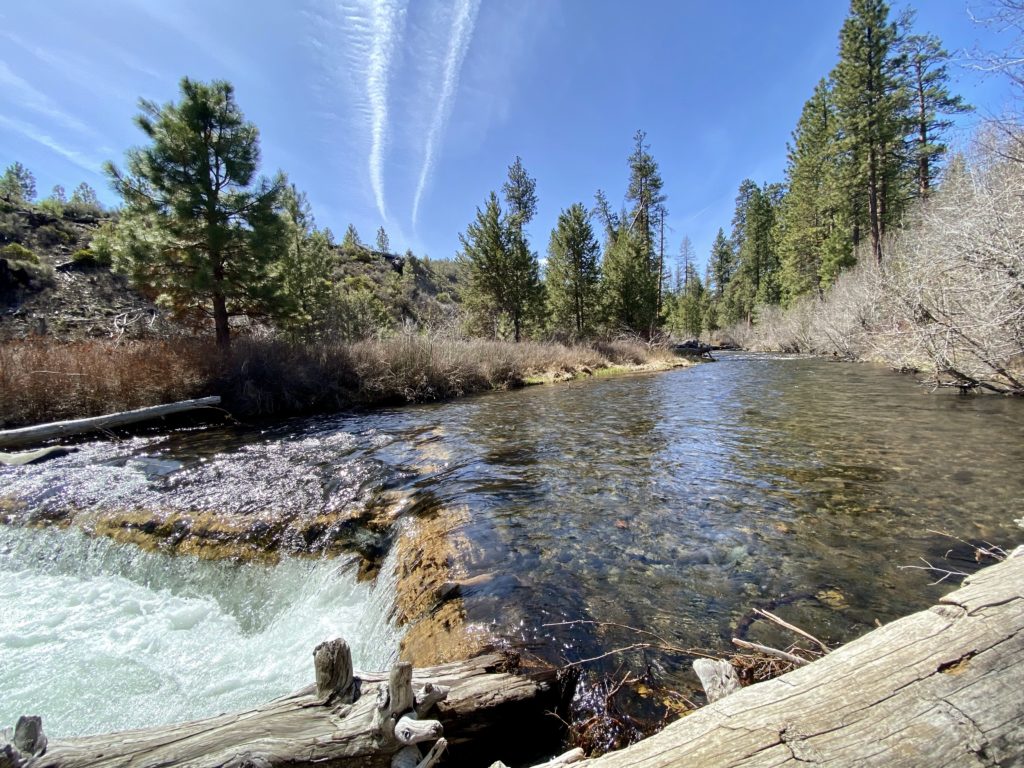 Next on the list was Shevlin Park where apparently a covered bridge used to exist and then rebuilt for a Disney movie, Homeward Bound, but then removed due to deterioration. I mean it was a movie prop after all. So we hiked along for a couple of miles just taking in the natural beauty and one thing I had been noticing is how friendly everyone is. Not a head down avoiding you to say "hi" at all. Every single person we passed said hi. It's refreshing. This is gorgeous city park.
Next on the list was heading towards Mt. Bachelor to see if some of the roads had opened yet. In the mountains roads close down for the season because of all the snow they get. Unfortunately, the road they wanted to take was still closed. Oh well there was more to see.
Closer to Bend we stopped at another spot along the Deschutes River, the Big Eddy Trailhead, with some nice falls/big rapids and evidence of volcanic activity that caused the river to change direction of flow. We watched an osprey fly around for a bit and returned overhead with what appeared to be a stick in its talons.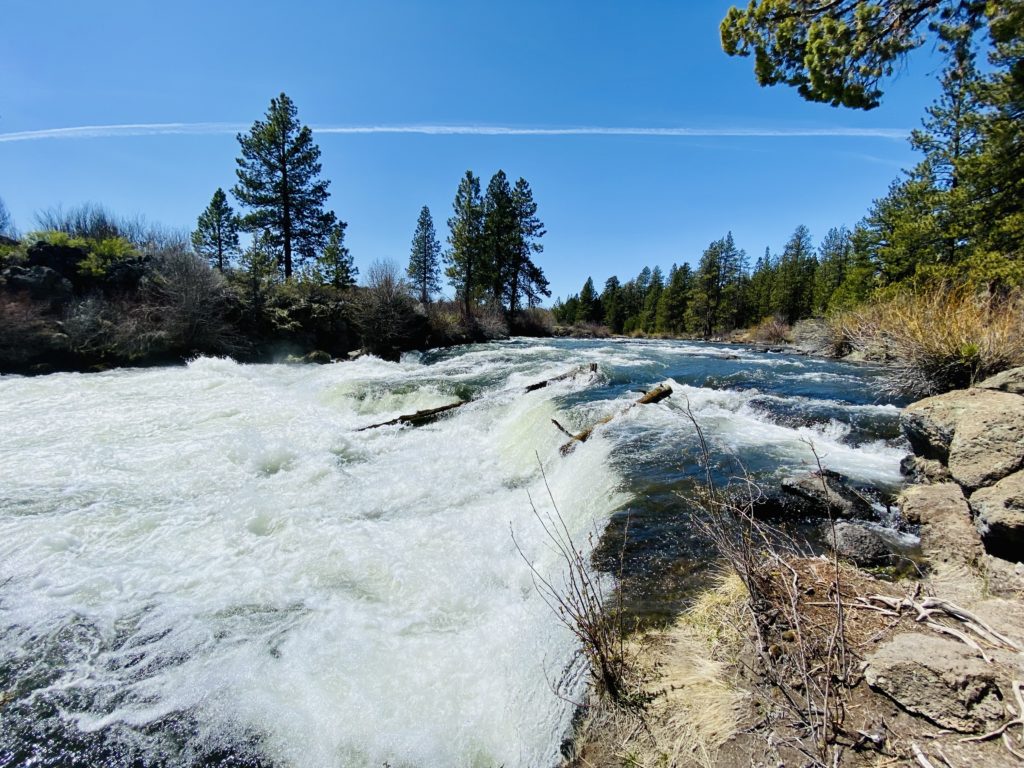 We headed back to their house where it was time for a short break. Now it was time for some Bend beer. Went to Bend Brewing Company and sat outside with the wonderful view of the river and mountains. I went with their Tropic Pines IPA and quickly drank it down. As we were leaving a gentlemen struck up a conversation with me because I was wearing my block M Michigan hat. He was from Michigan so he was curious about me and the hat. He asked me what beer I had and what beers I've liked in Bend so far. I told him I really liked Tropic Pines I just had and come to find out he was part owner of Bend Brewing with his son. Like I said, very nice people in these parts of Oregon.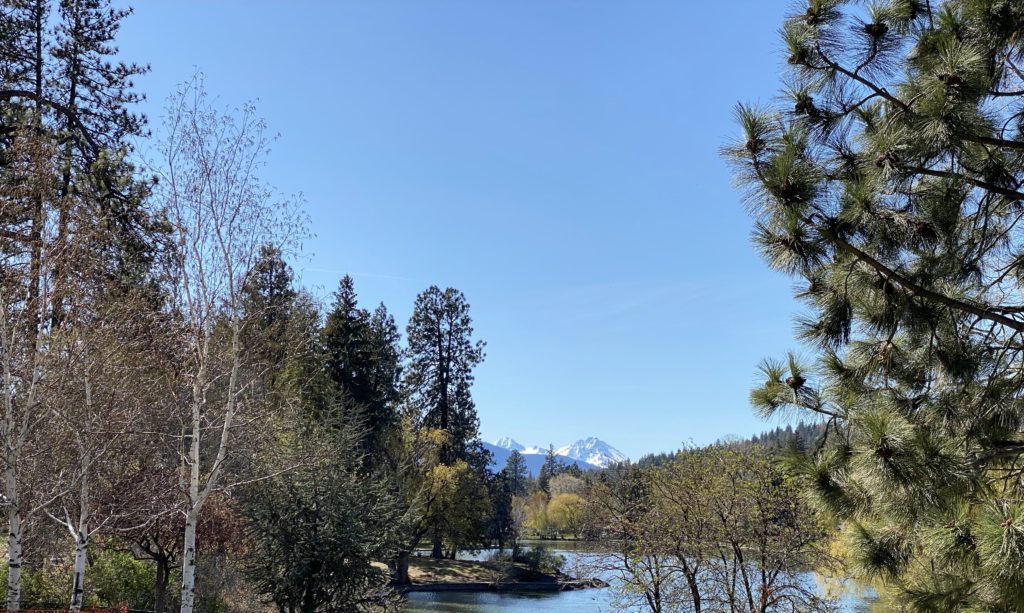 After the beer it was time for dinner. They decided to take me to Spork, a combination Mexican and Asian dining experience. You can have a rice bowl or you can go with tacos and such. It was so good.
I went back to my resort condo after dinner for a bit of relaxation and would meet up later with Martin. My Bend experience was winding down, but still time for another couple of drinks out with Martin. Met up at a pretty cool place called Spoken Moto which is a coffee, cocktail, beer and motorcycle shop. Finished up there and then walked over to Crux Fermentation Project. I ordered their cider and watched the sun set over the Cascades.
Wednesday, May 4
I wake up to another beautiful sunrise and head straight to the hot tub (no time machine in mine). Today I had to head back to Portland to drop off the car and check into a hotel by the airport since I had to get up early again to catch an early flight. I had mapped out a few things on the way back to Portland and really had no agenda. Martin had told me about a butte (they truly are different than a hill) in the city that I should check out before leaving. Before that I just had to head back to Jackson's Corner for more breakfast,
Hiking up the popular Pilot Butte in Bend, I understand why it's popular, it is quite the climb if you're like me, out of shape and not used to mountains or buttes. Again, friendly people all saying hi and then the runners just climbing up a butte like nothing. The trail winds all around the butte with views that are amazing. Everywhere you look is a butte and mountains. I took several shots and hiked back down the trail again saying hi to all passerbys.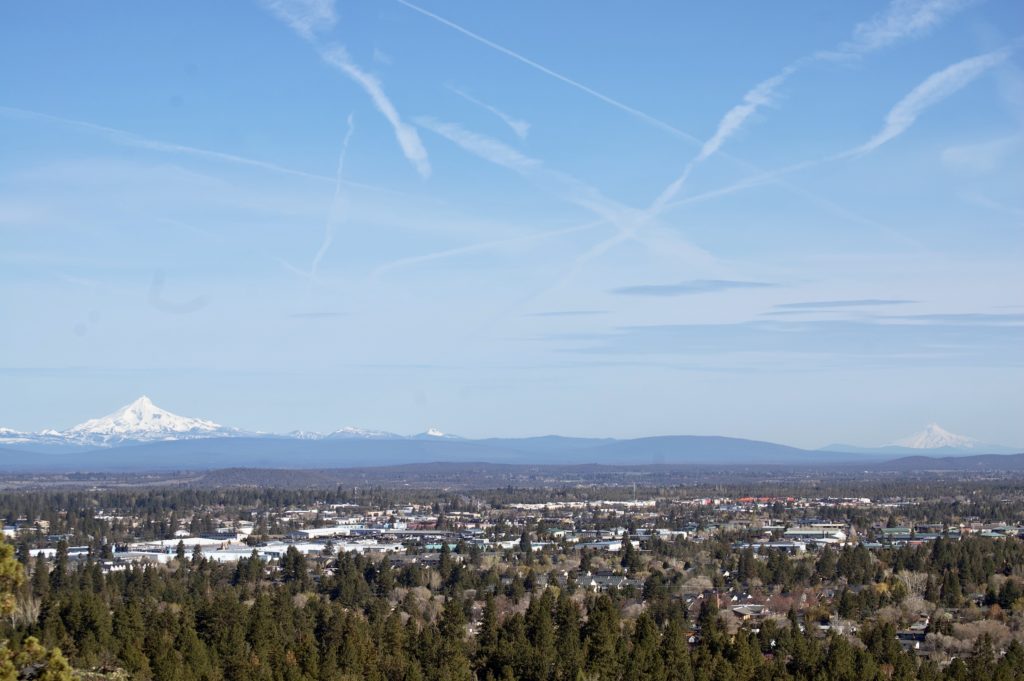 On the way out of Bend, one other thing I had to experience in Oregon is fueling up a car. In Oregon attendants put fuel in your car. Full service stations or lanes, remember those in Ohio? I'm glad someone else does it for you. Cuts back on gross hands touching fuel pumps and you get clean windows! Why do people want to do this is beyond me. Bring back full service gas stations!
Just outside of Bend I stopped at the Three Sisters Viewpoint to grab a couple of shots of the Sisters. The drive was absolutely stunning. Deep wilderness and mountains. There's a whole lot of nothing but forests and mountains along US20. Along the route I would be passing Detroit. No, not that Detroit, but Detroit Oregon. Apparently, back in the late 1800's a lot Michigan homesteaders settled in the area and called their settlement Detroit. A Post Office made it official in 1891. Today, there's a large reservoir with electricity producing dams. Two years ago, during the pandemic, a devastating wildfire wiped out the town and there's still cleanup effort taking place. Before approaching the town the smell of pine wafted through the air, but once passing through the wildfire area it was all the smell of char and smoke. Devastating.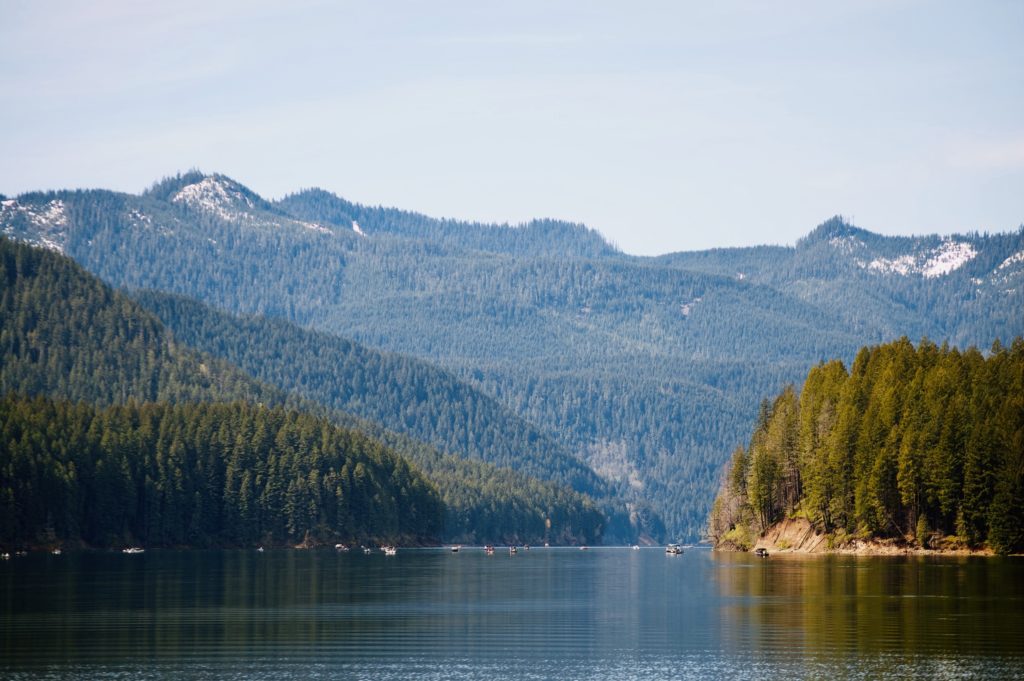 After Detroit I had three things on my list, town of Brownsville (stand By Me), Silver Falls and a winery. I decided to nix the Brownsville visit. I just wasn't feeling it and really wanted to hit Silver Falls and a winery more. I decided to head to Silver Falls State Park and then a winery.
At Silver Falls theres a trail called Trail of Ten Falls which is a 7.2 mile trail consisting of 10 waterfalls. The drop into the river canyon is 800 feet and I decided there was only one waterfall I wanted to see which was the one that allows you to walk behind the waterfall. I have used this word over and over again during this trip, but I mean it, it's breathtaking.
Oregon has it all, in my opinion, including a great wine industry. The Willamette Valley provides conditions, apparently, for great wine making. I have often enjoyed Underwood's Union Wine, yes in a can so what, and at the top of the list was Willamette Valley Vineyards and just so happened to be along my way back to Portland. I admit, I am no connoisseur of fine wine, but I know what I like and know enough to know what is good. I would often enjoy a nice bottle of red with my father-in-law so I was often thinking of him in sampling wine.. We had similar palettes in reds. I walk into this place sticking out like a sore thumb. I must of entered the members area and the wine sommelier was kind and pleasant to my lack of experience and assisted me nonetheless. I sampled a merlot, a Cabernet and a pinot noir. The Cabernet-Sauvignon was absolutely delicious so I bought a bottle and a pinot noir to bring back home to give to friends. The vineyard and estate have a wonderful view in the Willamette Valley as you can see below.
I hopped back in the car with my two bottles of wine and headed back to Portland. I wanted to get some merch at Sasquatch Brewery, but they were all out so I just had a pretzel and a pint of their cider. Met up with JC again, he took me for some pizza (Sunny's) before I had to drop off the Suby. After saying goodbye to the Suby, so sad, JC then took me to one fine cocktail bar, Bible Club, to send me off from PDX happy. This place reminds me of Velvet Tango Room back in Cleveland where it's just the best damn cocktail you'll have because they use old techniques and maximize the fuss. JC dropped me off at the hotel. Can't believe my magnificent, long in the making and happening trip to Oregon was coming to a close.
Thursday, May 5
Back home day. Up at 3am (easier when you're an east coaster and still living on east cost time. Pick up the shuttle to the airport. Check my bag, through security in minutes and then the long walk to the terminal. PDX is going to be a beautiful airport when they complete the renovation. Grabbed me a nitro at Stumptown and waited for flight back home. Only an hour delay in Dallas due to storms, but made it home in time for dinner.
---
Even though this trip was a long time in coming and many false starts, in the end it was so worth it. I had an absolutely wonderful time experiencing Portland, Bend and Oregon. My friends and gracious hosts are simply the best. They showed more than I could have imagined nor expected. It was also great spending time with them after this pandemic has caused so much mental strain for everyone. I can't thank them enough for introducing me into their homes and sharing their families with me. JC and Martin, you are the absolute best friends I can ask for in these times. Thank you!
Next year, I am planning another trip to Portland. My daughter wants to visit there and since my kids are on separate spring breaks I said I would take her. Let the planning begin.
Check out the full gallery of my Oregon: